From Renting to Owning: Understanding the Home Buying Process
Description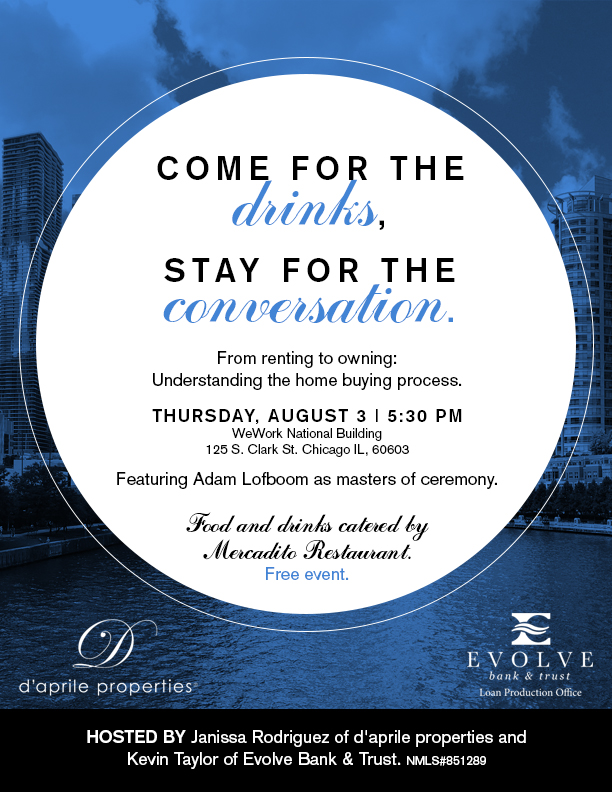 Come for the drinks, stay for the conversation.
Join us for beverages and a discussion on the homebuying process.
Thursday, August 3, 2017 | 5:30 PM to 7:30 PM
125 S. Clark St. Chicago, IL 60603
Food and drinks catered by Mercadito Restaurant.
Hosted by Janissa Rodriguez of d'aprile properties and
Kevin Taylor of Evolve Bank & Trust. NMLS# 851289
More about Janissa and Kevin:
Janissa Rodriguez of d'aprile properties
Working as a real estate broker at d'aprile properties means I get to help you find your dream home. I take pride in being empathetic to my clients' needs and will work to achieve the best results for you. As a Chicago transplant, I first fell in love with the city's skyline and then fell in love with its people and its neighborhoods. I love to build relationships and help others see their dreams come true. Think of me as your home buying resource and let's take you from renting to owning your first home!
Kevin Taylor of Evolve Trust & Bank
As a Mortgage and Lending professional, my goal is to help you purchase a home in a way that is most advantageous to your needs. With over 17 years of experience and over 1,000 career transactions in the Chicagoland market, I can offer you extensive knowledge on all facets of the real estate industry. By sharing this knowledge and answering your questions about current mortgage options and government and private incentives for homebuyers, I hope to demystify the home buying process for you.
WeWork provides small businesses, startups, freelancers, large enterprises, and everyone in between with the workspace, community, and services they need to make a life, not just a living. With weekly events, personalized support, month-to-month flexibility, and access to over tens of thousands of like-minded creators around the world, WeWork is the perfect place to grow your business.
Book your tour
here!