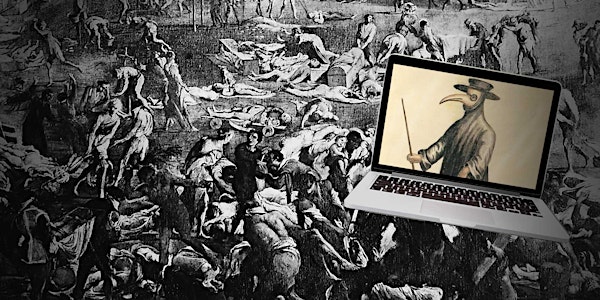 From Plague Preservative to Perfume (online), with Nuri McBride
Refund policy
Contact the organizer to request a refund.
Eventbrite's fee is nonrefundable.
Nuri McBride explores how the Black Death shaped the olfactive landscape of Europe, bringing it from plague preservative to perfume.
About this event
This class takes place on Zoom and will be recorded. We will share the video for this class with registered participants for 3 days after it takes place.
There is no history of humanity without a concurrent narrative of death and destruction. Indeed, the stories that survive from Justinian Plague of the Byzantine Empire, the Black Death, and the Great Plagues of the 17th century are testaments to humanity's struggle with unprecedented, unexpected destruction. And yet, where there is great fear, there is great inventiveness. Many resourceful would-be healers made heavy use of aromatics as plague preservatives, in some way triggering a societal obsession with scent. Nuri joins us for a historical look at how scent has played into perceptions of wellness, in this exploration of smell and public health.
Takeaways:
Learn how Medieval Europe and the Middle East viewed the concepts of wellness, disease, and the power of olfaction
Understand the changing views on Miasma during the Medieval period and how it fueled an explosion of aromatic products meant to ward off illness
Learn what everyday perfumed items you have in your home that have their roots in plague preservatives
Identify the medical origins of aromatics associated with plague preservatives and how those scents became the olfactive reference point for physical and spiritual cleanliness in the Europe context.
This is an online class. The Zoom link will be sent by email 24 hours before the class.
---
This event is presented as part of our relaunched 'Scent and Society' series. Scent and Society is an ongoing exploration of the multiplicity of perfume histories across time, and across the world.
---
ABOUT NURI MCBRIDE
Nuri McBride is an academic, activist, writer, and perfumer focused primarily on the preservation of olfactive cultural heritage. Her main area of interest is in the importance of aromatics in life-cycle rituals, particularly surrounding death and dying. This interest grew out of Nuri's personal work in end of life care and witnessing the emotional power scent can hold for the bereaved. In 2015, she began the Death/Scent project to explore the use of aromatics in death practices around the world. Nuri is a long time advocate for greater death awareness education and an end to funeral poverty. She also incorporates scent in her guided death meditation classes as a profound way to connect the participants to the physical, intellectual, and emotional state of examining their mortality.
Links: Website / Twitter / Instagram / Facebook
---
Photo credits: IAO / Wellcome Collection / Michael Geiger on Unsplash
---
ATTENDANCE AND REFUND POLICY
This is an online class that will take place on Zoom. The Zoom link will be sent by email approximately 24 hours before the class. Lest this email end up in your spam folder, please be sure to add hello@artandolfaction.com to your address book.
+ Event times are listed in Pacific Time; please use a time converter for your local start time.
+ Please download and install Zoom before the class starts, to avoid last minute technical issues.
+ Please be sure to attend, live! Learn more about how we teach here.
+ Unfortunately, we cannot offer refunds or credit for missed sessions. Here is our refund policy: Cancellation with refund or credit requests made 48 hours or more before the scheduled class will be honored with gusto! Refunds or class credits requested less than 48 hours before the course begins, on the day of the course or after the course has started will not be granted. Note also that event tickets are non-transferable.