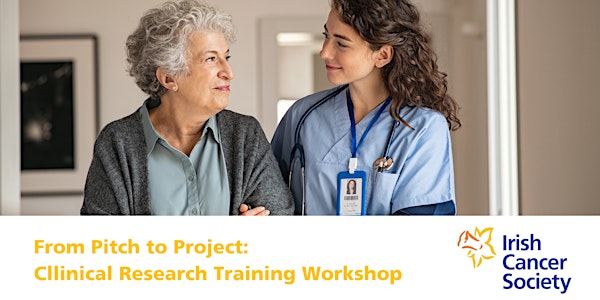 From pitch to project – how to action a clinical research idea into action
Location
Trinity Centre for Health Sciences
St James's Hospital
James's Street
Dublin 8
Ireland
FREE Training Workshop for all Social, Nursing and Allied Health Professions nationwide
About this event
This training course is designed for all Social, Nursing and Allied Health Professionals aiming to develop and improve their clinical research skills.
The workshops will equip you to develop research ideas, apply for research funding, manage and conduct research as well as disseminate research.
Attendees may opt to register for either one of the two-day workshops or they can attend the full four days.
Days 1 and 2: Getting Started - How to navigate the research landscape.
Dates: 8th & 9th September
At the end of these sessions, you should be able to;
• Understand how to develop a research question and project proposal.
• Consider the team members needed to build an effective research team.
• Explain the importance of embedding public and patient involvement and engagement in a research project.
• Consider the funding requirements of your research.
• Understand research approval processes and identify research supports when developing a grant application.
Days 3 and 4: Advanced Skills - Practical considerations for running research studies
Dates: 27th & 28th of October 2022
At the end of these sessions you should be able to;
• Gain practical experience of protocol development .
• Understand the ethical and local approval process for study start-up.
• Identify key considerations with regards to informed consent, recruitment, retention, and randomisation, and fidelity.
• Gain practical experience of developing key study documentation e.g. participant information leaflet and justify the key components of an Investigator Site File.
• Consider different avenues of demonstrating research impact and research dissemination.
• Increase awareness of mandatory training and data management regulations.
• Appreciate the value embedding health economics, qualitative research and trial methodology research into your work.
• Increase awareness of opportunities for getting involved in research.
Both workshops will take place in Trinity College, Dublin. Please note that travel bursaries are available through the Irish Cancer Society for attendees requiring overnight accommodation(for information, please contact grants@irishcancer.ie). Please note that preference will be given to those in oncology related disciplines.
If you have any questions, please don't hesitate to contact researchadmin@irishcancer.ie