From Online School to In-Person: Navigating Learning in the Pandemic
Understanding the brain and how kids learn. Whether online or in-person, helping guide parents to reduce stress during the transition back.
About this event
Every child learns in their own way. Transitioning from in-person to online and back to in-person learning each engage the brain in different ways. Helping parents recognize and adapt to different ways of learning, and engaging parenting strategies, can lower stress for both parent and child. In this discussion we are going to talk about how to help the brain reduce stress, by understanding how your child's brain learns.
Creative Healing for Youth in Pain (CHYP) will host this ONLINE community event for parents about the transition from online school back to in-person classes for many. We will try to address all questions possible during this Zoom event (by using the chat function of Zoom).
This event is offered free of charge, but we do ask attendees to consider making a donation to CHYP to support our free programming. Contributions of any size are appreciated and make it possible for our nonprofit to continue offering free services to youth with chronic pain and their parents, helping them get out of bed and back to daily life.
Thank you in advance for your consideration!
-------
Karolina Claxton, EdD: Karolina provides training for families, schools and other organizations to incorporate into the learning process both the cognitive architecture of learning and the psychological aspects of organizational functioning. She is the director of Perspectives Group, which encompasses her faculty training, a boutique educational therapy practice, and The Foundry, a consultation group that works with schools and small businesses on areas of organizational psychology and development. She completed her Master of Public Policy at UCLA and her Ed.D. in educational psychology at USC. She trained under Kenneth Yates to learn and practice Cognitive Task Analysis, Gale Sinatra to learn conceptual change and Transformative Experience, and Phillip Winne to conduct a study on electronic traces of self-regulated learning. She works as an alumni admissions representative for NYU and served on the board of directors for FOCUSfish, a non-profit organization dedicated to providing alternative fitness programs to people in need; she flies trapeze for fun.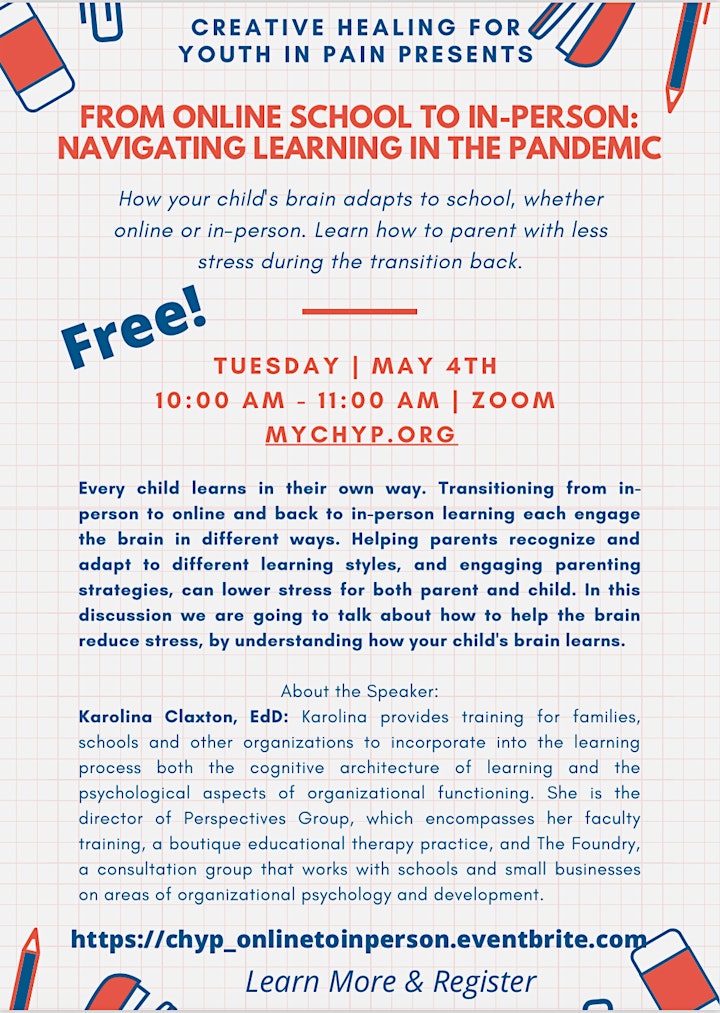 Organizer of From Online School to In-Person: Navigating Learning in the Pandemic