Description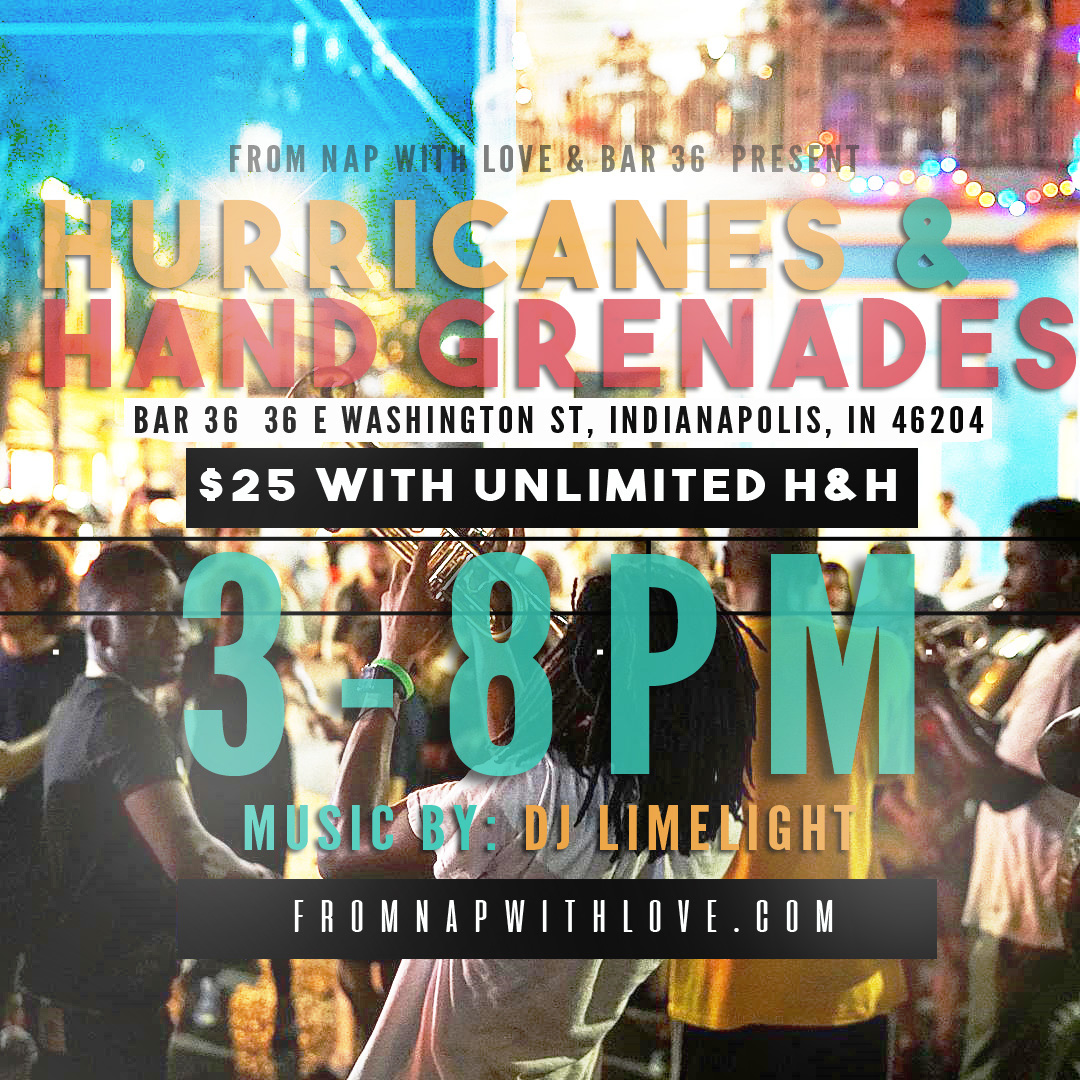 Did you come to Pardi Gras? Nah? Yeah? Either way, here is Pardi Gras' less formal cousin: Hurricanes & Hand Grenades.
Let's set the scene. You're strolling down Bourbon Street, right? Hurricane in one hand...Hand grenade in the other - you're about that life. All of the sudden you hear "Cash Money Records taking over for the 99 and the 2000" and you don't know how to act. That is what you can expect. Walk with us.
Hurricanes & Hand Grenades
Saturday, May 27, 3p-8p
Bar 36, 36 E. Washington Street

$25 General Admission + unlimited Hurricanes and Hand Grenades
$50 General Admission + unlimited Hurricanes and Hand Grenades + Food courtesy of Exotic On The Run
Creative Direction and Music Curation by DJ Limelight
Food Catered by Exotic On The Run
Because this is Pardi Gras' less formal cousin, it's only right we keep it in the family. A portion of proceeds from H&H will go to The Bloom Project's Tech Kings Program. We luh the kids.
FAQs
Are there ID or minimum age requirements to enter #IHurricaint?
21+
I understand that Hurricanes & Hand Grenades are included, but will I be able to get other drinks if I want?
Full bar will be available. Hurricanes and Hand Grenades will be free flowing.
What is a Hurricane?

A delicious cocktail. Light rum, dark rum, passion fruit juice and lemon.
What is a Hand Grenade?
Another delicious cocktail. It has everything that will put you on your back. Be careful with that one.
How much food do we get?
Food will be appetizer sized and served buffet style. As long as you have the food ticket you are entitled to as much of it as you want until it is gone. The amount of food available will be determined by the number of food tickets sold, so food tickets will go off sale 5 days before the event, to ensure there is enough food for everyone. If you'd like to or order a full plate from Exotic On The Run, their full menu will be available as well.
Man, we went to Traphaus and the bar lines were LONG. Will they be long again?
One thing we learned is that y'all some lushes, lol. There are two bars - one upstairs one downstairs. We don't want no problems.
What are my transportation/parking options for getting to and from Hurricanes & Hand Grenades?
We recommend you take a Lyft. Be safe, because this is gonna be lit. We even have free ride codes for you! https://www.lyft.com/invite/FROMNAPWITHLOVE
Can we buy tickets at the door?
No. This is a limited capacity event, so we recommend you buy now. Tickets will not be for sale at the door. If you're not on the list, you don't get in.
What can I bring into the event?
Good attitude and good vibes. No hateration in this dancerie.
What's the hashtag?
#IHurricaint
Is There A Dress Code?
It's a day party, come to have fun. Be fresh, tho. No dusties allowed.