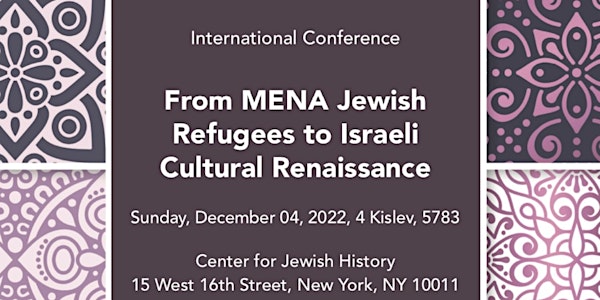 From MENA Jewish Refugees to Israeli Cultural Renaissance
From Middle Eastern & North African Jewish Refugees to Israeli Cultural Renaissance. International Conference
When and where
Location
Center for Jewish History 15 West 16th Street New York, NY 10011
Refund Policy
Contact the organizer to request a refund.
Eventbrite's fee is nonrefundable.
About this event
The ASF Institute of Jewish Experience, Bar-Ilan University's Dahan Center, the Ben-Zvi Institute, and the Center for Jewish History present:
From Middle Eastern & North African Jewish Refugees to Israeli Cultural Renaissance.
International Conference featuring speakers from Canada, Israel, the Netherlands, Sweden, United Kingdom, and the United States.
Sunday, December 04, 2022, 4 Kislev, 5783
10:30-11:00: Arrival and Registration
11:00-12:00: Opening Session
Chair: Dr. Shimon Ohayon, Director, the Dahan Center, Bar-Ilan University
Greetings:
Mr. Yaakov Hagoel, Chairperson of the World Zionist Organization
Mr. Eyal Gabbai, Chairperson, Yad Izhak Ben Zvi
Mr. David Dangoor, President, American Sephardi Federation
Keynote Adress:
Prof. Noam Norman Stillman, University of Oklahoma
Prelude to Exodus: the Jews of Arab lands in the face of the challenges and transformations of the modern era
12:00-12:15: Coffee break
12:15-14:00: Second session
Chair: Mr. Moshe Zaafrani, Manager of cultural-educational projects, Yad Ben Zvi
Mr. Gilad Erdan, Ambassador to the United Nations - Struggle and Recognition: Jews from Arab lands and Iran
Mr. Ben-Dror Yemini, Reporter - The Jewish Nakba: a Comparative Study
Dr. Stanley Yurman, Rutgers University & Director of JJAC - Justice for Jews from Arab countries: the case for rights and redress
Ms. Dana Avrish, Researcher, Artist & Creator - Rediscovering the Jewish roots in Islamic countries
14:00-14:45: Lunch Break
14:45-16:15: Third Session
Chair: Dr. Drora Arussy, Senior Director, ASF Institute of Jewish Experience
Dr. Sasha Goldstein-Sabbah, University of Groningen - Communal Dissolution and the Baghdadi Diaspora: Reframing Iraqi-Jewish Migration as Multidirectional
Mr. Edwin Shuker, Vice President of the Board of Deputies of British Jews - The Ethnic cleansing of the Jews of Iraq in the second half of the 20th century
Dr. Jesse Weinberg, University of Oklahoma - The End of Eden: Antisemitism in Iraq, 1917-1951
16:15–16:30 Coffee break
16:30-17:30 Fourth Session
Ms. Sarina Roffé, Sephardic Heritage Project - Syrian Jewish Paths to Freedom
Mr. Ruben Shimonov, ASF's National Director of Sephardi House - Conversation with Sephardi House Fellows
Student Presentations - The Story of Our Family Roots
17:30-18:00: Musical Program
Naama Perel Zadok
Concluding Remarks:
Dr. Shimon Ohayon and Dr. Drora Arussy