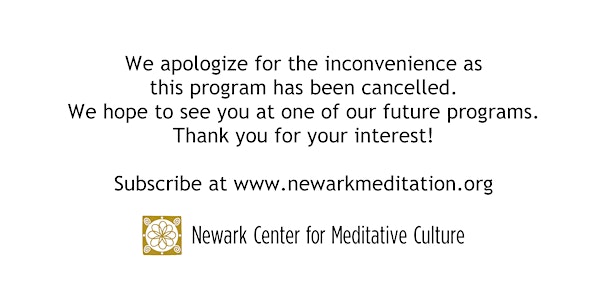 FROM KNEELING TO SELF-HEALING: A Call for a Men's Martial Meditation Medicine Movement
When and where
Location
Index Art Center 237 Washington Street First Floor Gallery Newark, NJ 07102
Refund Policy
Refunds up to 1 day before event
Description
An experiential day retreat exploring the
revolutionary path of Self Healing via Self Knowing
FULL-DAY OR HALF-DAY PARTICIPATION
For Men and Youths 14+
LIMITED SEATING
Suggested donation:
• Men Full-Day: $20 (10:00am-4:00pm)
• Men Half-Day: $15 (10:00am-1:30pm or 12:30pm-4:00pm)
• Young Men: FREE for ages 14 -17 accompanied by adult (limited tix)
• Male Students: $15 for ages 18 and over w/ID $15 (limited tix)
• Pre-Approved Volunteers: $10 (limited tix)

The day will consist of a short talk on the critical importance of men incorporating Self-Healing protocols into their daily lives, Meditation, Qi Gong exercises, Sexual Health and Fitness, Wilderness Therapy, Medicine Drum Circle, and a talk about Healing Generational Trauma.
Vegetarian lunch included.
Presenters: Ib'nallah S. Kazi, Khalil Maasi, Damani Saunderson, Leslie Arthur, J. Javier Cruz, Ihsaan R. Muhammad.
See Presenters bio-notes below.

Registration Required on Eventbrite.

For volunteer opportunities or more information contact us at info@newarkmeditation.org.


---
Presenter Bio-notes
___________
Khalil Maasi is the son and a senior student of legendary meditation and martial arts Grandmaster Shaha Mfundishi Maasi. Khalil has been training in these disciplines since childhood. Khalil's focus at this point in his life is the teaching of his father's system of mindfulness and martial healing Moyo Kazi.
___________
Leslie S. Arthur has been a teacher of African American history and economics for the past 29 years He is currently pursuing his Ph.D. with a research interest in the Black Power/black arts movement of the 1960s. Mr. Arthur began hiking six years ago for spiritual well being and physical fitness. He is currently a hiking leader with the Appalachian mountain club, one of the oldest organizations promoting hiking, nature walking and outdoor activities, and a hiking leader with Hikeolution, a local hiking group that promotes diversity in the outdoors.
___________
J. Javier Cruz was born and raised in Florida, Puerto Rico but has lived in the Greater Newark area for decades. He is bilingual, speaking his native Spanish and English. Currently residing in Harrison, NJ, he works full-time as a stationary engineer at a Newark plant. Javier is a Buddhist practitioner with residential retreat experience, currently enrolled in the Mindfulness Meditation Teacher Certificate Program with Jack Kornfield and Tara Brach. He continues to study with his main insight teacher, Dennis Maurer, under the guidance of Narayan Liebenson.
___________
Seba Kwesi Damani Agyekum (Damani Saunderson) is the author of Distorted Truths, and a soon to be published volume based on the Haitian Revolution and Haitian history. Damani is also a retired High School history teacher. Presently, he and his wife live in the Bedford Stuyvesant section of Brooklyn, where he is a father of five and grandfather of two. In his spare time, he is a practitioner of several yoga systems and an Afrikan martial arts system (YARA).
___________
Ihsaan R. Muhammad graduated from Rutgers Law School and has been until recently a practicing lawyer. Still retaining his law certification, he is now a branding and marketing communications consultant at his own company IHSAAN Marketing. Born and raised in Newark, he leads drum circles there and in the surrounding area. He is also active in a local yogic community. He also makes community, school, and corporate presentations on mindfulness with NCMC.
___________
Kazi (Ib'nallah S. Kazi) is a Las Vegas-based spiritual wilderness guide, born in Panama and raised in New York. As a spiritual wilderness guide, he gently awakens the inner guidance of wellness seekers through the process of integrating the medicinal forces inherent in our Heavenly (spiritual), Human (social) and Earthly (natural) environments.


---
A donation-based program of Newark Center for Meditative Culture (NCMC).
NCMC is a 501(c)(3) non-profit organization. Your tax deductible donations make it possible for us to continue delivering life-changing programs to the Greater Newark community.
Donations can be made and more information on NCMC can be found about us at www.newarkmeditation.org.