From JFK to Trump: The Cultural Legacy of the 1960's
Description
The year 1968 included two major assassinations, violent protests in big cities, upheavals on college campuses, a riot at the Democratic National Convention, all the while an unpopular war was raging in Vietnam. In this tumultuous atmosphere the country saw clear divisions between liberal and conservative culture.
Fifty years later, Dr. James Piereson, Senior Fellow at the Manhattan Institute, reflects on this division to explain the unexpected outcome of our country's most recent presidential election.
This event is free and open to the public.
FAQs
What are my parking options for this event?
The closest lot to the Self Auditorium is Lot C-11, located next to the Brooks Center. We will have parking passes available at the check-in desk for the ORANGE and GREEN spaces in this lot.
Organizer of From JFK to Trump: The Cultural Legacy of the 1960's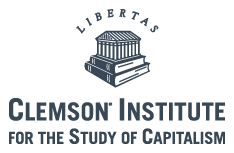 The Clemson Institute for the Study of Capitalism presents the John W. Pope lecture series every semester. The series is free, open to the public and focuses topics within political science and economics.
The Clemson Institute for the Study of Capitalism's mission is to examine and to increase public awareness of the moral foundations of capitalism. In pursuit of this mission, we teach numerous courses, offer unique scholarship opportunities and host engaging public events.