From Jerusalem to Cordoba

Friday, December 3, 2010 from 7:00 PM to 10:00 PM (CST)
Event Details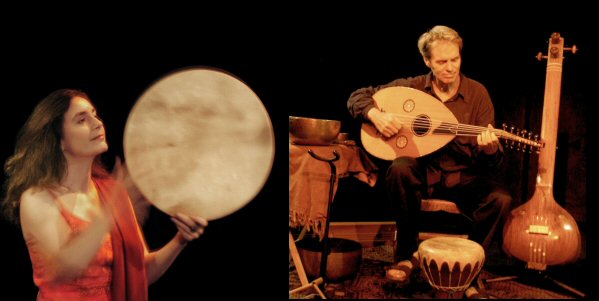 Online Sales Closed, Tickets on Sale at the Door

An Event for the Season

From Jerusalem to Cordoba
A Voyage in Time, Space, and Religions
Through Chant, Music, and Texts
featuring
Catherine Braslavsky (Solo chant, dulcimer, bendir) and
Joseph Rowe (Oud, bendir, darabukka, tampura, Tibetan bowls, mbira)
*NOTE: Online ticket sales are available through Friday noon, and you can pay at the door.

A celebration of the musical and mystical traditions in and around the Mediterranean, from ancient Judaism and Paganism, to medieval Christianity and Islam. Ancient and original music sung in Hebrew, Aramaic, Latin, Greek, Medieval Spanish, Occitan, and Arabic. Instrumental accompaniment with Middle Eastern percussion, oud, dulcimer, Tibetan bowls, Indian tampura, and African mbira. Short poetic and story texts in English (or French), including both original material and quotations from Hildegard of Bingen, Meister Eckhart, Ibn 'Arabi, Yehuda Halevi, etc. The narrative thread woven through the performance evokes a rarely-perceived common ground, and an alternative view of sacred traditions which have so often been in conflict.
The perfornance will be followed by a stimulating discussion of music, religion, and cultural convergence suggested by its content.
Complimentary wine will be served.

Website : www.naturalchant.com
Video exerpts on youtube: search "Catherine Braslavsky"
http://www.myspace.com/catherinebraslavsky
Reviews:
"There is something miraculous about this purity of voice, which leads us into the
sublime, where all words dissolve ... "
Armelle Héliot, Le Figaro

"A one-of-a-kind performance ... both a message of tolerance and a voyage of
initiation, a musical narrative which makes us feel in our depths that all the sacred chants of humanity, past and present, are animated by the same vibration"
Caroline Lachowsky,
Radio-France International (RFI)

"Through chant, Catherine Braslavsky plunges to the source, and speaks to us of
the very foundations of humanity. "
Michel Cazenave,
France-Culture

"These mixed liturgical chants evoke happiness at a time when people who believe in
the same God of love and intelligence are propagating hatred and misery. They
remind us that the mystery of unity resides in the luxuriance of diversity ... the
sublime emotion communicated by these magnificent chants is itself a work of
peace..."
Stélio Farandjis, Secretary
World Francophone Council

"A fascinating performance, with great spiritual power."
La Repubblica, Italy
nationwide daily newspaper

"A remarkably successful voyage in sound, depicting those rare times when Jews,
Christians and Muslims have lived together in peace and dialogue."
Jacques Attali,
French author and music critic

"Uplifting and inspiring! Catherine and Joseph are truly gifted musicians. Allow
them to enrich your life.."
Rev. Lauren Artress, Canon
Grace Cathedral, San Francisco
Over 400 performances, including :

Théâtre en Pièces, Chartres, France (audience of 80)
February 2010 http://www.tep28.com/

Palais des Congrès, Aix-les-Bains, France (audience of 1200)
November 2009 http://www.terre-du-ciel.fr/

Le Zénith, Montpellier, France (audience of 1500)
For the Festival Inter-religieux, April 2009 http://chretiensetcultures.free.fr/

Théâtre de l'Ile St-Louis, Paris audience of 60)
The entire month of August, 2009, and scheduled for August 2010

Municipal Theater of Granada, Spain (audience of 800)
For the Open Center of New York (Concert, workshops, conference)
September 2008 http://www.esotericquest.org/aboutgrenada.html

Center for Conscious Creativity, Hollywood, USA
Sold-out performance, October 2007 http://site.consciouscreativity.com
(Concert for Peace, selected as part of Daniel Pearl World Music Days)

Avignon-off Theater Festival, Avignon, France
2003 - 2006 (sold-out performances almost every night)

Festival della Musica, Reggio-Emilia Italy
(opening for Ralph Towner)December 2004

French Senate, Paris
April 2003. Benefit performance for "Oasis of Peace" , an Israeli/Palestinian village.

[From Jerusalem to Cordoba has also been performed in high schools, universities, churches, yoga centers, and international conferences.]

From Jerusalem to Cordoba
PROGRAM
Catherine Braslavsky : chant, bendir, doulcemer
Joseph Rowe : texts, oud, drums, Tibetan bowls, tampura, mbira
Invocation to the Muse (Greek chant by Mesomedes, 2nd century C.E)
Sing, dear Muse, begin my song. May the cool breeze of your forest stir my heart.
Abinu - Our Father - (Sephardic music; Hebrew prayer by Akiba ben Yosef, 2nd century B.C.E.)
Our Father, our King, hear our voice, and have mercy upon us
Our Father, our King, do this for yourself, if not for us
Our Father, our King, hear our prayer with kindness and compassion
Our Father, our King, do not deprive us of your Presence!
From Where Do You Come? music by Catherine Braslavsky (based on the Coptic version of the Gospel of Thomas, Logion 50, original Greek text probably first century C.E.)
From where do you come?
Our home is of the Light, the place where Light is born of Light.
It shines true, and is revealed within our form.
Who are you?
We are its children, the cherished of the Living One.
What is the the sign that you bring?
It is movement, and repose.
Mwashah: lama bada yatathanna (Arab-Andalucian song of the 12th? century; rhythmic cycle of 10)
When she begins to sway
Aman, aman, aman, aman!
Her beauty overwhelms me
I am the prisoner of her eyes
When she leans like the bough of a tree
O my vow, O my bewilderment
Who can answer my lament
Of love and torment?
Who but God, ruler of all beauty?
Aman, aman, aman, aman!
Quant voi la flor novele (troubadour song, 13th century France)
Quant voi la flor novele florir en la praele,
lors chant chançon novele, de virge pucele,qui
dou lait de sa mamele, le Roi alaita
qui de sa char digne et belle touz nos rachata.(...)
Marie, douce Mere, onques ne fus amere,
plaine de pitié,Que Dex qui est nostre Pere nos De Roi es Fille et Mere
Et si portas ton Pere : Or te pri, tres douce Mere,
get de pechié.

When I see the new flower in the meadow
I sing a new song of the young virgin
Who nursed the King at her breast
Who saved us all through her beautiful, noble flesh
Mary, sweet Mary, never were you harsh
You are both daughter and mother of the King
And you bore your own Father
So I pray you, sweet Mary, full of mercy,
May God our Father keep us from sin.

Cathar Prayer music by Catherine Braslavsky (Occitan prayer from the 12th century)
Paire Saint, Diou dreiturier
Dels bons esperitz
Dona nos a connaisser ço que tu connaisses
Et a aimar ço que tu aimas.
Holy Father, just God
of the good spirits
Help us to know what you know
And love what you love.
Iustus germinabit (Gregorian chant from before the 12th century; anonymous Latin text)
The just one blooms like the lily, and flowers in eternity, in the face of God.
Ilono - The Tree of Life (2nd? century Christian chant in Aramaic)
O beautiful tree of our desire, the Lord planted you in his church
You have grown by the blessed waters of the prophets
Your leaves heal, and your fruit gives life.
The church takes shelter in your shade,
And the Holy Spirit rests in your branches, like the dove in ancient olive trees.
Spiritui Sancto - Holy Spirit (music and Latin text by Hildegard of Bingen, 12th century Germany)
May the Holy Spirit exalt us, as when it acted through the spirit of the virgin Ursula,
gathering the pure ones around her like a flock of doves. For this, she left her native land, like Abraham. She
refused to marry, so as to embrace the Lamb of God. ...
Ave Generosa (music and Latin text by Hildegard of Bingen, 12th century Germany)
Ave, O generous and pure lady.O, sweetest and most beautiful of women, delighting God as he embraced you
in his heat ... O Mother, mother of all joy ...
In Te Sum - "In You I Am" (music and Latin text by Catherine Braslavsky)
When you are in my vision, I am in the light
When you are in my heart, I am in virtue
Your clarity, your witness, your incarnation in me.
When you are in the body, I am without limit
When you are in the soul, I am like a child
Your mercy, your patience
Your simplicity, in me.

Your wisdom, your universality
Your omnipotence, in me
In you I am, only in you
Give what I cannot give
Do what I cannot do
Love what I cannot love
Sing what I cannot sing
In you, I am ...
La vida (Sephardic Jewish song in medieval Spanish)
Life is but a passage, for gaining faith; death is a voyage in truth.
My brothers, the mystery reaches our ears, yet we run around aimlessly "con corrido", in this false world.
We lack true courage, we slander our brothers, and the truth is spoken in vain — O, what a false world! All
the lords are dressed in their finest colors, but their cloth is false.
Midst hundreds of flatteries, we still run aimlessly "con corrido", in this false world.
Al-Andalusi - The Andalucian (music by Joseph Rowe, text by Ibn Arabi, 12th-13th century)
My heart welcomes all forms:
It is a meadow for gazelles, a monastery for monks,
a temple for idols, the Kaaba of Mecca, and the tablets of the Torah.
(Ad-dinu bidini'l hubb) My religion is love,
Wherever love's caravans go, I follow
refrain: la ilaha ill'Allah - there is no god but God
Abwoun - The Lord's Prayer (music by Catherine Braslavsky, reconstructed Aramaic text,
by Yeshua of Nazareth).
Our Father who art in Heaven, hallowed be thy Name
Thy kingdom come, thy will be done, on Earth as it is in Heaven,
Give us this day our bread for today, and forgive us our offenses, as we forgive those who offend us.
Help us not to lose our way in temptation, and deliver us from evil,
For thine is the kingdom, the power, and the glory of the ages, Amen.
When & Where
St. David's Episcopal Church, Bethell Hall
301 E. 8th St.
Austin, 78701-3280


Friday, December 3, 2010 from 7:00 PM to 10:00 PM (CST)
Add to my calendar
Organizer
Jon Lebkowsky is Chief Digital Officer of Plutopia Productions and blogs at http://weblogsky.com.  Scoop Sweeney is at http://stagedude.com.