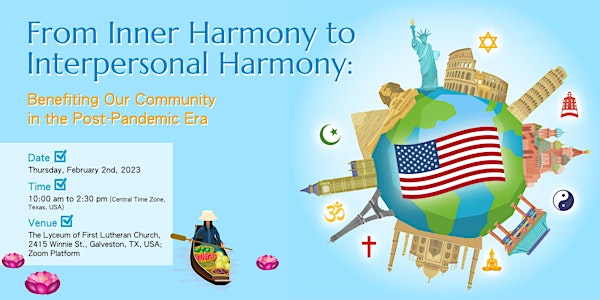 From Inner Peace to Interpersonal Harmony
From Inner Peace to Interpersonal Harmony: Benefiting Our Community in the Post-Pandemic Era
When and where
Location
First Evangelical Lutheran Church 2415 Winnie Street Galveston, TX 77550
About this event
2023 UNITED NATIONS WORLD INTERFAITH HARMONY WEEK
Title:
From Inner Peace to Interpersonal Harmony: Benefiting Our Community in the Post-Pandemic Era
Aim:
To foster a better understanding of interfaith values and practices, build friendships among people from diverse religious backgrounds, and promote interfaith harmony in the community.
Background:
This annual event promotes mutual understanding, harmony, and cooperation between all people regardless of their worldviews, religions, and faiths. Over the last three years, the world has been fighting a pandemic that has tested many's faith. The 2020 event discussed the "Five Harmonies" (individual harmony, family harmony, interpersonal harmony, social harmony, and world harmony) and how to heal the mind. The 2021 topic was finding inner joy in what we hoped would soon be a post-pandemic world. The 2022 event focused on creating interpersonal harmony and honoring our shared diversity.
The upcoming 2023 event will be held in person and virtually via Zoom. Please join us to learn and share your insights on how we may work together to promote harmony now and future. Space is limited. Please register now.
Venue:
First Evangelical Lutheran Church, Galveston, Texas, USA
About Parking:
street parking is available but carpool is highly recommended
Agenda
09:30 am-10:00 am
Registration
10:00 am-10:15 am
Opening
Reverend Richard Rhoades, Pastor of First Lutheran Church
10:15 am-10:45 am
Keynote
Reverend Dr. Thomas Colyandro, Orthodox Priest
10: 45 am-11:00 am
Coffee time with light refreshments & mingle
11:00 am-12:15 pm
Panel 1---Interfaith discussion: from seeking inner peace, facilitating interpersonal and family harmonies, to reaching community harmony in the post-pandemic era
Moderator: Reverend Richard Rhoades, Pastor of First Lutheran Church, Galveston
Judaism: Rabbi Peter Kessler, Congregation B'Nai Israel, Galveston
Lutheran: Reverend Michael Rinehart, Bishop of the Texas-Louisiana Gulf Coast Synod, Houston
Islam: Imam Dr. Muhammad N. Haq, American Society for Islamic Awareness; Adjunct Professor of Religious Studies, University of Houston
Serbian Orthodox: Reverend Dr. Thomas Colyandro, Orthodox Priest
Hinduism (online): Mr. Rajnish Kashyap, General Secretary, Hindu Council at the United Kingdom
Buddhism: Venerable Dr. Miaolung Shih, Dharma Teacher, IBPS Dallas; Member of Parliament World's Religions; American Academy of Religion; NGO Committee on Status of Women, New York
12:15 pm-1:00 pm
Working lunch (provided)
1:00 pm-2:00 pm
Panel 2---The success and challenges of achieving interfaith harmony: how do we live harmoniously with different religions in the post-pandemic era
Moderator: Reverend Dr. Thomas Colyandro, Orthodox Priest
Buddhism (video): Dr. Bee Scherer, Chair of the Buddhist Studies Department and Rector of the Buddhist Seminary, Free University (Vrije Universiteit Amsterdam), The Netherlands
Christianity: Reverend Dr. Duane Larson, the retired president of Wartburg Seminary in Dubuque, Iowa; Lecturer of Religious Studies, University of Houston
Islam: Imam Dr. Muhammad N. Haq, American Society for Islamic Awareness; Adjunct Professor of Religious Studies, University of Houston
Confucianism and Buddhism (online): Dr. Kenneth W. Holloway, Levenson Chair and Associate Professor, Department of History, Florida Atlantic University
2:00 pm-2:30 pm
Closing
Reverend Richard Rhoades and Venerable Dr. Miaolung Shih