Description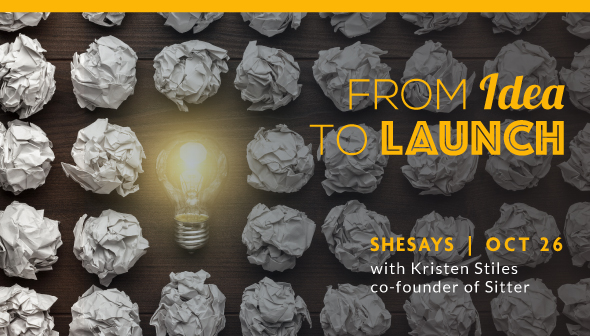 It's down-right trendy to be a founder these days, but it takes a lot of risk, work, luck, passion and grit to turn an idea into a company.
Startups aren't for the faint of heart, but they ARE an amazing chance to build something on your terms. That's part of the reason more women start companies (*than men).
We love hearing their stories and insights. That's why we're so pleased to have Kristen Stiles join us. She's had one heck of a ride building Sitter — A tech company that makes babysitting simple.
Kristen is the first to say her startup idea was down-right inconvenient in it's timing - she was consulting at full capacity, raising two kids, and her husband was working on the road much of the time. It certainly didn't seem like a good time to start a tech business from scratch!


...But, she had an idea that she just couldn't drop.
We can't wait to hear her story:
• How did she build a company from scratch?
• What are the key steps she'd recommend to test an idea and grow it?
• What are the top take-aways and lessons she's gathered along the way?

Hope to see you on the 26th!
Mandy, Kecia & The SheSays LC
WHEN & WHERE

@Galvanize Boulder - (**NEW LOCATION ON WALNUT!!**)
6:00-7:00 Mingling, Food & Drinks
7:00-8:00'ish Presentation and Q&A


MEET KRISTEN STILES

Kristen is the mother of two crazy, sweet boys and wife of one awesome guy. She's a total geek and has a plan or checklist for everything. She's been an entrepreneur since birth. She's an introvert and proud of it. Kristen LOVES to eat and attempts to farm.
Prior to founding Sitter, Kristen developed extensive experience in both IT and business strategy. She started as a developer for Hewlett-Packard and transitioned that technical and analytical knowledge into IT project management, marketing project management, and then into business strategy consulting. She's worked or consulted for companies of all sizes and industries – from mom-and-pops to Fortune 100. Her biggest accomplishment? She founded a very successful Halloween candy exchange when she was eight in which she turned an insane profit.
**AND PROPS TO OUR AMAZING SPONSORS!**
IBM - Food & Drinks
SoftLayer is proud to support SheSays Boulder, and offer the Catalyst incubator program as a perk to its members. Learn about the server credits, mentorship, and connections that are included in Catalyst.
Boulder Digital Arts - GOLD SPONSOR
For 10 years, BDA has been a community-powered resource for people who create things. Whether you work in film, photography, design, technology or business, we seek to empower your creative process with membership, education, events, community and collaboration. They're happy to support SheSays and offer members awesome discounts AND the SheSays Mini-Scholarships!
--WE <3 BDA!!
TapInfluence- Staunch Supporter
TapInfluence is the leading influencer marketing automation solution for brands and agencies. We make it easy to build, execute, and maintain successful influencer marketing programs.
Siren Vid - Video Production & Content Creation
Siren Vid is a Boutique Video Production Company that specializes in bringing artistic vision to commercially based video content in the form of Brand Story's, Interactive Videos, Product & Event Videos. From concept to completion, we work closely with our clients to ensure the final product is not only a direct reflection of their vision, but are emotionally compelling and have a cinematic flair.
Galvanize Boulder - Event Space
Galvanize is a network of modern campuses and co-working spaces where you can learn the skills, knowledge, and network you need to make an impact. Learn. Work. Grow.