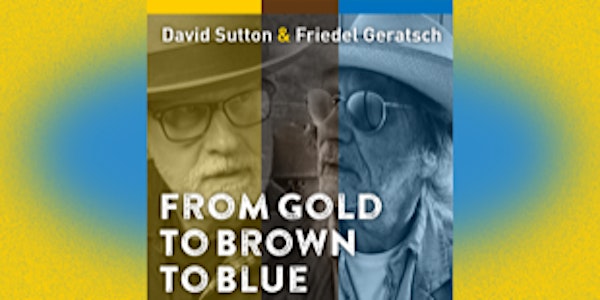 From Gold to Brown to Blue International CD Release Listening Party!
From Gold to Brown to Blue Virtual Record Release party, this Friday. Join our song-by-song chat with David, hosted by Rada Yovovich.
About this event
From Gold to Brown to Blue, is an album of 12 original blues-laced Americana songs originally composed and performed on that most American of instruments, the cigar-box-guitar (CBG), by German musician Friedel Geratsch, then reimagined in English by American singer/songwriter (and cigar box guitar champion) David Sutton.
Friedel Geratsch—founder and frontman of Geier Sturzflug, the '80s Neue Duetsche Welle (or NDW, the New German Wave) hit-makers— worked for several decades as a prolific German language songwriter and singer before beginning, in the mid-2010s, to build and perform music on his own homemade instruments with his power trio, Garage 3.
David Sutton, American musician, writer, photographer, and author of the book Cigar Box Guitars: The Ultimate DIY Guide for Makers and Players of the Handmade Music Revolution, became an über-Fan of the Neue Deutsche Welle as a study-abroad student in Germany in the early 80s.
A conversation begun as a chat in an online cigar box guitar community led to the realization that Sutton's book had been the catalyst for setting Geratsch on his path to reinventing himself as a cigar box guitar master. Sutton's affection for Geratsch's more recent musical releases inspired him to want to share them with an English-speaking audience.
This genre-defying collection of soulful tunes, originally composed and performed by Geratsch, then translated and performed in English by Sutton, represents the first collaboration for these kindred CBG celebrants.
For a preview and an opportunity to hear Geratsch's original vocals, check out the following songs on YouTube: