Ford Foundation President with transformative approach to philanthropy featured in Ewing Halsell Distinguished Lecture on Sept. 10, 2020
About this event
At a time of rising inequality, Ford Foundation President Darren Walker, JD, is reimagining philanthropy less as charity than a tool to advance justice. He calls for "all who work in industries that serve others and the greater good, from philanthropy to education, health care to social services" to unflinchingly examine fundamental root causes of structural inequality and consider whether their own longstanding practices reinforce it.
The 2020 Ewing Halsell Distinguished Lecture features a conversation with Mr. Walker, who will detail ideas outlined in his book "From Generosity to Justice: A New Gospel of Wealth" and describe implications for philanthropy, medicine and more. Said Mr. Walker: "Now is the time to abandon previous conceptions of what is possible and to move toward a world of promise."
The conversation will be moderated by Raul B. Rodriguez, Associate Vice President for International Affairs at Monterrey Tech in Mexico. Mr. Rodriguez has served as CEO of the North American Development Bank; chairman of the World Affairs Council of San Antonio; and the Tom Benson Chair in Banking and Finance and Distinguished Professor at the University of the Incarnate Word.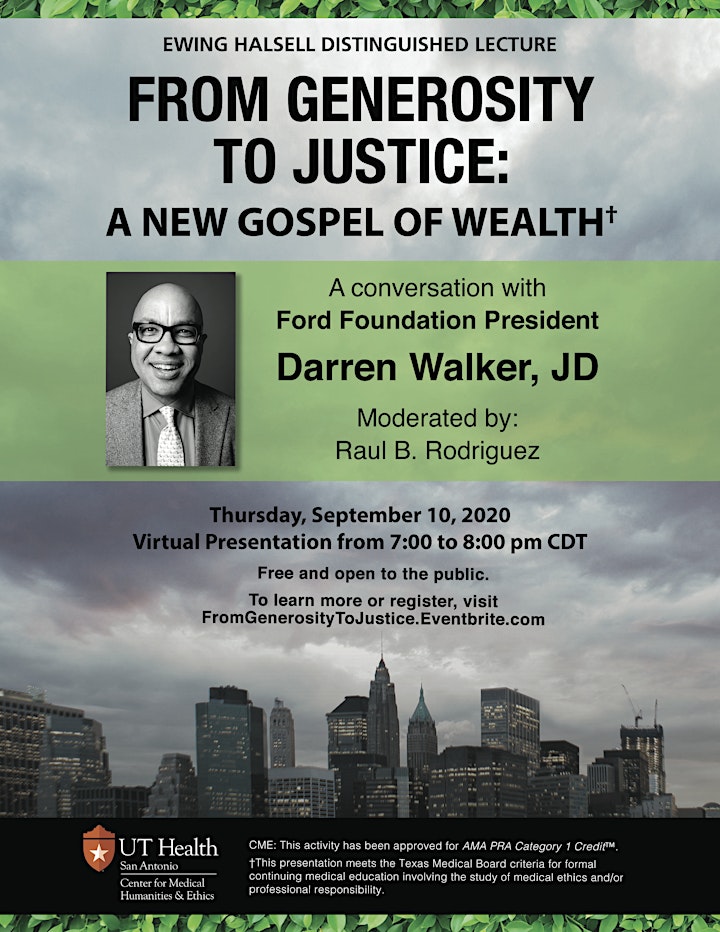 Organizer of From Generosity to Justice: A New Gospel of Wealth
We strive to be a leading Center educating medical students and health professionals in ethics and professionalism while nurturing empathy and humanitarian values. We fulfill our mission by:
Preparing students to identify, analyze and resolve moral conflicts in patient care and medical research;
Deepening the attentiveness to patients that will persist throughout students' medical careers through exposure to excellent clinical role modeling, arts and letters; and
Developing a distinguished interdisciplinary community service learning program that focuses on ethics in action and serves as a bridge between ethics education and development of empathy and humanitarian values.
The Center focus on four key areas: Literature and Art, Medical Ethics and Professionalism, Community Service Learning and Global Health