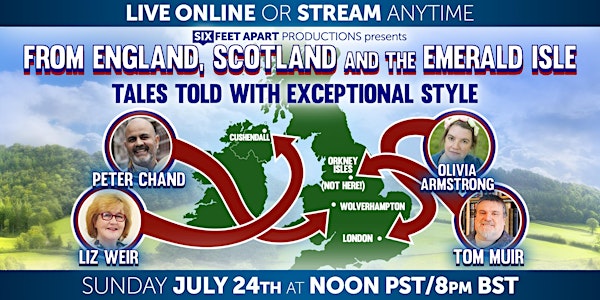 From England, Scotland and The Emerald Isle
Travel around the world from the comfort of your living room, in whatever time zone you live.
Refund Policy
Contact the organizer to request a refund.
Eventbrite's fee is nonrefundable.
About this event
Join us for storytelling from a part of the world where color is colour, theater is theatre and a liter is litre. We are offering a fabulous programme of high calibre, skilful storytellers from England, Scotland and Northern Ireland, and we have timed it so you can watch from whichever side of the Pond you happen to live - lunchtime in America and suppertime in the UK. Make yourself a cuppa, sit back and enjoy!
The show will stream live on YouTube and your ticket allows you to stream anytime on any continent. Want to be in the Zoom room with our storytellers? Be part of the live virtual audience with our Backstage Pass ticket options.
Emcee: Claire Hennessy
Unfortunately, Shonaleigh has had to pull out of show due to ill health but we are delighted to confirm that Tom Muir is stepping in to replace her.
Liz Weir is an Irish storyteller with an international reputation. She has featured at major storytelling festivals around the world and was the first winner of the International Story Bridge Award from the National Storytelling Network, USA, which cited her "exemplary work promoting the art of storytelling". As Children's Librarian for the City of Belfast during the years of violence in her native land she learned about the healing power of storytelling and in 2019 was awarded an MBE for her service to the arts and to education. www.lizweir.net https://www.lizweir.org/
Olivia Armstrong is an Irish-born, London-based and has been a professional storyteller for over sixteen years. She has created site-specific stories for many heritage sites including Windsor Castle, Westminster Abbey, the National Gallery and the British Museum. She has also told stories and discussed the art of storytelling on BBC Radio. She works extensively on storytelling projects with isolated and vulnerable adults and children, and devises and leads story-making workshops. She has a rich knowledge of Irish and British folklore and seasonal customs, along with a profound love for the natural environment. She often uses these as inspiration for the stories she tells. https://oliviaarmstrongstoryteller.com/
Peter Chand is one of Europe's finest storytellers who has told his fantastic tales all over Britain, and in Ireland, Norway, Holland, Belgium, Greece, Canada, Denmark, and India. Of Punjabi heritage, Peter is constantly in demand for his fantastic tales and has worked with audiences of all ages and backgrounds. Chand's parents migrated to Britain from the Punjab region in the 1950s, and though he was born in the Midlands, Peter grew up using Punjabi as his first language. He combines these two cultures seamlessly to tell stories full of life, wisdom, and humor. Peter is also one of the organizers of the Festival at the Edge (FatE) International Storytelling Festival, the longest-running festival of its kind in England.
Inspiration was dripping out of every word… It seems to be a story can have a life of its own. – Amsterdam Storytelling Festival (Netherlands) https://peterchand.com/
Tom Muir was born in the Orkney Islands in 1963. He has a background in archaeology, history and folklore and has worked at the Orkney Museum since 1988, currently holding the post of Engagement & Exhibitions Officer. He has gathered together the first ever collection of Orkney folk tales in his 1998 book, The Mermaid Bride, and other Orkney Folk Tales. He also wrote another collection for the History Press in the 2014 book, Orkney Folk Tales. Tom has also written other books on Orkney's folk tales, history,abandoned buildings and the Icelandic Sagas. He has been a storyteller ever since he could talk, but in front of an audience for around 30 years. He is also the chair of the Orkney Storytelling Festival, which takes place on the last full weekend in October.
Tom lives in an 18th century house in the beautiful little seaport town of Stromness with his American wife, Rhonda. Together they run the website Orkneyology.com, in which is hosted Tales for Troubled Times, a collection of around 180 folk tales recorded during Covid 19 lockdown, as an attempt to cheer people up during these recent difficult times. The website is developing into publishing, as Orkneyology Press, which has many authors lined up with books that cover subjects from history to folk tales, and not just from Orkney. https://www.orkneyology.com/