Description


CHECK OUT OUR NEW EVENT PAGE!!!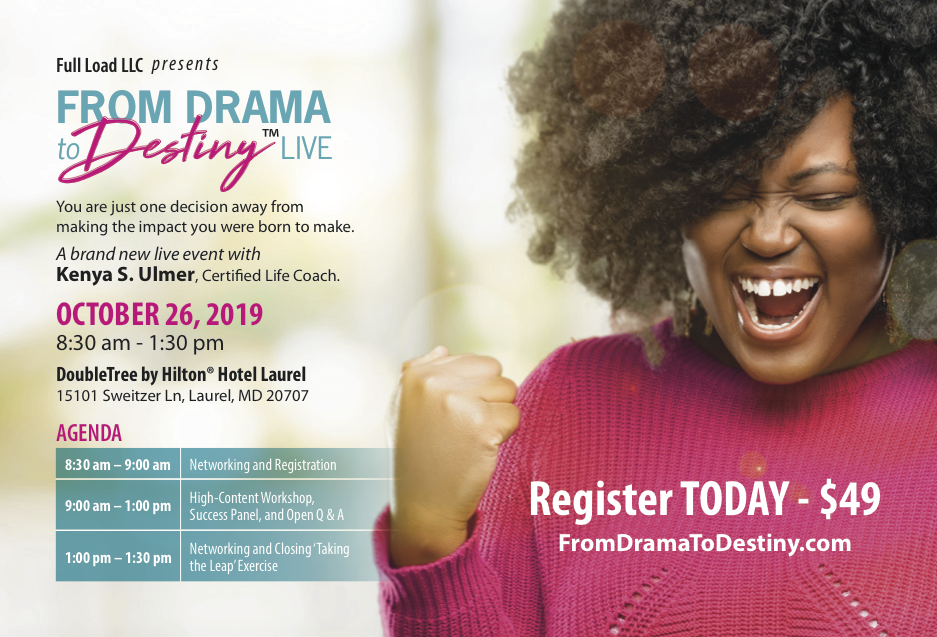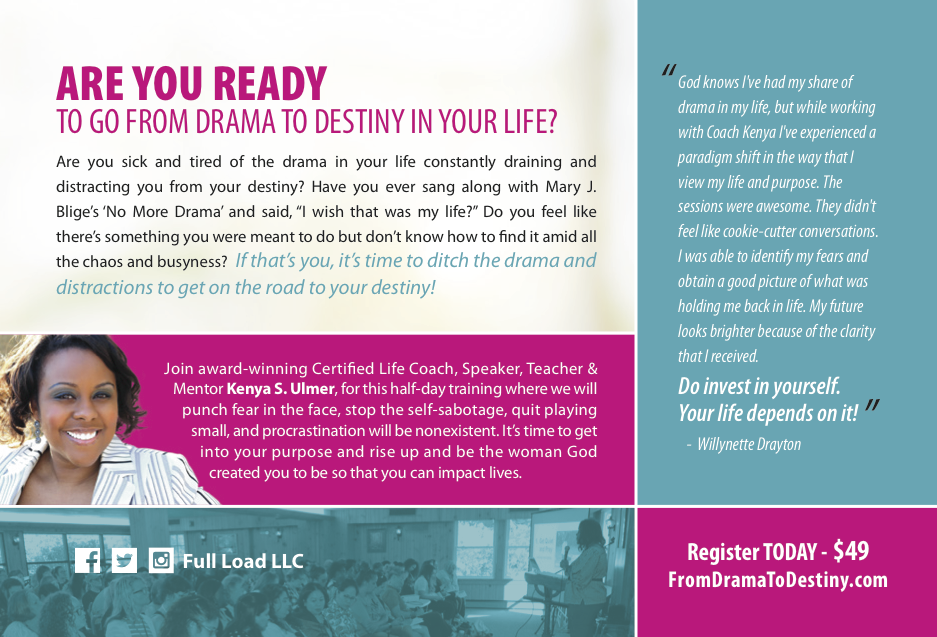 Are you sick and tired of the drama in your life constantly draining and distracting you from your destiny? Have you ever sang along with Mary J. Blige's 'No More Drama' and said, "I wish that was my life?" Do you feel like there's something you were meant to do but don't know how to find it amid all the chaos and busyness?
If that's you, it's time to ditch the drama and distractions to get on the road to your destiny!
Introducing From Drama to Destiny™ Live, a groundbreaking, life changing, God-filled live event brought to you by award-winning transformational life coach Kenya S. Ulmer, a vessel used by God.
In this half-day workshop we will get you on the path of identifying your God-given purpose so that you can live a more joyous, productive and fulfilling life! Have you put off what God has been calling you to do? We will punch fear in the face, stop the self-sabotage, quit playing small, and procrastination will be nonexistent. It's the challenges, setbacks and behaviors that can keep us stagnant. It's time to rise up and be the woman God created you to be so that you can impact lives.
Don't let another year, month or moment go by living a dead and unfulfilled life. Chasing happiness isn't the answer. Meaning in your life leads to true happiness which leads to more money because you're doing what you love. We can find our God-given purpose from any event, person, thing or experience. I found mine in a t-shirt (haha). Your purpose is always right there waiting for you to get clear, connect the dots and pay attention to the signs. Everything falls into place when we discover and act on our purpose.
Join me and other like-minded individuals who are tired of being sick and tired and are now ready to take the leap!
Someone needs what you have to offer and they're just waiting for you to show up.
Click here to see what others are saying about the program.
This is for you if…
You often whisper to yourself, "There has got to be more to life than this"

You're ready to surrender and ditch the drama and distractions and become who God has called you to be and do what you have been put on this earth to do to change your life and serve those you've been called to serve

You've been hiding behind excuses and busyness in your life and you're ready to take the leap to get to your next level

You know that you have greatness on the inside of you and you're ready to get out of your own way so you can make the impact you were born to make

You know that you're in the wrong job and at the end of the day you're left drained, unfulfilled, irritated, and unhappy

You know that you purposefully self-sabotage and play small because you don't want others to think you are better than them

You need a circle of life-affirming, edifying sisters who encourage you to shine your light

You know that you've been living beneath your full potential and you don't know how to move forward

You're tired of allowing fear to run your life

You know that taking the leap is scary and you need help getting "you" right first
So, what's your leap?
Join me to secure your seat and let's get ready to go FROM DRAMA TO DESTINY!
#fromdramatodestiny #empowerment #womensempowerment #faith #purpose #lifecoach #womensconference #workshop #God #spirituality #spiritual #networking #encouragement
Event Cancellation Policy: No refunds are offered for event tickets. All sales are final. Should unforeseen circumstances arise that make it impossible for you to join us in person at the event, you may receive a credit for your ticket to apply to an upcoming event or program if you let us know by September 25, 2019. Alternatively, your ticket is transferrable, so you may allow a friend or colleague to attend in your place. After September 25, 2019, you may receive a credit for your ticket against any of our future events. This credit must be used within 12 months. After 12 months, your credit will be forfeited in its entirety.