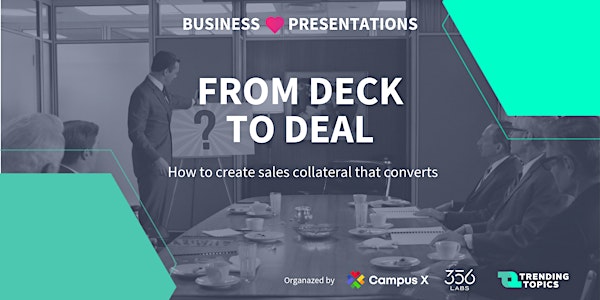 When and where
Date and time
Thursday, May 16, 2019 · 7 - 9pm EEST
Location
Campus X Alexander Malinov 31 Blvd 1729 Sofia Bulgaria
Description
Our events so far were focused on marketing and particularly on using PR and media to boost brand awareness. This time, we'll dive deeper into sales and we'll discuss how good sales collateral can help us close more and better deals.
Selling a product or service can be challenging in the ever more competitive B2B field. That's why we invited Boris Hristov, founder of the presentation agency 356labs, to give an exclusive talk on designing outstanding decks and documents that work.

ABOUT THE SPEAKER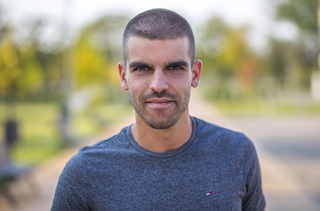 Boris' company is behind presentations that closed multi million-dollar customer deals, secured startup investments from people like Bill Clinton and helped Gradus raise 40M EUR in the second biggest IPO in the history of Bulgaria.

Currently, he is working with big brands like KPMG, Publicis, Roche, Unicredit Bulbank, Microsoft, Renault and more.
THE CHERRY OF THE MEETUP

Boris will bring along the pro sales collateral of 356labs. Mind you, he'll not just show some pretty slides...

He will drill down into the actual process of research, ideation and creation of effective presentations, so that we get the full picture of what it takes to create sales decks that convert. In addition, he will demo similar projects for companies like Deutsche Telekom.

KEY TAKEAWAYS:
How to make a highly-customizable company deck for potential clients

How to make a sales presentation that is delivered by you but actually led by the client

How to make personalized proposal template
THIS EVENT IS FOR:

Sales & biz dev professionals

Marketing perfectionists & designers

Startup founders & business owners

Anyone appreciating a good presentation
The event will be held in English, so feel free to bring your international colleagues and friends.

As usual, after the presentation, we'll grab beers, network, and share our experience with creating decks.

Join us on Thursday (May 16) at 7 PM in Campus X!