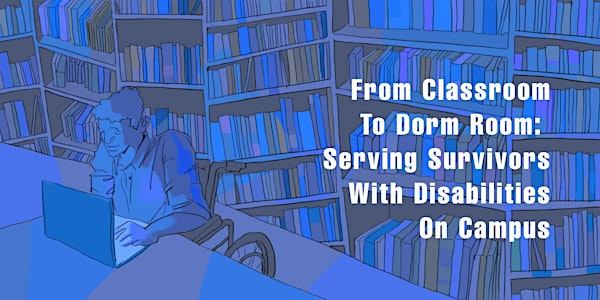 From Classroom to Dorm Room: Serving Survivors with Disabilities on Campus
Interactive webinar identifying barriers to serving college students with disabilities who experience sexual assault or abuse.
About this event
(image description: includes title: From Classroom to Dorm Room: Serving Survivors with Disabilities on Campus; background is sketch of a student who uses a wheelchair working on his laptop in the library.)
In a recent study, 31.6% of undergraduate females with disabilities reported nonconsensual sexual contact compared to 18.4% of undergraduate females without a disability (Association of American Universities Campus Climate Survey on Sexual Assault and Sexual Misconduct, 2017). Despite this increased likelihood of sexual assault on campus, survivors with disabilities have been historically excluded by programs designed to serve student survivors, often because they are inaccessible, unwelcoming, and do not meet the needs of survivors with disabilities and other marginalized identities, including race. This session will provide an overview of the barriers that student survivors with disabilities face in seeking out and receiving services on campus as well as solutions that educational institutions can implement to address those barriers and ensure that they are equipped to meet the needs of all students who experience domestic violence and/or sexual assault, especially those who are most risk.
Intended Audience
This webinar is intended for people who work with student survivors of gender-based violence and/or students with disabilities and Deaf students. This includes community-based domestic and sexual violence programs and several campus-based offices, such as: student affairs; health services; disability services; Title IX coordinators, investigators, and/or hearing officers; security; and others.
Format
This session will be highly interactive and engaging. It will begin with an introduction to the issue, followed by a panel discussion. The last 30 minutes will be used for questions and dialogue with the audience.
Accessibility
Live captioning, American Sign Language interpretation, and audio descriptions of important visual information will be provided. Other accommodations will be provided as needed, based on requests made during registration.
Facilitator
ANNELIESE BROWN, Vera Institute of Justice. Anneliese has been presenting and providing expert guidance at the intersection of disability, gender-based violence, and campuses for over six years. She has provided half- and full-day in-person trainings to three OVW-funded campus consortiums, as well as several webinars for OVW-funded grantees.
Panelists
KAITLIN SHETLER, Vera Institute of Justice. Kaitlin is a Licensed Master Social Worker with over 10 years of experience working with vulnerable populations. Kaitlin worked as a behavioral rehabilitation instructor for the state of Tennessee. There she developed a passion for the disability community and best practices for advocating for young adults with disabilities. Later, she spent some time as the assistant social services director for a nursing home in Nashville. Most recently, Kaitlin served as the Director of Disability Services at Lipscomb University. She also served as a Title IX investigator, working with students experiencing sexual assault, stalking, harassment, and discrimination. At Vera, she supports OVW-funded disability grantees in improving their responses to survivors with disabilities.
MARIA CRISTINA PACHECO, National Organization for Victim Assistance. María Cristina Pacheco Alcalá (she/hers/ella/ellas) is the Assistant Director of NOVA's Campus Training & Technical Assistance Program. María Cristina has over 18 years of experience working to end gender-based violence through prevention and education efforts in the non-profit sector and higher education settings. María Cristina specializes in curriculum development and training related to strengthening communities' responses to address gender-based violence in collaborative, trauma informed, and culturally responsive approaches. At NOVA, she supports the training & technical assistance program for campus coordinated community response funded through the U.S. Department of Justice, Office on Violence Against Women Campus Program. In this role, she provides training, technical assistance, and coaching to institutions of higher education seeking to create a trauma-informed, culturally relevant, accessible, inclusive, and sustainable programs to address dating violence, domestic violence, sexual assault and stalking on campus.
WANDA SWAN, Founder and Executive Director of the Swan Center for Advocacy and Research, Inc. An advocate, prevention strategist, speaker, writer and on-air personality, Wanda Swan is a nationally-recognized thought leader in survivor advocacy, anti-oppression work, restorative justice and violence prevention. A Mississippi native, Wanda has been deeply embedded in the violence prevention and advocacy movement for the duration of her professional careers. For over a decade, Wanda's work has spanned across higher education, local and state agencies and nonprofits where she facilitates training and workshops to streamline practices for anti-oppressive trauma-informed staff and survivor support.
Sponsors
End Abuse of People with Disabilities
FISA Foundation
Southwest PA Says No More
Co-sponsors
Autism Connection of Pennsylvania
Black Girls Equity Alliance
City of Pittsburgh Gender Equity Commission
Gwen's Girls
Institute on Disabilities at Temple University
New Voices for Reproductive Justice
Opportunity Fund
Pittsburgh Center for Autistic Advocacy
Pittsburgh Council on Higher Education (PCHE)
Self Advocates United as 1
SisTers PGH
University of Pittsburgh School of Education
UPMC Children's Hospital of Pittsburgh, Division of Adolescent and Young Adult Medicine