About this Event
KYLE GROOMS & TONY WOODS TICKETS AVAILABLE NOW
Sign up for our weekly newsletter to get pre-sale codes
For any wheelchair or ADA needs, please contact the Box Office in advance of the performance at (443) 283-1200.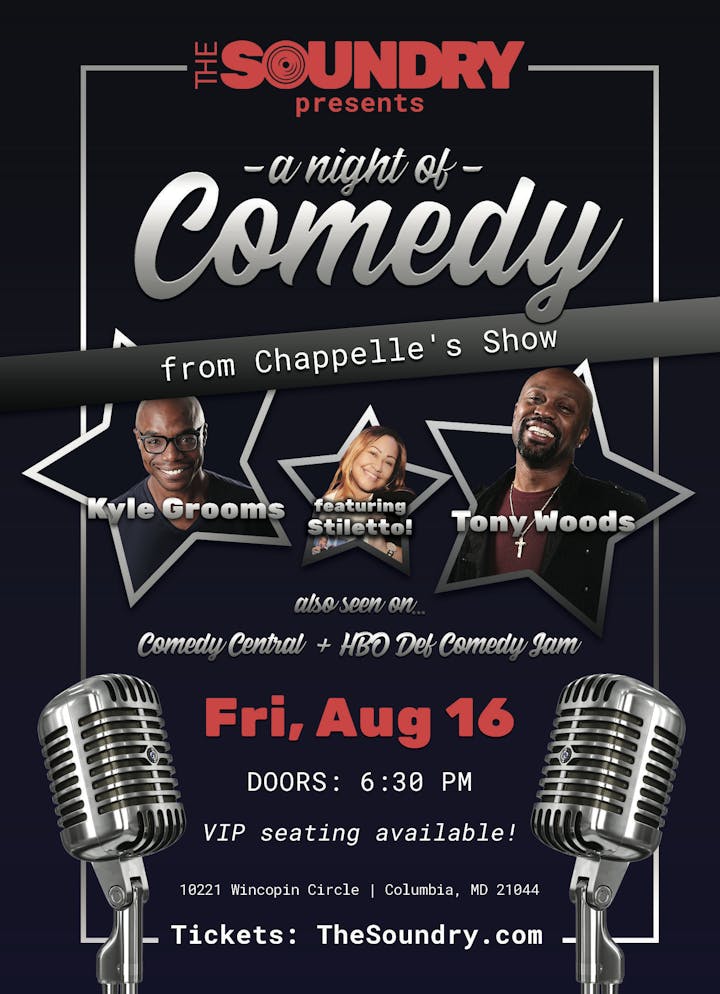 Kyle can be seen in the film "I Feel Pretty!" starring Amy Schumer, in his own half hour special on Comedy central, and he's made multiple appearances on VH1, NBC, BET, CBS, and the famed "Chappelle's Show."
His first album, "The Legend of the Jersey Devil," was named one of iTunes "Top 100 Comedy albums of 2009". He was also voted "Best Comedian of 2018" by Miami News Times.
Kyle delivers an honest and intelligent view of the world, while giving an intimate look into his own life experiences growing up in the American melting pot.
With his many accomplishment as Comedian, Actor and writer, he continues to perform at some of the top comedy clubs in the world including, Gotham, The Comedy Cellar, the Comic strip, and Caroline's in New York. Laugh Factory, Improv, Comedy Store, Los Angeles. Borgata Casino, Atlantic City. The Stand, Scotland. Kung Fu Komedy, China. Comedy Masala , Singapore and Pakistan.
From Silver Spring, Tony Woods is a one-of-a-kind comedic legend that is always in control of his audience. His playful and cool demeanor, mixed with his sharp and sometimes mischievous routines, create a show entertaining at every level.
A seasoned veteran in the comedy business, Tony is recognized not only by fans but by his peers as well as one of the best and most engaging comedians to get behind a microphone. His endless list of credits include Chappelle's Show, Comedy Central 1/2 hour special, HBO's Def Comedy Jam, P. Diddy's Bad Boys of Comedy, Showtime at the Apollo, BET's Comic View, and the USO tour. Tony was recently featured on the Funny or Die Oddball Comedy Tour.