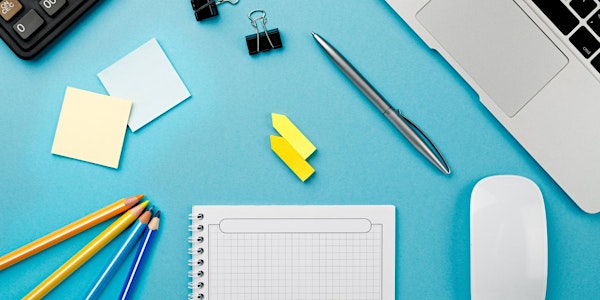 From Busy to Intentional
Managing Your Work Life for Greater Efficiency, Effectiveness, and Joy
By California Teacher Development Collaborative
Date and time
June 20 · 2:30pm - June 23 · 4pm PDT
Refund Policy
Contact the organizer to request a refund.
About this event
3 days 1 hour

Mobile eTicket
How can I be less "busy" so that I actually feel like I am getting something done? How can I be less reactive and more strategic? How can I add value rather than just reply to email? If these questions feel familiar and even more pressing now, do not merely hope that next school year will be any different – as President Obama said, "Hope is not a strategy."
Instead, kick off your summer with this interactive workshop on value, time, and project management. Over the course of four 90-minute sessions, you will learn and, importantly, put into practice, strategies for work efficiency. In addition, Andrew will be available for a follow-up 30-minute Q&A at the end of each session. Andrew Davis, a practitioner and evangelist of multiple productivity and time management tools, as well as a Head of School, will help you find the blend of strategies that will make your summer and 2023-24 school year more productive and rewarding.
Workshop Focus:
Value mapping: Defining our "mission" work and clarifying our "maintenance" work.
Project and calendar management: Keeping all the balls up in the air and moving in the right direction.
Email: Shifting email from a burden to an effective tool for communication
Workspace & Screen Management: Establishing an effective "mise" with everything in its place for success with a new twist for working from home
Maintenance: Maintaining good habits as the volume increases when students, colleagues, and parents return in August.
Our work will be grounded in David Allen's "Getting Things Done," Merlin Mann's "Inbox Zero," and numerous researchers and writers in the productivity space.
While this workshop is intended for anyone who feels too busy, it will be most effective for those who have projects to complete, multiple constituents to manage, and discretion in how they use their time. Attending with more than one person from your school will increase your chances of keeping these systems – and their benefits – alive during the next school year.
Participants will need a full inbox of email to triage (don't we all have that?), and will also, ideally, have projects or goals in mind for the summer or 2023-24 school year.
DATES
SESSION 1: June 20, 2023 | 2:30pm - 4:00pm
SESSION 2: June 21, 2023 | 2:30pm - 4:00pm
SESSION 3: June 22, 2023 | 2:30pm - 4:00pm
SESSION 4: June 23, 2023 | 2:30pm - 4:00pm
CANCELLATION POLICY
Life happens. We understand that there will be times when you cannot attend a workshop that you have registered and paid for. Registration may be transferred to a different person up to 7 days before a session. However refunds will not be given, and a session missed for any reason will not be refunded.
Below we have outlined our cancellation and refund policy, which we have in place to ensure the most accurate numbers when we secure well in advance locations, catering, and facilitators. Thank you for understanding.
For our ongoing programs or one-day intensives, refunds are available (less a $50 processing fee) up to 22 days before the scheduled starting date. We are unable to provide refunds for cancellations made 21 days or less prior to the first day of a workshop. A missed session that is part of an ongoing program is non-refundable and non-transferrable.
Please contact us by email as soon as you know you cannot attend a workshop.
You will receive a full refund if CATDC chooses to cancel this event.
About the organizer
The CATDC is a non-profit organization that provides opportunities for teachers to grow as professionals.