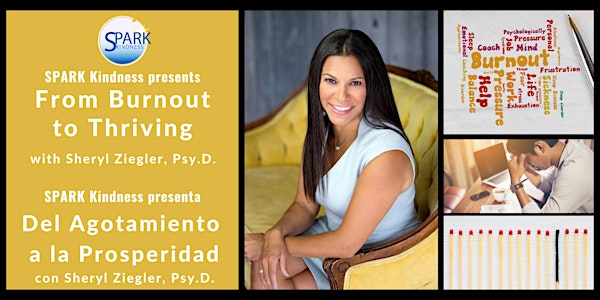 From Burnout to Thriving -- Del Agotamiento a la Prosperidad
SPARK Kindness presents this FREE program: From Burnout to Thriving with Sheryl Ziegler, Psy.D. -- Del Agotamiento a la Prosperidad
About this event
Do you feel tired and overwhelmed? Have you continually put off the things you need to do for yourself? This program is designed for parents, caregivers, and educators, who have been pandemic heroes (often at their own expense). Therapist and author Sheryl Ziegler, Psy.D., will offer practical, empowering, and proven solutions to promote self care and thriving.
Simultaneous Spanish Language and ASL Interpretation will be provided at this event.
¿Te sientes cansado y agobiado? ¿Ha pospuesto continuamente las cosas que necesita hacer para ti mismo? Este programa está diseñado para padres, cuidadores y educadores que han sido los héroes de esta pandemia (a menudo costa de ellos mismo). La terapeuta y autora Sheryl Ziegler, Psy.D., ofrecerá soluciones prácticas, fortalecedoras y comprobadas para promover el cuidado personal y la prosperidad.
En este evento se ofrecerá interpretación simultánea de lengua de señas americana y español.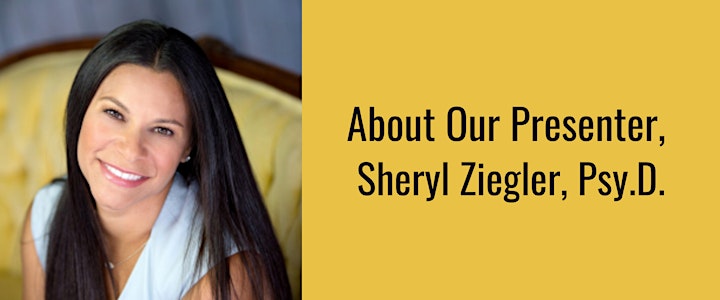 About our Presenter
Sheryl Ziegler, Psy.D. holds a Doctorate in Psychology and is a Registered Play Therapist in private practice. She is the author of Mommy Burnout: how to reclaim your life and raise healthier children in the process. She is a regular national and local news contributor on topics related to parenting and mental health and did a Tedx talk on "Why Moms are Miserable" which is all about the power of connection. She is the host of Dr. Sheryl's PodCouch and the founder of the parent-child puberty course, Start with the Talk. She is a frequent speaker on chronic stress, parenting and burnout. Most recently, she has been named by Colorado's NBC affiliate (9News) as their Parenting Expert for the new franchise series Mental Health & Me.
Visit www.drsherylziegler.com to learn more about our presenter and explore all the information and resources available on her website.