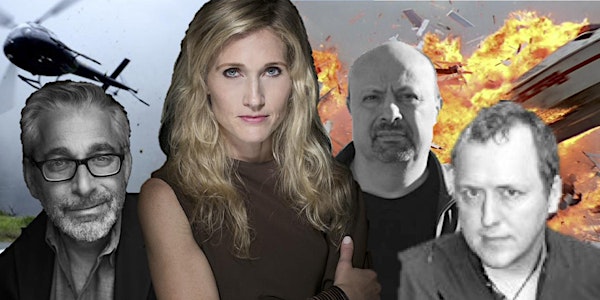 From Book to Big Screen: How Fiction Makes It to Film
Event Information
Location
Club Quarters Hotel, Midtown
40 West 45th Street
New York, NY 10036
Description
Ever wonder how a novelist becomes a screenwriter? Or what kind of books are the best for adaptation? Our panel of experts will shine the spotlight on Hollywood and TV. Panelists Peter Blauner, Lorenzo Carcaterra (CANCELLED), Joshua James, and Kimberly McCreight will discuss how a novel is optioned and developed for feature film/television (and how writers can best stay involved), and the difference between writing a suspense film and a novel. Moderated by Nancy Bilyeau.
PLEASE NOTE VENUE: The Club Quarters, 40 West 45th Street, in the Priestley Room on the 2nd floor.
The program starts at 7 p.m. Drinks and dinner are not included. However, feel free to come as early as 6 p.m. to mingle as we usually do before a meeting. There is a bar and restaurant downstairs, so you can buy drinks to bring up with you for the mingling hour before the presentation.
If you have any questions, contact our registrar Dru-Ann Love at registrar@mwany.org.
Panelists
Peter Blauner is the author of seven novels, including Slow Motion Riot, winner of an Edgar award for best first novel, and The Intruder, a New York Times bestseller. He began his career as a journalist for New York magazine in the 1980s and segued into writing fiction in the 1990s. His short fiction has been anthologized in Best American Mystery Stories and on Selected Shorts from Symphony Space. For the last ten years, he has written for several television shows, including Law & Order: SVU and Blue Bloods. His newest novel is Proving Ground, published in May, 2017.

Joshua James is a screenwriter, novelist and playwright. He has written the feature film Pound of Flesh, starring Jean-Claude Van Damme, Best of the Best: Champions for director Phillip Rhee, and The Tower for Jean-Claude Van Damme. He also adapted Peter Biskind's bestselling book Down & Dirty Pictures into a feature screenplay and Matthew Polly's New York Times bestseller American Shaolin into a television pilot. James has also written a number of novels under different pen names, mystery-thrillers, and in 2017 his novel Fell from the Stars is scheduled to be published under his own name. He is the author of many plays that have been produced in London, Off-Broadway and all over New York City, Los Angeles, Chicago, and across the United States.
Kimberly McCreight is the New York Times bestselling author of Reconstructing Amelia, which was nominated for the Edgar, Anthony, and Alex Awards and was called Entertainment Weekly's Favorite Book of the Year. Reconstructing Amelia has been optioned for film by HBO and Nicole Kidman's Blossom Films. McCreight's second adult novel, Where They Found Her, was a USA Today bestseller and a Kirkus Best Mystery of the Year. The Outliers, the first book in her teen trilogy, also a New York Times bestseller, has been optioned for film by Lionsgate, Mandeville, and Reese Witherspoon's Pacific Standard. The second book in the trilogy, The Scattering, will be published in May 2017.

Moderator
Nancy Bilyeau is the author of a trilogy of historical thrillers The Crown, The Chalice, and The Tapestry, on sale in nine countries. The debut, The Crown, was an Oprah pick and The Chalice won Best Historical Suspense from RT Reviews. Her screenplay Zenobia was a finalist for the American Zoetrope Award and reached the Top 30 of the Academy Nicholl Fellowships in Screenwriting. She is the deputy editor of The Crime Report of the Center for Media, Crime and Justice, and the editor of The Big Thrill, with International Thriller Writers.
Date and time
Location
Club Quarters Hotel, Midtown
40 West 45th Street
New York, NY 10036