From Blind Spots to Bright Spots: How Self-Awareness Builds Great Teams
Description
Hidden biases are why teams keep making the same mistakes over and over.
90% of executives believe they are self-aware, but only 15% actually are. This workshop will help your team uncover biases to avoid making the same mistakes.
Self-awareness is considered one of the key meta-skills to thrive in the 21st Century. Teams with high self-awareness make better decisions, collaborate more, and manage tensions and conflicts more effectively.
This half-day workshop will help your team increase self-awareness, creativity, and resilience.
Through hands-on activities you'll learn to:
Understand the power of self-awareness

Turn blindspots into bright-spots

Build trust and a safe space for ongoing feedback

Embrace vulnerability, mindfulness, and transparency

Maximize 1:1 relationship to build great teams

Embrace diversity of perspectives

Set the workplace conditions where people feel empowered to show up at their best
We'll cover the importance of self and team awareness, how to maximize trust, productivity, and collaboration, and designing the conditions for teams to thrive.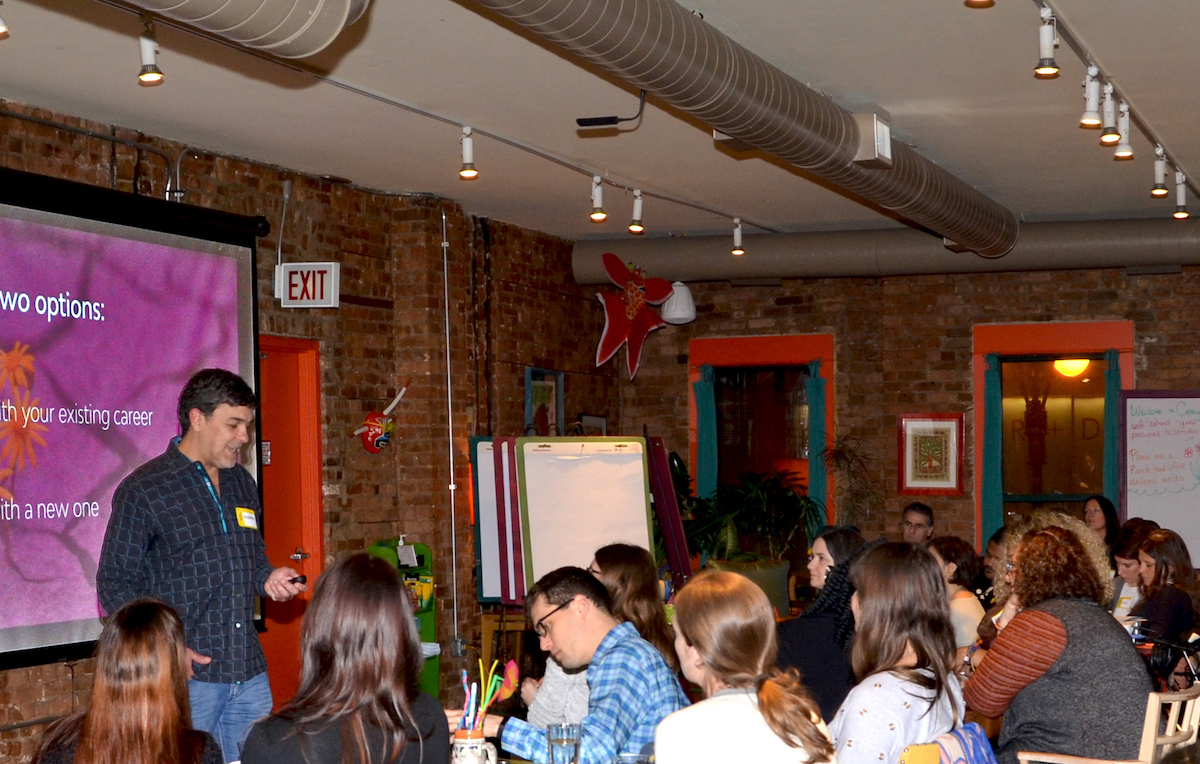 Facilitator
Gustavo Razzetti, CEO & Change Instigator, Liberationist
Gustavo Razzetti has been transforming leaders and teams for over 20 years. He helps people change from within to succeed in both their personal and professional lives. Razzetti's proven method helps people reconnect with their purpose, overcome limitations, and tame their minds and thoughts.
Gustavo is the author of "Stretch for Change" and has published over 200 articles on change leadership and self-improvement. He is also a regular speaker and has facilitated hundreds of change workshops in the US, Europe, and Latin America.
FAQs
What's it like to attend the workshop?
Liberationist workshops provide a transformational experience—they are hands-on, challenging, and fun!
Learn by doing. You'll work in teams and learn from others participants too. Be prepared for a fast-paced experience!
Who is the workshop for?
We welcome anyone who wants to become a better leader and team player. You can bring your entire team too. Job titles we often see include: product managers, designers, innovation, marketers, engineers, and learning professionals.
What should I bring?
Be prepared for a fast-paced workshop! Bring your curiosity and openness to experiment with new behaviors and learn new methods. We supply materials, snacks, and beverages.
What If I have any questions?
Send us a message through Eventbrite.
What is the refund policy?
Once you have registered, we do not offer refunds. You can send someone in your place in case you can' t make it.
Who's Organizing the Event?
Liberationist—a change leadership consultancy.
We are a new kind of consulting firm designed for a world where constant change, complexity, and uncertainty are the new normal. We partner with executive leaders and their teams to upgrade their mindsets, behavior, and ways of working.
We help organizations thrive in uncertainty and ambiguity by developing Experimentation, Adaptability, and Agility.