From Beyond: A Boston MegaGame

Saturday, November 14, 2015 from 10:00 AM to 5:00 PM (EST)
Event Details
Registation is Closed
Unfortunately registration is closed and the guest list is set, if you did not receive a confirmation e-mail before Noon on 11/13 you will not be able to attend the event. If you used eventbrite to join our newsletter, but were not able to purchase a Standard Ticket, you will be unable to attend the event. We will notify you when future events become available.
A MegaGame in Boston
That's right! MegaGames United is back and bringing another MegaGame to Boston. We sold out our event back in Spring, and we're ready to deliver a new incredible experiance!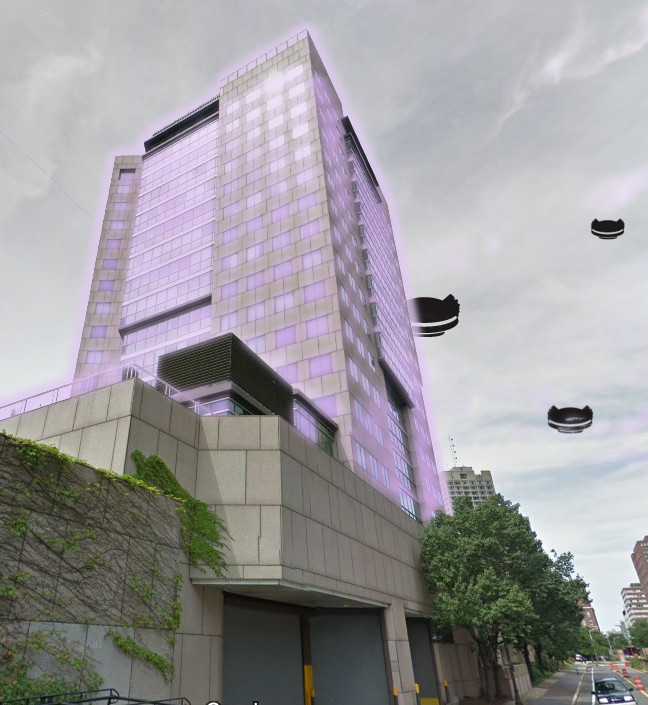 What is a MegaGame
The short version: the ultimate in gaming experiances. We combine the best gaming elements from Board Games, Role Playing Games, Model United Nations, Murder Mysteries, and Puzzle Hunts into a single 6 hour game for 60+ people. We are running our custom designed alien invasion MegaGame, From Beyond, where you will represent a nation during the chaos of First Contact with an alien species. The fate of planet Earth stands squarely on your shoulders, do you have what it takes to save the world?
Our Venue: Microsoft NERD Center
This MegaGame will be held at the Microsoft NERD Center, utilizing multiple conference rooms. This is a massive venue, and we're incredibly excited to be working in this space. The event will be complete with projection screens, microphones, and all the niceties of a state of the art facillity. 
Lunch: Lunch will be provided.
GameWeavers
GameWeavers are the blood that keeps a MegaGame moving. We have a great community of GameWeavers here in Boston, and we're always looking for new folks who want to help run a MegaGame. You can sign up here for the potential to be a GameWeaver for this event. You will have to fill out a survey and afterwards you will be notified if you are selected to help run this event.
If you'd like to be a GameWeaver contact us at megagamesunited@gmail.com and we'll get you the information you need to help us run a successful game.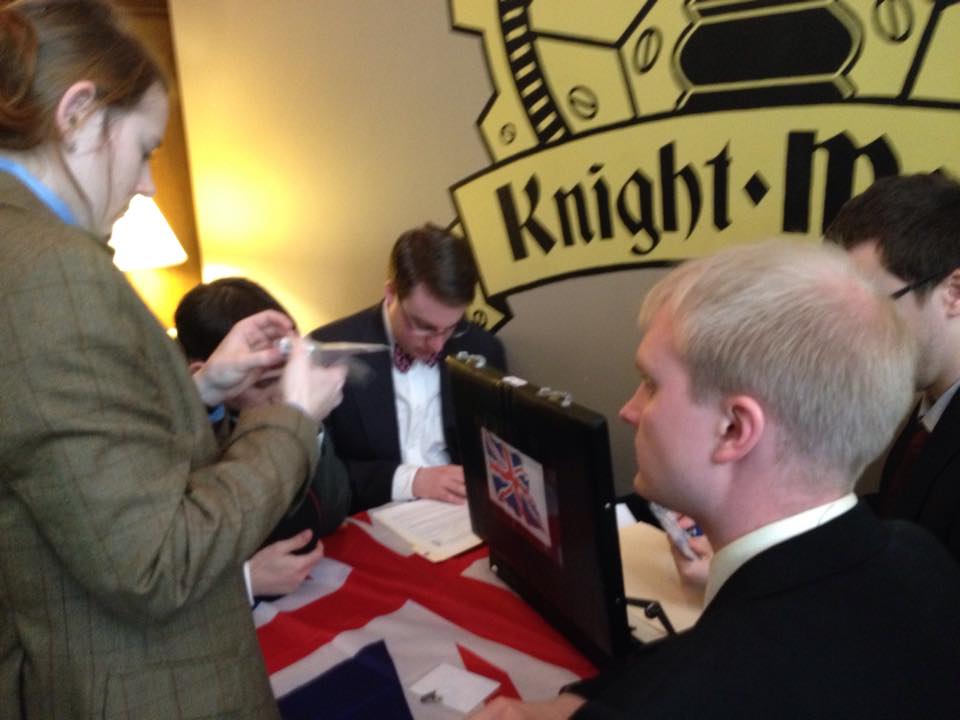 Standard Tickets Teams
A Standard ticket puts you on one of the 7 Major Teams. There are 6 Nations each with 5 players, and there is one Alien Team with 10 players. If you have a group that would like to play, you may purchase additional tickets, but each player must provide a working e-mail address. You may fill out your group and team preferences by filling out a survey that you'll receive after you purchase tickets.
We try our best to place players in teams with their group, and only in particularly unusual circumstances are we unable to accomodate those preferences. However, we cannot completely guarantee your first choice or preferences.
Mystery Tickets
For this game, we may offer discounted Mystery Tickets. Once we feel comfortable with our GameWeavers for handling the event with the standard game. We have the capacity to add additional tickets that correspond to a few mysterious elements to the game. Players with mystery tickets will be placed on smaller teams, with their own resources and goals. They will not have the massive impact on the game like the Standard Teams, but will have a fun time influencing world events towards their benefit.
After you Buy Tickets
Once you've purchased tickets, you will be sent a survey for your group and team preferences. Each player will need to provide an e-mail address. In the weeks leading up to the MegaGame, each player will be e-mailed the core rulebook as well as rulebooks that correspond only to that players team and role. You'll want to keep this information generally secret from members of the other teams (some information you may want to keep secret from members of your own team). 
When you arrive at the Event
We will have copies of the rulebook for everyone, including plenty of office supplies. The only thing you need to bring with you to the event is your passion and your excitement! We highly encourage costumes at our events, and I have been reassured that the temperature we'll be kept at a convenient level to allow costumes even if we reach our maximum capacity.
Photography and Filming
We highly encourage you to take film and video. We will have our own film crew and photographer present for the event. By purchasing a ticket you consent to us taking pictures and video at the event that may contain your likeness and using them as promotional materials.
Code of Conduct
We are 100% serious about our code of conduct at the event. You can read our full policy at the end of the event page. We commit ourselves to a safer space to make sure that all players feel welcome, and we do not abide by harrassment or bigotry. By attending a MegaGames United event, you agree to abide by our Code of Conduct.
Frequently Asked Questions
I still don't understand, MegaGames?
The folks over at Shut Up & Sit Down have filmed a few videos of MegaGames in the UK. We are playing a different MegaGame, but it will give you a good idea of what a MegaGame is like.
Is this at the big building that says Microsoft on it?
No! Microsoft has multiple buildings in Cambridge, please make sure you find us at 1 Memorial Dr.
Is Lunch provided? I have a dietary restriction!
Yes! You'll be able to denote any dietary restrictions with your other game preferences.
I want to play with my friends, can I buy multiple tickets?
We try our best to put groups together for our MegaGame, though we cannot make any guarantees. You will be able fill out a survey after you buy tickets to indicate your team and group preferences. It is a rare and unusual instance should we not be able to accomodate your group.
Mystery Tickets?
Mystery Tickets represent some smaller groups in the game that can be a lot of fun, but are not as large or as involved as the standard games. You will be e-mailed rules, resources, and goals as you represent some part of the world dealing with the sudden arrival of aliens. 
I have a different question!
Feel free to contact us with any questions or concerns you may have about this MegaGame at MegaGamesUnited@gmail.com.
Who are you?
We're a volunteer group, MegaGames United. We're dedicated to bringing the best MegaGames to Boston and helping MegaGame groups around the world have the resources they need to have awesome events! You can check us out at MegaGamesUnited.com
Where do Ticket Sales go?
Some folks have asked where ticket sales go, we're a young volunteer organization, and still streamlining our structure, but for now we can give you a glimpse at where our funds go.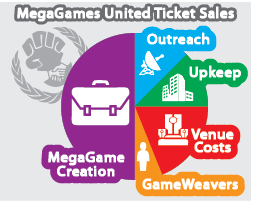 MegaGame Creation: Creating the MegaGame is easily the most expensive part of the process. We get the cards for our game professional printed (thank you Drive thru Cards), we 3D print more than a few custom components, and we go out of our way to bring you shiny things. Many of our components can be used across multiple games, but many of them are single use for a single event. Many elements of the game could be done with simple pencil and paper, but we spend the extra effort to deliver a high quality experiance with high quality components. We also take some funds to help us create new and exciting MegaGames for the future.
Outreach & Upkeep: Some of the MegaGames we really love can only be played with a minimum number of players, which means that if we want this game to fly we really have to hit the pavement to make sure we get enough players. Suprisingly, this is easier said than done, and we put a lot of effort into sending out the call. We also do our part to carry the MegaGames banner alongside other folks who are trying to get games off the ground. After this event we'll put our core rule book out on the creative commons license, free to use for anyone who wants to run a game of From Beyond. We are also interested in helping any new designers with their own MegaGames getting those up off the ground. We also have the mundane expenses of running a website, generating images, engaging social media. As move forward, we put these expenses into our infrastructure so that we can bring you more and better events.
Venue Costs: We like to make sure our players are taken care of, and with this new venue we are able to provide even more than before. We'll be catering the event, bringing in a photographer and a film crew, investing in new tech to make sure the game is even bigger and better than your wildest dream can imagine. We're still a smaller organization, and limited in what we're able to do with a venue, but we put our resources to making the most of every opportunity.
GameWeavers: Our GameWeavers are awesome volunteers, who do this out of the pure love of games. We make sure to give our GameWeavers the best resources to help them run our MegaGames, and we give back as best we can to our GameWeavers with exclusive events and opportunities. We try and make being a GameWeaver an awesome experiance, and, as we continue to grow, we want to give back to our GameWeavers even more.
Code of Conduct
 Safer Space Policy
When attending any activity sponsored by MegaGames United, you agree to abide by its rules.
The MGU seeks to create a Safer Space for its guests. Together, we help each other to create a space that feels inclusive, inviting, and overall safe. We do not welcome those who act aggressive, racist, sexist, homophobic, ableist or otherwise biased.
Those who repeatedly disrupt the enjoyment of others may be asked to leave.
We would consider it awesome if you:
Don't act like a jerk

Respect the personal space of other players and volunteers

Work cooperatively and collaboratively with your team

Share the spotlight and help others have fun

Approach game rulings with an open mind.

Clean up after yourself and help us keep the space tidy
Please consult with a Game Control Member if you:
Feel that someone is disrupting the fun of you or others you have observed

Feel unsafe

If you are feeling especially unsafe, 911 is your best option. In Boston, the Police Department's Non-Emergency Phone Number is (617) 343-4200
Tips for if you are offended or are found offending someone
If somebody offends you, do your best to do the following:
Inform them that what they have said or done is offensive.

Try to help them understand how to avoid it in the future.

If all else fails, ask a Game Control Member to help moderate the situation.
If you say something that is found offensive, and are called out on it, take the following steps:
Listen to the person speaking and let them speak without interruption.

Believe what the person is saying and do not attempt to disqualify their points.

Ask for tips/help with avoiding making the offense in the future.

Apologize and ask for forgiveness.

If all else fails, ask a Game Control member to help moderate the situation.
Acknowledgements & Special Thanks
Microsoft Nerd Center
Bocoup Loft
Game Makers Guild
Many Icons used in game materiels made by Lorc, Delapouite, John Colburn, Felbrigg, John Redman, Carl Olsen, sbed, PriorBlue, Willdabeast, Viscious Speed, Lord Berandas, Various artists. Available on http://game-icons.net
Organizer
MegaGames United is a volunteer organization working in Boston to bring the best possible MegaGame Experiences to New England