From Beat Street to These Streets: Hip Hop Then and Now

Saturday, October 20, 2012 at 4:00 PM (EDT)
Event Details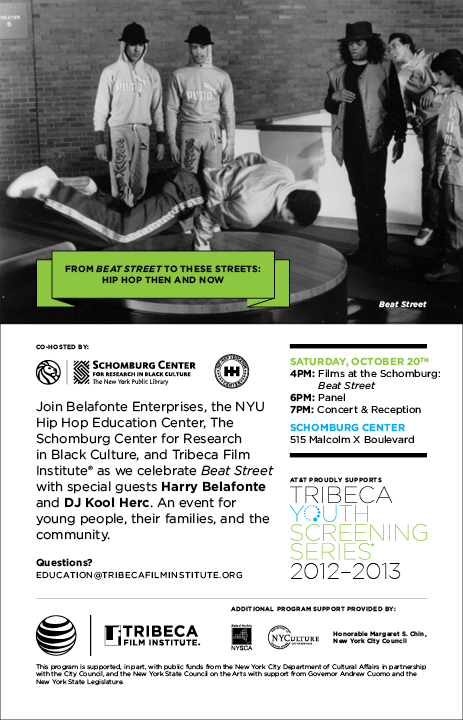 Hip Hop: Remixing Culture Through Artistic Defiance 
The Film – As hip hop's dance practitioners were entering public consciousness after appearances in Flashdance and Breakin', in the summer of 1984 Beat Street became the first big-budget film to connect b-boying, djing, rap and graffiti together as hip hop culture.  As a sort of fictional mainstream hip hop origin story, it is widely regarded as one of, if not the most, influential films in terms of bringing hip hop to the world stage. Produced by prominent African American actor and singer Harry Belafonte, it follows a young, innovative hip hop crew from the Bronx as they attempt to "make it big" downtown. The film explores race and class tensions to an extent, but has been critiqued for glossing over some of the deeper roots, such as gang ties and Afrika Bambaataa's Universal Zulu Nation. In addition, union laws prohibited graffiti artists from working on the film's set, lending to a poignant visual disparity between the existing graffiti filmed on location and the murals created specifically for the film by professional artists.  Beat Street features some of the best performers of the time, from DJ Kool Herc, Bambaataa, Melle Mel, Doug E Fresh and Sha Rock to the legendary breakers Rock Steady Crew and New York City Breakers.
The Panelists include Harry Belafonte, singer, songwriter, actor, and social activist; Kool Herc, hip hop pioneering DJ; Martha Diaz, community organizer, media producer, curator, and hip hop archivist; Vee Bravo, Education Director at Tribeca Film Institute; Lisa Cortes (moderator), Film & Music Producer. 
Organizer
Schomburg Center for Research in Black Culture
In January 2017, the Schomburg Center was named a National Historic Landmark by the National Park Service, recognizing its vast collection of materials that represent the history and culture of people of African descent through a global, transnational perspective.

The Schomburg Center for Research in Black Culture located in Harlem, New York, is a research unit of The New York Public Library system. The Center consists of three connected buildings: The Schomburg Building, the Langston Hughes Building, and the Landmark Building. It is recognized as one of the leading institutions focusing exclusively on African-American, African Diaspora, and African experiences. Begun with the collections of Arturo Alfonso Schomburg 90 years ago, the Schomburg has collected, preserved, and provided access to materials documenting black life in America and worldwide. It has also promoted the study and interpretation of the history and culture of people of African descent.  In 2015, it won the National Medal for Museum and Library Service. Today, the Schomburg continues to serve the community not just as a center and a library, but also as a space that encourages lifelong education and exploration.
Stay connected for updates and announcements:
Subscribe to our e-newsletter
Visit: schomburgcenter.org/calendar
Follow us on Facebook, Twitter, Tumblr, Youtube.
Please read our Privacy Policy. 

 

From Beat Street to These Streets: Hip Hop Then and Now