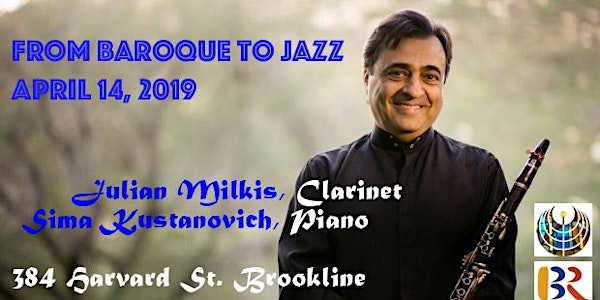 FROM BAROQUE TO JAZZ: Julian Milkis, Clarinet & Sima Kustanovich, Piano
Location
The Social Hall at the Campus
Congregation Kehillath Israel
384 Harvard St
Brookline, MA 02446
Description
International jazz and classical clarinet star Julian Milkis, the only living student of Benny Goodman, brings his artistry to Brookline to perform a program of music from the 18th through 20th centuries.

Baroque works by Handel and Bach that feature improvisational components, and jazz compositions by Alec Templeton, Dick Hyman and Astor Piazzola bookend a wide-ranging concert, preceded by a reception with light nibbles, wine (courtesy of Royal Wine Co and Select Wine Imports) and refreshments.
Milkis performs together with pianist Sima Kustanovich, one of the Northeast's most sought after pianists. The blending of classical and jazz music is a speciality of Milkis and Kustanovich, who frequently share the stage. "The regular collaboration of the two artists imparts a conversational quality to their playing", the Worcester Telegram and Gazette has written of their performances, "Besides musicality, what came across in their playing was personality."
This program is presented by BRAI in partnership with Congregation Kehillath Israel and Center Makor.
Schedule
5:00 pm Reception
6:00 pm Concert begins
" Dignare o Domine " George Frideric Handel ( 1685 – 1759 )
"Air " Johann Sebastian Bach ( 1685 – 1750 )
"Andante" Felix Mendelssohn ( 1809 – 1847 )
"Canzonetta" Gabriel Pierne ( 1863 -1937 )
Sonata for clarinet and piano Francis Poulenc ( 1899 – 1963 )
I. Allegro tristamento
II. Romanza
III. Allegro con fuoco
6:45 pm Intermission, reception continues
7:10 pm Concert resumes
"Soledad " Astor Piazzolla ( 1921-1992 )
Pocket - Size Sonata No. I Alec Templeton ( 1910 – 1963 )
I. Improvisation
II. Modal Blues
III. In Rhythm
"Ninna Nanna per Anna" Giya Kancheli ( b.1935 )
"Inretmezzo" Alexander Tsfasman ( 1906-1971 )
"Clarinata" Dick Hyman ( b. 1927 )
"Oblivion " Astor Piazzolla
7:45 pm Concert ends
Julian Milkis has garnered worldwide recognition as a dazzling soloist, classical chamber musician, and jazz clarinetist. A student of the iconic Benny Goodman, Milkis stands out as a true "cross-over" artist, and one of the leading practicioners of his instrument.He has performed in solo concert or with orchestras on such prominent stages as New York's Carnegie Hall and Lincoln Center, Salle Pleyel and Salle Gaveau in Paris, Great Halls of the Moscow Conservatory and the St. Petersburg Philharmonic, Roy Thomson Hall and Weston Recital Hall in Toronto, and the National Concert Hall in Taipei, Taiwan. In addition to his classical repertoire, he is also leading voice for his instrument in the field of jazz. Mr. Milkis's performances have been broadcast extensively on radio and television throughout the US, Canada, Europe and Asia. He has recorded for Warners' Classic Lontano, the French Suoni e Colori, Sony's Russian CEAUX, and Russian Melodiya and Russian Season.
Sima Kustanovich is one of the Northeast's most sought after pianists. Hailed by the Worcester Telegram & Gazette for the "extraordinary intensity and brilliance of her playing," she has performed in acclaimed international venues, including France's Courchevel Chamber Music Festival, New York City's BargeMusic, Toronto's Royal Conservatory Chamber Music Series, Niagara on the Lake Music Festival, Summit Festival, Sweden's St. Jacob's Cathedral, Hungary's Matthias Cathedral, Prague's Hlahol and major cities of Russia, Austria, Italy and Estonia. Currently on the faculties of Clark University, where she was appointed Distinguished Artist in 2008, and Walnut Hill School for Performing Arts, she previously had appointments at the St. Petersburg Conservatory and the famed Leningrad Opera and Ballet Theater, where she worked intensively with such luminaries as Mikhail Baryshnikov and Natalia Makarova.