Description
Hitting a Plateau? Feeling unmotivated?
Yearning to get to the next level?
"From Average to Awesome - Living A Life of Excellence" is a one day conference that will empower you to leave the couch of complacency and position you for a walk into excellence. Invest in yourself. Invest in your future.
Introducing Our Keynote Speaker Jackie Glenn
Jackie Glenn is a pioneering Diversity and Inclusion expert who lives by the mantra, "It's better to be respected than liked." Her groundbreaking initiatives have reshaped organizational policies, unified a multidimensional corporate culture, and generated international interest and intrigue. By proving she is her word, solidifying business relationships, and securing overwhelming buy-in, Jackie was pivotal in guiding Fortune 500 EMC Corporation to personify its brand of innovation in the global community.
An engaging public speaker, Jackie begins every presentation with "Hi, I'm Jackie Glenn and I hail from the island of Jamaica!" That statement alone demonstrates what Jackie values—authenticity and confidence as defined by experience. Jackie emanates positivity and enthusiasm for what life offers and she is dedicated to creating a corporate environment that embodies inclusivity, energy, and a mentality for change and growth.
Jackie is currently Vice President, Global Diversity and Inclusion at Dell Technologies / Dell EMC, the newly merged technology industry leader with a workforce of 145,000 in 180 countries. Her strategic focus is on setting the policies and processes of a unified enterprise that brought together Dell Inc. and EMC Corporation in 2016 while executing the role of brand evangelist and thought leader to the global community.
During a 16-year career at EMC, Jackie rose from Senior Director of HR Operations of a 2000-strong global salesforce to Global Chief Diversity Officer of a 70,000-member enterprise. She initiated a series of industry-recognized best practices, including a groundbreaking transgender reassignment and benefits program and multiple women's corporate advancement immersion experiences.
Jackie formed recruiting partnerships with Historically Black Colleges and Universities, featuring a summer internship that built a pipeline of high-potential future STEM employees. She introduced corporate-wide affinity circles that acknowledged the power of influence when like-minded individuals join forces.
As a result of these initiatives, DiversityInc listed EMC as a Top 25 Noteworthy Company and Disability Matters named EMC a Leading Employer. EMC achieved a perfect score on the Human Rights Campaign Corporate Equality Index for five consecutive years. The Associated Press profiled EMC's groundbreaking transgender program; additional media coverage included Boston Business Journal and Diversity Careers.
Jackie's personal honors include Champion of Diversity (NY Urban League), Founder's Award (Lawyer's Committee for Civil Rights & Economic Justice, Black History Leadership (Whittier Street), Boston's 100 Most Influential People (Get Konnected!), Top 10 Influential Women in Diversity (Diversity Global Magazine), and Women of Excellence/Global Women's Champion (National Association for Female Executives).
Jackie holds a Master of Science degree in Human Resources Management from Leslie University, Cambridge, MA and a bachelor's degree from Emmanuel College, Boston. Her passion for community advocacy and civic leadership includes service on the Board of the Children's Services of Roxbury (MA), the Board of the African-American Museum of Boston, and the Board of Overseers of Beth Israel Deaconess Hospital.
A world traveler, she frequently hosts national and international conferences, participates on industry panels, and addresses groups on what she knows best—diversity and inclusion in the workplace, advancement of women in technology, transgender reassignment, and living a fulfilled life.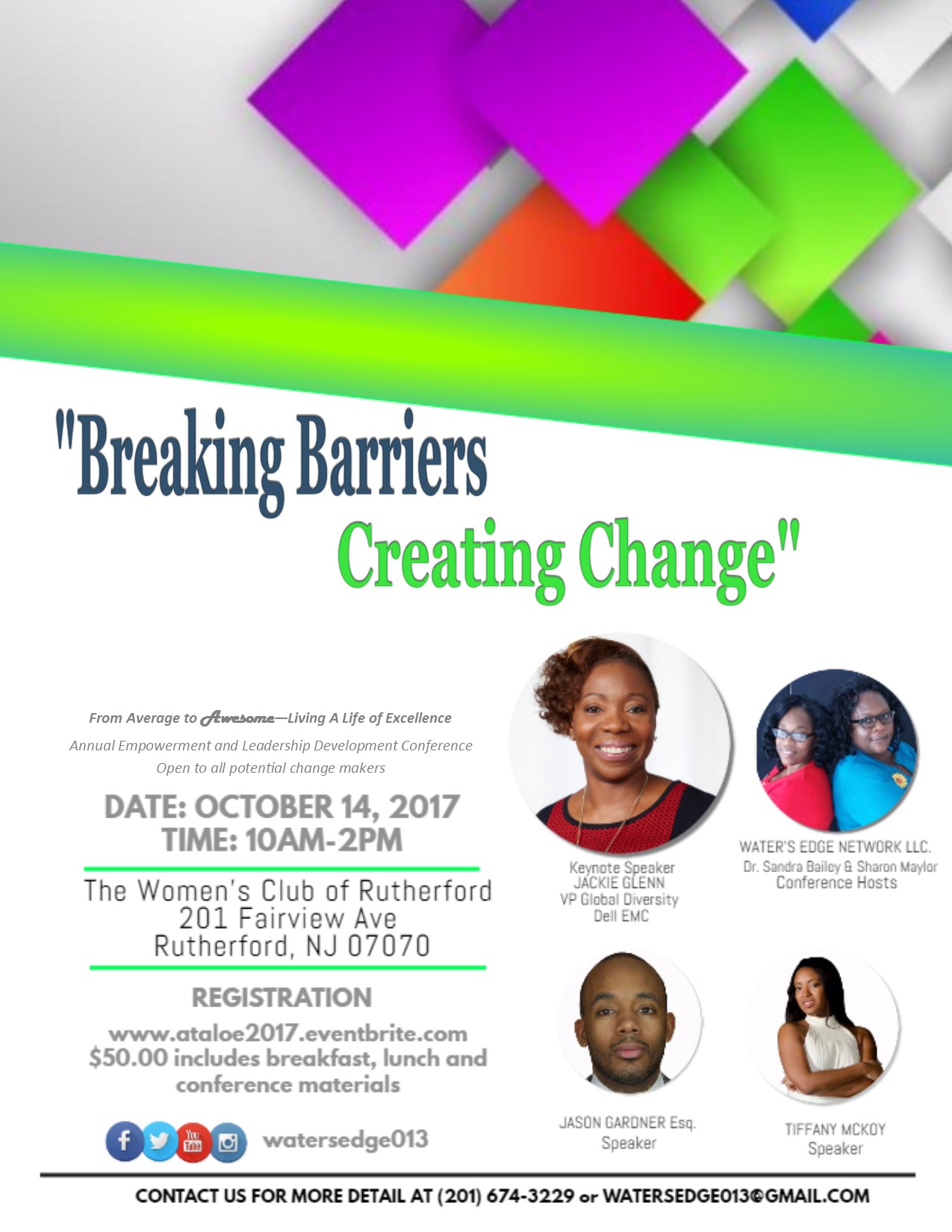 Date and Time
Location
Refund Policy