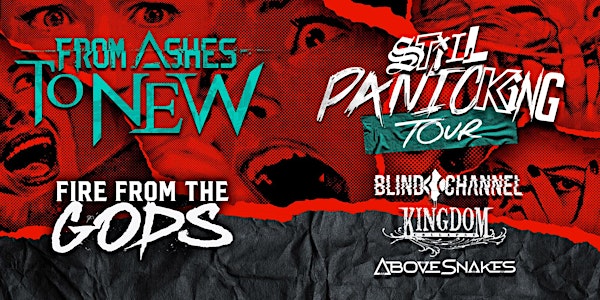 FROM ASHES TO NEW: STILL PANICKING TOUR
Performers
From Ashes to New
Fire From The Gods, Blind Channel, Kingdom Collapse, Above Snakes
Location
Capone's
227 E. Main St
Johnson City, TN 37604
95.9 The Hog Presents FROM ASHES TO NEW: STILL PANICKING TOUR w/ Fire From The Gods, Blind Channel, Kingdom Collapse, and Above Snakes
About this event
FROM ASHES TO NEW
Official Website | Facebook | Instagram | YouTube (Better Noise Music) | YouTube | Twitter | TikTok | Spotify | Amazon Music | Apple Music | Pandora | TikTok
The future is something that all of us must deal with yet it's often uncertain and that was the case when it came to the making of From Ashes To New's sophomore full-length The Future.
When the band's vocalist/keyboardist/programmer Matt Brandyberry rhymes on the title track "The Future", "Day One is over, The Future's approaching, the embers are glowing, we're spreading the ash," it's not only verbal wordplay about moving forward from their most recent album Day One, it also serves as a declaration of From Ashes To New's mission statement for this album: The Future Is Hear.
The follow-up to the 2016 debut album Day One, which saw the band break into the Top 10 Active Rock Chart with the track "Through It All" and featured streaming hits "Breaking Now" and "Lost and Alone", The Future sees the Lancaster PA-based group embracing a new path, revealing a new lineup, and marking a massive step forward. "We went through an extreme level of adversity while creating this album, explains Brandyberry. "Pretty much anything that could go wrong to slow down the process and throw you a curveball happened, but we came out on the other side."
Following the success of Day One and extensive touring, the group's drummer and co-vocalist decided to step away. Instead of focusing on setbacks, Brandyberry focused on a path forward for From Ashes To New. In March 2017, he began working on the new album with drummer Mat Madiro (Trivium) and guitarist Lance Dowdle—but finding a vocalist who could complement Brandyberry's rapping was a complex process – it had to be the right fit! - so the group decided to begin writing The Future as a trio. "I was in a bad mind frame because of what was happening with the other members leaving and the anxiety made it difficult to write at times but ultimately we came together and decided we were going to write the best music we possibly could and see where that took us," Brandyberry recounts.
Once this collection of songs started coming together the group starting auditioning vocalists and Brandyberry kept coming back to Danny Case even though the singer didn't necessarily have the same amount of experience as some of the seasoned pros who wanted the gig. "We asked our fans to help us find a great vocalist, and we kept coming back to Danny because he has such a dynamic range. Being able to go across that spectrum with his voice was a huge selling feature—and not only that but the dude is driven," Brandyberry explains. "We were looking for someone who wants it, he's hungry for it and he wants to work hard and earn their success… and Danny is that guy."
From Ashes To New's chemistry lies at the core of The Future, an album that sees the band expanding their music palette and taking their blend of rock, hip/hop, pop and metal to new heights. From the relentless, syncopated groove of the opener "Wake Up" to the arena-ready anthems like "Gone Forever" and Current Single "Crazy", to the hip-hop/electronica-influenced hybrids like "My Name," The Future is a unique album that fans will undoubtedly relate to with regardless of what type of musical scene they usually embrace.
The album was written at Brandyberry's home studio and then recorded at Atrium Audio with producers Carson Slovak and Grant McFarland (August Burns Red) eventually mixed by Josh Wilbur (Korn, Lamb Of God). A last-minute experiment brought about "Nowhere to Run" recorded with Nick "Raz" Furlong and Colin Brittain (Papa Roach, Blink-182). With all this, The Future became a collaborative album in the truest sense of the phrase.
"This is the first record that other members really got a chance to put their stamp on and I think you can hear that influence on every song," Brandyberry explains, adding that he and Lance, an accomplished programmer, were able explore new sonic textures by combining the organic and electronic aspects of From Ashes To New in a way they've never fully realized in the past.
Speaking of which, The Future also sees Brandyberry taking everything to an entirely new level in a way that perfectly complements the bands roots and the impassioned singing of Case. "Songs like (the album's stellar title track)'The Future' is the best rap I feel I've ever written and features a children's choir "I think that song in particular has a perfect blend of everything that we do. I really love the raps on that track because I feel like it really challenged me and hopefully shows how I've been able to grow and find new ways of executing ideas as an artist and a writer with this record."
"The concept is obviously about the future of the band but it's also the future of our world," Brandyberry continues. "We're actually happier now with what we are putting out than we've ever been, so we look at everything went through as a blessing in disguise." Whether you're a longtime supporter of the band or a recent convert to their innovative sound there's no question that The Future established them as one of the leaders of their genre. Now it's time to make that future a reality.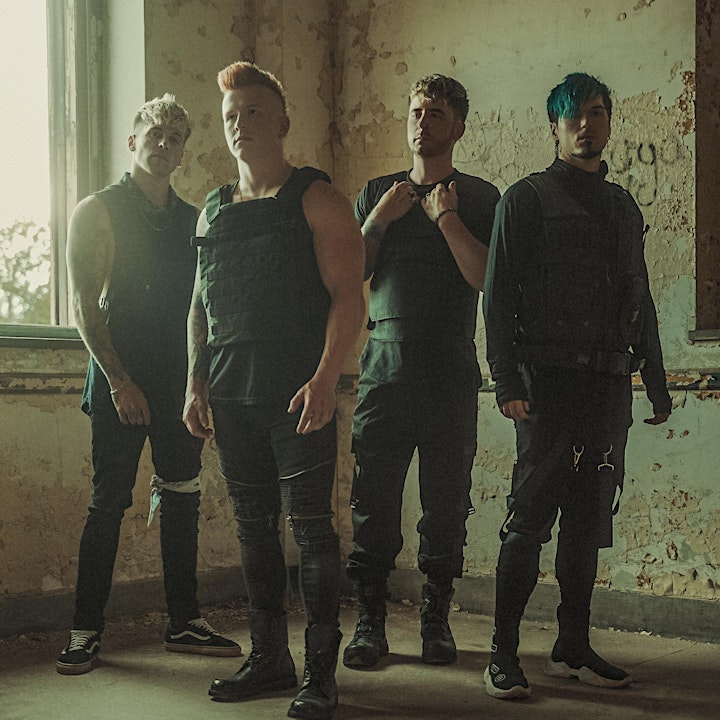 FIRE FROM THE GODS
Official Website | Facebook | Instagram | YouTube (Better Noise Music) | YouTube (Rise Records) | Twitter | TikTok | Spotify | Amazon Music | Apple Music | Pandora | TikTok
For some artists making music isn't a choice, it's fueled by something larger than themselves. This is undoubtedly true of Fire From The Gods whose second full-length American Sun sees them adopting the tagline "In Us We Trust" meaning "we the people" are responsible for change; a unifying statement in order to try to prevent society from succumbing to the growing malaise brought on by soul-sucking technology, divisive politics and environmental destruction. "With this record what we're trying to drive home is that our differences and where we are from doesn't need to define who we are moving forward," frontman AJ Channer explains. "Like [2016's] Narrative I'm telling the story from my perspective, but it's a story that people from all walks of life can relate to in the sense that we all face the same challenges... and the only way to conquer them is if we face them together."
Fire From the Gods have experienced their share of ups and downs since the Austin, Texas-based act released their David Bendeth-produced (Breaking Benjamin, Paramore) debut three years ago. Since then, the band—which also features drummer Richard Wicander, guitarists Drew Walker and Jameson Teat and bassist Bonner Baker—have toured incessantly with acts like Born Of Osiris and Of Mice & Men, played festivals ranging from the Vans Warped Tour to Mexico's Force Fest, re-released their debut as The Narrative Untold featuring new songs produced by Jonathan Davis of Korn and spread their message to fans all over the world. However instead of resting on their laurels, the act doubled down on their message with American Sun. "I think this record is a lot more personal because I've become a lot more open about who I am and what I've had to deal with," Channer explains. Channer spent his childhood shuffling between London, New York, Los Angeles, Norfolk and Ghana, giving him a unique perspective on the world, however the issues that he's dealt with such as anxiety, depression, anger, rejection and loss are universal.
This is evident on the album's first single "Not Built To Collapse (Truth To The Weak)." "It started out as this triumphant call-to-action sort of song but like everything with Fire From The Gods and a lot of my writing, it's centered around self-reflection, being self-aware and, most importantly, accepting responsibility for your actions. Over driving drums and relentless riffing, the song sees Channer alternating between hip-hop rhyming and melodic singing as he spits lyrics like, "Let that boy speak / he bringing truth to the weak." "That line is about the fact that there's always someone that's going to try to shut you down, even if it's your own fear of rejection or being told your not good enough," he explains. "There's always someone with a louder mouth than you saying that you don't know what you're talking about. That is what the protagonist in the story of American Sun is struggling with throughout the album."
American Sun was recorded, engineered and mixed by Erik Ron (Godsmack, Issues) over a two-month period in Los Angeles, which was a new experience for the band and one that lent itself to creating a nuanced album that grows more engaging with each listen. While the band only had a brief yet productive window of time to write and record Narrative, for American Sun the band were able to take their time when it came to not only the songwriting but also to the album's instrumentation and arrangements. "The songs on this album are the culmination of a lot of different sessions which I think was quite beneficial because we were in a lot of different moods at certain points in the writing process," Wicander says. "Being in LA with so much time really helped us be able to curate everything and get it exactly how we wanted it." However the band also stayed open to allowing things to happen spontaneously, which is evidenced in the syncopated, hip-hop anthem "They Don't Like It," a song that came together organically during a one-day burst of inspiration.
Since the current lineup of the act coalesced in 2015, Fire From The Gods have integrated elements of metal, rock, hip-hop and modern rock into their sound, however they never do it in a way that's methodical or contrived. "If the song calls for screaming and angry vocals I'll do that and if it calls for something a little more melodic that's what I do, it's just about the emotion of the song and how I'm feeling at the moment," Channer explains. "I like to say we wrote a rock record with a hip-hop ethos." From the radio-ready hook of the opener "Victory" to the detuned groove of "All My Heroes Are Dead," the music on American Sun is less about trying to recreate an already successful sound and more about inspiring an emotion that resonates with the listener. "People talk about emo music but in all truth and fairness I feel like all music is emotional. If music doesn't evoke an emotion why are you doing it or why are you listening to it?" he continues. "If I can create something that touches somebody and make them feel the message of the song, that's ultimately my goal," he adds.
"You can be stronger than your past, you can be stronger than the influences that are out there," Channer says of the "cannibal mind" that wants to consume us all. More than ever somebody needs to step up to be the voice of the voiceless—and with American Sun, Fire From The Gods have ambitiously taken on that task and crafted a truly timeless album in the process.