Description
Unveiled Beauty: Cultivating YOU! is an empowerment series created from the mission of the presenting sponsor Fashion Meets Poetry - "To create an empowering space for women to embrace the journey of life and the beauty of oneself through storytelling, knowledge and sisterhood."
There is nothing more inspiring than hearing women share their stories of courage and strength – everyday women, just like us. The speakers in this series will provide attendees with messages of hope, life lessons, knowledge and tools to help embrace our own beauty and bravery. Attendees will leave feeling empowered and confident meanwhile developing a deeper connection with their own stories. We invite you to learn about this event via the description below, or learn more about other events in the series at www.fashionmeetspoetry.com: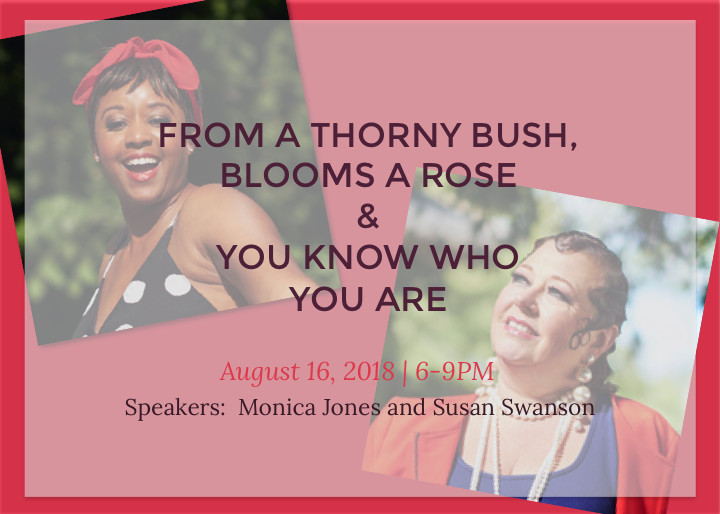 FROM A THORNY BUSH, BLOOMS A ROSE by Monica Jones
The world refuses to see a childhood drawing colored in shame. So we read stories of happily ever-afters and paint rainbows of vibrant colors. We find ways to cope and carry-on. Monica did her best to paint the right picture. However, in her formative years, Monica's abuser controlled her self worth and she lived in a constant loop of resentment, anger, and isolation. A dark cycle creating barriers to the woman she was intended to be. Monica was uncertain how to cope and navigate unhealthy relationships, impaired family dynamics, and her own shattered confidence. In this powerful talk, Monica shares her story and provides us insight on how we, too, can forgive, rebuild our confidence, cultivate healthy relationships and live life as a woman of purpose.
Learn more about speaker Monica Jones -
Monica is an executive HR manager, photographer, creator of a new podcast, She is You and the founder of Us Love We, a motherhood lifestyle brand that champions moms through their purpose in motherhood by capturing the moments that matter and sharing the journey. They say it takes a village to raise a child - Monica believes it takes a community to raise mothers. When all is said and done, Monica is a devoted wife and mother who finds great joy in wine, snuggling with her girls, and listening to endless hours of Brazilian jazz.
YOU KNOW WHO YOU ARE by Susan Swanson
Life is a journey. For many, the path is free of hardships or socioeconomic barriers. This freedom allows those to move with ease and confidence in pursuit of their talents and dreams. But what happens when everything you believed about yourself is questioned and your career is derailed? In 1990, Susan began her career as a young makeup artist – a career earned through talent and connections. Twenty-five years later, after working with national brands and high profile events, she became unemployed. It took several unfulfilling jobs before returning to her first love, makeup artistry. In this session, Susan shares her journey and the importance of finding our talents and passion, believing in ourselves, and reminding us that we already know who we are.
Learn more about speaker Susan Swanson -
Susan is a seasoned makeup artist with over 35 years in the cosmetics industry. She has worked with iconic makeup brands such as CHANEL Beaute and Lancôme. As a long time supporter of the fashion and arts community, Susan also shares her talents as the current fashion director for Polo for Philanthropy and a former lead makeup artist in Minneapolis and Chicago for Glamorama, a well-known annual fashion event presented by Macy's. With a vivacious personality and big heart, Susan aspires to make all women of all ages feel and know they are beautiful.
Every event has something unique to offer and you don't want to miss any of them!
Each event includes:
2 Inspirational Speakers
FREE Beverages and Hors d'oevres,
Beauty Experience provided by Intelligent Nutrients
Fashion and Beauty Segment by local stylist, Tressie Schneider
Poetry Reading
Community Networking
VIP ticket holders receive a FREE empowerment gift with their purchase.
Women ONLY. Advanced ticket purchase required to attend.
Onsite and street parking available.