Frokostmøte: Bergens nye innovatører

Thursday, April 26, 2012 from 8:30 AM to 10:00 AM (CEST)
Event Details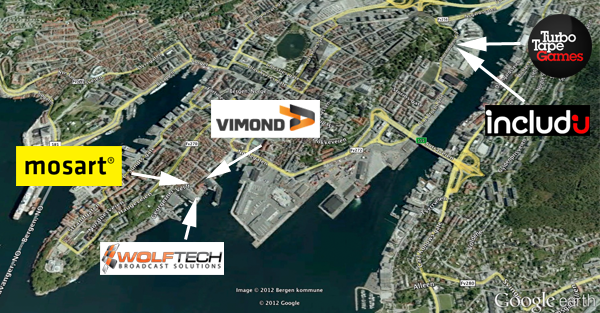 Knoppskyting og innovasjon i mediebransjen i Bergen
Denne gangen setter MediArena fokuset på Bergen som innovasjonsby og fremveksten av nye medieteknologiselskaper i Bergen. 
Mediebydelen som ble presentert på forrige frokostmøte, handler blant annet om å legge til rette for økt innovasjon i bransjen – både i form av økt samhandling mellom ulike aktører, knoppskyting og helt nye satsinger. Vi ønsker i lys av dette å presentere noen eksempler på nye spennende selskaper som har vokst frem i det stille dei siste årene, og som representerer noe av den innovasjonen som man ønsker å stimulere til og skape mer av i fremtiden. Flere av selskapene har vokst frem rundt TV2 på Nøstet, men vi møter også selskaper som har startet helt andre steder…
Hvem er de? Hva gjør de? Og hvordan mener de at rammebetingelsene for drive medieinnovasjon i Bergen kan styrkes?
Møt opp torsdag 26. for å et innblikk i det siste nye som rører seg innen medie- og medieteknologifeltet, oppdage nye forretningsmuligheter eller bare for å drikke kaffe med kjente og ukjente innen ditt felt. :)
Dette er andre møte i en serie med frittstående frokostmøter i regi av MediArena, der vi setter fokus på relevante temaer i tilknytning til mediebransjen generelt og mediebrasjen i Bergen spesielt. 
PROGRAM
Innledning: Bergen som innovasjonsby, v/Petter Ole Jakobsen (Vizrt)
Wolftech: Fjernstyrte live-kamera, hvor som helst, når som helst, v/Robert Strand
Includu: Neste generasjon reklameløsning og inntektsmodell for online videoeiere, v/Stein Gausereide
Vimond: Internasjonal suksess med online video til alle plattformer, v/Helge Høibråten
Mosart Medialab: Europas største på avviklingsautomatisering, v/John Kjellevold
Turbo Tape Games: Få øynene opp for spillbransjen, v/Fredrik Sundt Breien
Oppsummering / spørsmålsrunde, v/Petter Ole Jakobsen (Vizrt)
Vi servere te/kaffe og noe å bite i.
TID: 08.30-10.00
STED: Bergens Tidende, kantinen
...og til slutt en STOR takk til TV2 som muliggjør dagens arrangement og bevertning!
---
MediArena arrangerer faste frokostmøter for medie- og medieteknologibransjen hver måned. Følg oss for automatisk informasjon om nye møter, og nyheter og oppdateringer.
PS! For evt. påmelding etter påmeldingsfristen, ta direkte kontakt med rune@mediarena.no, 90093739.
When & Where

Bergens Tidende AS
1 Krinkelkroken
5014 Bergen
Norway


Thursday, April 26, 2012 from 8:30 AM to 10:00 AM (CEST)
Add to my calendar
Organizer
NCE Media is the cluster development and innovation project located in Media City Bergen, Norway. We are a unique collaboration of global technology industry, national broadcasters, regional newspapers, academia and small, forward-leaning mediatech companies and entrepreneurs.