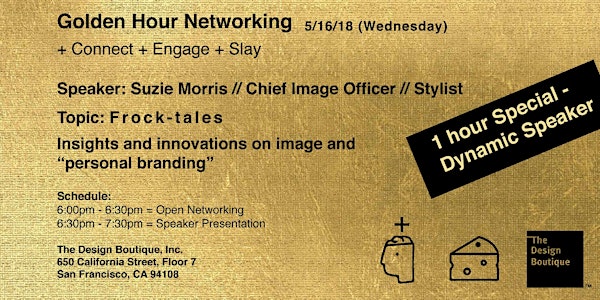 Frock-tales // Insights & innovations on image and "personal branding"
When and where
Location
The Design Boutique, Inc. 650 California Street 7th Floor San Francisco, CA 94108
Description
This month, Suzie Woodward Morris | Founder and Chief Image Officer of Strategic Imaging is on deck.
She is one of the most dynamic amazing speakers I have ever seen. This presentation on image and personal branding will change you forever in a good way.

Suzie is a professional wardrobe stylist, Morris catalogued the "looks" of the clothes people wore, analyzed the emotional responses evoked by these "looks", recognized and defined fashion "cycles" for the first time ever, and opened a consulting firm, Images by Suzie, at the Stanford Barn in Palo Alto, California. Bank of America, Hewlett Packard, IBM, Stanford University were among her first clients.
A dynamic speaker, Morris presents her insights and innovations on image and "personal branding" in Spotlight on Image forums. She began her career on the stage showing women how to play "The Image Game" from a "walk-in" Louis Vuitton.
Morris has planned, developed, produced, and presented in-house training for Air Force Academy Generals, authors, executives of Amdahl Fujitsu, Apple Computers, Inc., Autodesk, Inc., Cisco, Dell, Disney, E-Loan, Google, Harding Lawson Associates, Inc., Hewlett-Packard, Hilton Hotels, Lockheed, NASA Quest, Salvation Army, Wells Fargo Bank; Yahoo; physicians, professionals of Loma Linda Foods, Marin General Hospital, Presbyterian Hospital, Stanford University, UCSF, Univ. of Texas; professors and students of Stanford University, UCSF; attorneys, Baker & McKenzie Law Firm; realtors, Coldwell Banker, McGuire, (5 Dallas realtors); directors and consultants of Color Me Beautiful and Mary Kay Cosmetics, Junior Leagues, Texas Symphony Leagues, Fashion Designers: Colleen Quen (SF), Zac Posen (NY).
Schedule:
6:00pm - 6:30pm = Open Networking (nibbles will be served)
6:30pm - 7:30pm = Speaker Presentation
Golden Hour Networking is a monthly networking event held on the 3rd Wednesday of every month. RSVP required to gain access to the building. You must be on the list to attend. Bring valid ID to gain access to the building.