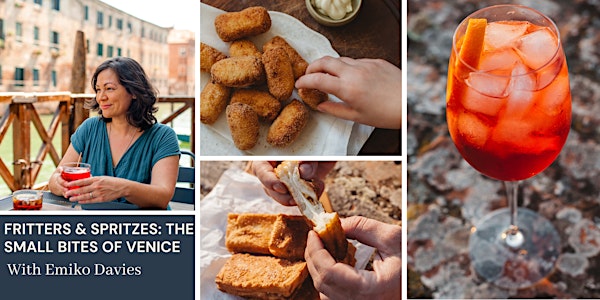 Fritters & Spritzes: The Small Bites of Venice with Emiko Davies
Join Emiko Davies to take a ride through the Venetian canals with ciccheti and a refreshing spritz.
About this event
NOTE: iphone and ipad users, CLICK HERE to register for class.
What's on the Menu:
Mozzarella in carrozza (Fried mozzarella sandwiches)
Polpette di baccalà (Cod fritters)
Welcome to Venice, where ciccheti—small bites—reign supreme. Made for people on the move, ciccheti might feature at a quick meet-up with friends or as a treat while running errands. These unpretentious bites have a long history in Venice, and guest chef Emiko Davies, author of "Cinnamon and Salt: Small Bites from the Lagoon City," is here to tell you all about them. First, you'll learn all about baccalà, which in Venice refers to dried, unsalted cod. Emiko will walk you through the process of pre-soaking and poaching your baccalà, while also sharing the fascinating tale of how this delicacy made its way from Norway to Southern Europe. A humble combination of fish, stale breadcrumbs, milk and egg will come together into a deep-fried treat that is crunchy on the outside and delicately tender on the inside. Can't find baccalà? Not a problem. You can also make these irresistible fritters with tinned tuna or mackerel or with leftover cooked fish such as cod or tilapia. Our second fritter is mozzarella in carrozza, a deep-fried mozzarella sandwich. If images of American state fair food just came to mind, banish those from your thoughts: this small bite is a miracle of contrast, with the rich mozzarella balanced by salty anchovies and the pillow-soft sandwich bread encased in a shatteringly crisp crust. You'll see that deep-frying at home doesn't have to be terrifying ordeal. With a few common-sense safety measures and a bit of confidence, you'll be frying like a pro. Emiko will teach you what you need to know to get crispy, golden-brown fritters, nothing greasy or blah. She will also talk about how to get the most out of your frying oil by frying multiple things in a thoughtful order. And, to top it all off, you'll also learn to throw together a Spritz, the quintessential Venetian aperitivo. Whether you choose Aperol, Campari or Select, this refreshing beverage will become your go-to summer drink.
About Emiko: Emiko Davies is an award-winning Australian-Japanese food writer, photographer and cookbook author based in Italy. Growing up in a diplomatic family, she spent most of her life living in countries other than her own, from China to the USA. After graduating from art school, she ended up in Florence , Italy, in 2005 to study art restoration and fell in love with a Tuscan sommelier. They have recently renovated a new home in a charming hilltop village between Florence and Pisa. Emiko has written five cookbooks, Florentine: The True Cuisine of Florence (March 2016 and a new edition in November 2020), Acquacotta(March 2017), Tortellini at Midnight (March 2019) and Torta della Nonna (March 2021), and her latest book on recipes and the history of Venetian cuisine, Cinnamon & Salt, April 2022. Published by Hardie Grant
She has written about regional Italian cuisine and travel for over a decade. For many years she wrote a regular column for Food52 where you can find over 200 articles on regional Italian food, as well as restaurant reviews for The Good Food Guide, Australia's leading restaurant guide. She is a judge for the Guild of Fine Food World Cheese Awards, develops recipes and writes travel guides for publications such as Financial Times, Corriere della Sera, YOLO Journal, Good Food Australia, The Canberra Times, Saveur, Conde Nast Traveler, Gourmet Traveller, The Sunday Times, The Guardian, Newsweek, The Kitchn, Italy Segreta, delicious magazine and more. Emiko was also nominated as a Rosewood Placemaker for Tuscany in 2021 and you can see some of her exclusive guide to the area here. She was recently named one of 50 powerful women in food by Italy's leading newspaper, Corriere della Sera.
Order yourself a copy of Emiko's new book, "Cinnamon & Salt "! Use promo code MILK2022 for 10% off your order: https://www.portersquarebooks.com/book/9781743797310
Want to give this class as a gift? You can purchase gift cards here.
Bonus: All attendees of this class will receive a one-time 15% off coupon to the Milk Street Store after class.
This event has limited spots, and you must register in advance via Eventbrite. One sign-up covers one device. Closed Captioning is available for this event.
Immediately after registering, you will get a confirmation email that contains the Zoom meeting log-in information. One week prior to class (or within 48 hours of registering, if you sign up less than a week in advance), you will receive an email with the ingredients, equipment and prep you'll need to cook along with us, if you choose.
After class, you will receive a recording of the event, as well as a folder of recipes and resources that we discuss during the event. Class recordings are available to all registered attendees for two weeks following each event.
Payments for Milk Street live stream classes are non-refundable. If you find yourself unable to attend, you may transfer the ticket to someone else, but we are unable to refund fees and all payments are final. Classes are subject to cancellation at any time. In the case of cancellation by the event organizer, all paid tickets will be fully refunded.
Proceeds from live stream cooking classes support Milk Street's non-profit work with The Big Sisters Association of Great Boston, The Boys & Girls Club of Dorchester, and other partners.
If you have any questions about this class, please don't hesitate to get in touch via cookingschool@177milkstreet.com.