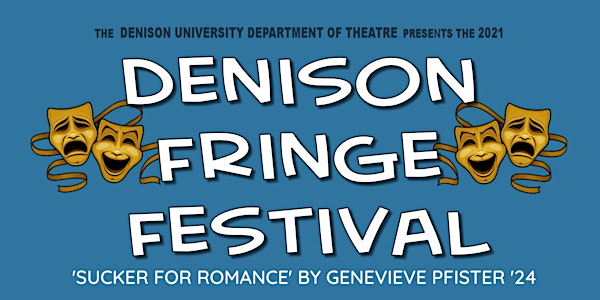 Fringe Festival 'Sucker for Romance' by Genevieve Pfister '24
A play by Genevieve Pfister '24
When and where
Location
Michael D. Eisner Center for the Performing Arts- 240 West Broadway Granville, OH 43023
About this event
Join us on the fringe!
The Denison University Department of Theatre presents the 2021 DENISON FRINGE FESTIVAL
3 different (very different) plays written, directed, and performed by Denison students.
May 4 & 6, 8pm Sucker for Romance by Genevieve Pfister '24
Rachel, a hopeless romantic with a love of classic romance, may have just met Mr. Right in a bookstore.
ADDITIONAL SHOWS (each require their own tickets):
May 2 & 9, 8pm The Compassion of Mundanity by Echo Cain '21 (Tickets)
An old evil stirs in our house, subconsciously affecting all those in it. But we've said too much already...
May 5 & 7, 8pm Angel Face by Adam Frost-Venrick '21 (Tickets)
An office temp is elevated to new heights when he discovers he's the reincarnation of a 90s UFO-cult leader.
These performances are open to Denison students, faculty and staff in Hylbert Family Studio. Masks and social distancing guidelines will be followed.
Tickets are free but must be reserved online and in advance. Seating is limited.