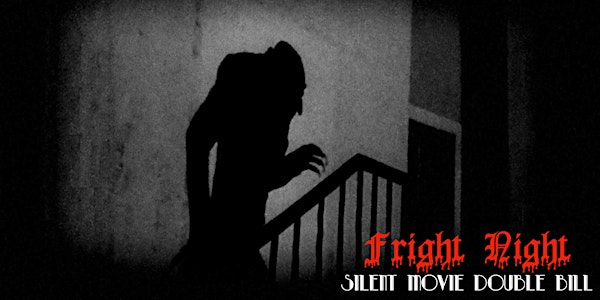 Fright Night: Silent Movie Double Bill with Live Score
Fright Night returns with a candlelit double bill screening of Dr Jekyll & Mr Hyde (1920) and Nosferatu (1922) - accompanied by live score.
When and where
Location
St Vincent's Chapel: Scottish Episcopal Church Saint Vincent Street Edinburgh EH3 6SW United Kingdom
About this event
Following last year's highly successful Halloween silent movie screening, "Fright Night - Silent Movie Double Bill" returns to St. Vincent's Chapel, Edinburgh on Saturday 29th October. Two horror classics of the silent era will be screened by candlelight with an originally curated score performed live by a group of professional musicians. This event is suitable for ages 10+.
The first screening of the evening will be Paramount Picture's horror classic of 1920: "Dr Jekyll & Mr Hyde" featuring star of the stage, silent screen and talkies John Barrymore. The film is an adaptation of the 1886 novella "The Strange Case of Dr Jekyll and Mr Hyde" by Robert Louis Stevenson. The story, set in late Victorian London, portrays the tragic consequences of a doctor's experiments in separating the dual personalities he thinks define all humans: one good, the other evil.
Following the intermission, "Nosferatu" returns to St. Vincent's Chapel – the infamous 1922 German adaption of Bram Stoker's 1897 novel "Dracula". An unauthorised and unofficial adaption of Stoker's vampire classic, "Nosferatu" sees various names and other details changed from the novel, including Count Dracula being renamed Count Orlok. It is believed by many that these changes were implemented in an attempt to avoid accusations of copyright infringement. Even with several details altered, Stoker's heirs sued over the adaption – at one point all copies of the film were ordered to be destroyed! Thankfully a few prints of "Nosferatu" survived and the film came to be regraded as an influential masterpiece of cinema.
The live score will be provided live by a professional ensemble of piano and two violins provided by Opera Caledonia. They will perform an exciting and enthralling score to accompany each film – both of which will be screened at an abridged length of 40 minutes.
Tickets are priced at £10 each and can be purchased through Eventbrite (booking fee applies) or by emailing silentscreenscotland@gmail.com.
"Fright Night - Silent Movie Double Bill" will be presented in complete compliance with all Scottish Government Covid-19 rules and regulations – providing audience members with peace of mind that they are in a safe environment. Please note that tickets are non-refundable except in the event that the screening is cancelled as a result of newly introduced Covid-19 government restrictions prohibiting cultural events from taking place (booking fees are non-refundable).