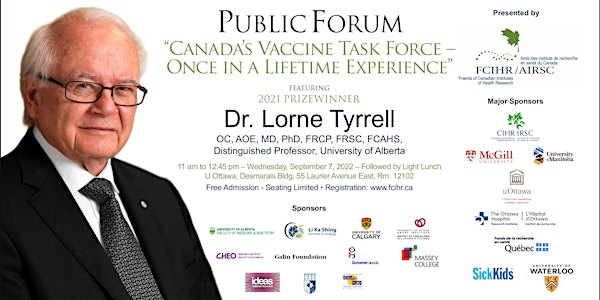 Friesen Prize Lecture by Dr. Lorne Tyrrell – U Ottawa
Friesen Prize Lecture by Dr. Lorne Tyrrell – U Ottawa "Canada's Vaccine Task Force-Once in a Lifetime Experience"
When and where
Location
Desmarais Building 55 Laurier Avenue East Ottawa, ON K1N 6N5 Canada
About this event
Friends of CIHR is pleased to announce that Dr. David Lorne J. Tyrrell, Distinguished Professor at the University of Alberta, visionary clinician-scientist, creative virologist, entrepreneur and academic leader, is the recipient of the 2021 Henry G. Friesen International Prize in Health Research.
Dr. Tyrrell's most celebrated life saving accomplishment in collaboration with Morris Robbins was the licensing of the first oral anti-viral drug for chronic HPV (Lamivudine) in 200 countries. This led to the establishment of the Li Ka Shing Institute of Virology in 2010 at the University of Alberta, where Dr. Tyrrell is its Founder and Director.
Dr. Tyrrell maintains active research programs in viral-host interactions, development of a HCV vaccine and an active program on SARS-CoV-2 vaccines, diagnostics, and antivirals. He has published more than 250 peer-reviewed papers. In his spare time, he tends to his 1000 acre farm.