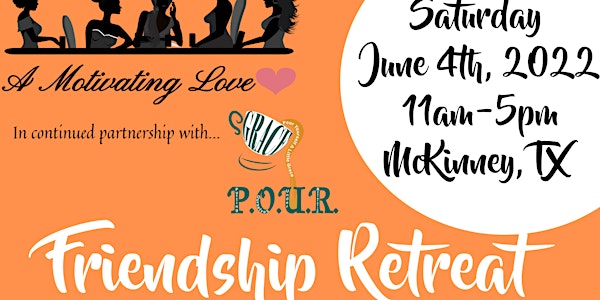 Friendship Retreat
From the F.I.R.E. comes F.L.A.M.E.S. - Friendship Retreat
When and where
Location
Sheraton McKinney Hotel 1900 Gateway Boulevard McKinney, TX 75070
About this event
More details are available at AMotivatingLove.org/Past-Programs
Each program track hopes to stretch you while learning about existing friendships and how to create them. We plan to celebrate you, provide you a hot lunch and empower you. This experience should have you walking away with the knowledge and understanding of a new or more solidified relationship. We hope you walk away from the day retreat with the ability and key dynamics of being a better person and friend to yourself and others, having some growth within yourself about the type of friend you are and what you want from others and to bloom where you are planted in your current friendship and relationships.
There are 2 programs during this retreat.
❤ F.I.R.E. -
Friends In Reach Everyday
An adult program that teaches the fundamentals of how edification, empowerment, learning, living and support are the groundwork to great friendships. (ages 18+)
​❤ F.L.A.M.E.S. -
​Friends Learning Applicable Meaningful Evidence of Sisterhood
An informational program that assists in teaching young teen girls how to navigate female relationships ... it's more than sugar, spice and all things nice; it's FLAMES! (ages 12-17)
From the F.I.R.E. comes F.L.A.M.E.S. Friendship Retreat is to help women, young and seasoned, the dynamics of friendships and how to utilize them for social awareness and networking. A Motivating Love, in continued partnership with Grace P.O.U.R., saw a need to assist women in being socially beneficial versus socially drained and burned out. Our friendship retreat will address how to hold space, create and respect boundaries as well as identify different types of friendships within and on the outside of your current circle.