Description
Please join Hank and Bean at Dry River Brewing on TUESDAY NOVEMBER 20 to enjoy a
PRE-THANKSGIVING FRIENDSGIVING FEAST!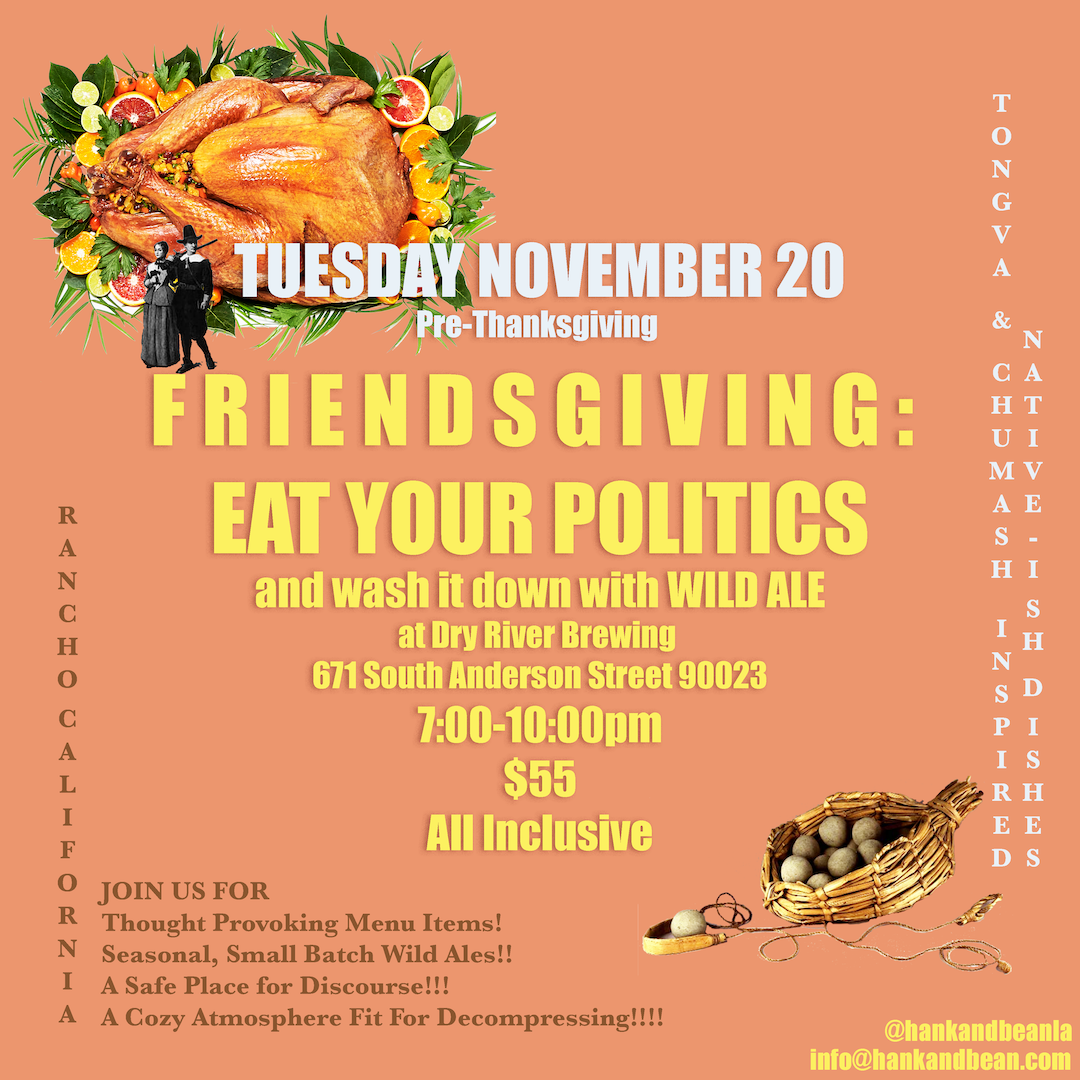 Come wash down all your politics and feelings with a complete psuedo-Thanksgiving meal. Highlights from Hank and Bean's "Rancho California aka Colonial Migration Dinner" and "Native-ish Feast" (all available for Holiday Meal Delivery) are paired with a selection of Dry River Brewing's seasonal, small batch, barrel-aged wild ales.
We're opening up a space for you to air out your discontent - including your feelings about the ethics of even having a Thanksgiving holiday in the first place - before joining family and inlaws later in the week (and perhaps displaying more conversational restraint :)) !
We're keeping the price point at $35 for food and $20 for ale, so as not to break the bank while still allowing Hank and Bean to purchase ingredients directly from local farmers and organic food purveyors like Weiser Family Farm, the Tehachapi Grain Project, La Gloria Mexican Foods (organic masa), Jimenez Family Farm, etc...
Your $55 Combined Ticket Price will include Cocktail Hour with Small Bites + 2 Ale Pairings, a Rolling Family Style Meal + Full Ale Pour, followed by Sweets paired with one final Ale.
Dry River Brewing will be there serving all night, so more of your favorite pours will be available for purchase all night, though no further purchases will be necessary!
Street parking is super easy in the area, but if you are planning on driving, we ask that you prepare to imbibe responsibly.
*The event start time is 7pm. We will be serving small bites and the first ale pairings between 7-8pm. We will sit to eat the family style meal at 8pm. We know driving in Los Angeles can be a nightmare, but we ask that you arrive by 7:45 at the latest to enjoy the experience to the fullest. We will of course welcome you any time you do arrive, but we may not be able to start your meal from the beginning / rather you will be invited to join in wherever we as a group are inside the experience.
**Please email Hank and Bean directly with any allergy information or questions about the menu! info@hankandbean.com
---
MORE ABOUT DRY RIVER BREWING
Established in 2015 by husband and wife team Dave Hodgins and Vanda Ciceryova, and Brewmaster Naga Reshi, Dry River Brewing is the only brewery in LA dedicated exclusively to small-batch wild ales fermented in oak barrels. Driven by the challenge of uncovering new and exciting flavors, DRB often experiments with botanicals, tinctures and local foraged ingredients throughout the brewing process. Their devotion to "Slow Beer" relies on Brewmaster Reshi's extensive international brewing expertise and the application of patient stewardship to craft complex yet inviting beers, original in both style and taste. An independent microbrewery since 2015, DRB opened a small, funky Boyle Heights taproom in 2017, and distributes to top craft bars, bottle shops and restaurants all over L.A. This year, Dry River Brewing was listed as one of DTLA's "Essential Breweries You Need To Try" by Thrillist.