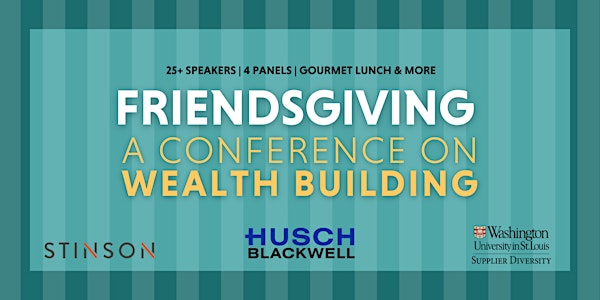 FRIENDSGIVING: A Conference On Wealth-Building
FRIENDSGIVING is giving the gift of wealth building. Join us for convos+panels on wealth pathways and protection, a gourmet lunch and more!
When and where
Location
Hillman Hall One Brookings Drive St. Louis, MO 63130
About this event
25+ SPEAKERS | 4 PANELS | GOURMET LUNCH & MORE — THANKS TO OUR SPONSORS TICKETS ARE NOW $20-OFF. NO CODE NEEDED!
FRIENDSGIVING is a safe place and space to talk about finances and financial freedom with friends. No matter how you think about wealth—money in the bank, net worth, a lifestyle, quality of life, a feeling, community or the freedom to retire early—there's something for everyone!!!
Join Keisha & Friends on 11/11/22 from 10-2:30pm for a Midwest conference and conversation like no other. Let's talk about finances, wealth, financial freedom and financial health. Get a sneak peak below and register TODAY to go. This event will sell out.
Ps…if you're interested in partnering, sponsoring, speaking or volunteering—let us know. We are still seeking FIRE, Trucking and Student-Loan panelists!!! Love ya friends and let the wealth building journey begin!!! ~Keisha
SPONSORED BY: Washington University Supplier Diversity, Husch Blackwell & Stinson LLP
THE VENUE
The event will be held at the Clark-Fox Forum in the Brown School's Hillman Hall on the campus of Washington University.
THE DAY
9:15am: Doors Open
10:00am: Welcome
10:05-10:35am: A Convo With Friends "What is Wealth"
10:35-10:45am: Break
10:45-11:50am: Panel 1 "What's Preventing Wealth"
11:50-12:15pm: Lunch
12:15-1:20pm: Panel 2 "Pathways to Wealth"
1:20-1:30pm: Break
1:30-2:35pm: Panel 3 "Protecting & Transferring Wealth"
2:35pm: Closing & Networking
THE PANELS & PANELISTS
A CONVO WITH FRIENDS: WHAT IS WEALTH
Adam Layne, Treasurer at City of St Louis & Others
PANEL 1: WHAT'S PREVENTING WEALTH
KeAnna Daniels, CEO at KMD Empowerment Consulting — Panel Moderator
Wednesday Brown, Reiki Master & Energy Healer at Eccentric Healing Plus — Reiki for Financial Abundance & Prosperity
Michelle (Sunshine) Echols, LCSW & Wellness Broker at Balance Financial Enterprises — The Correlation Between Financial Trauma & Wealth Building & How We Can Start Healing
David J Williams, Credit Repair Specialist & Serial Entrepreneur — How to Take Charge of Your Credit Repair for Free vs Paying Somebody
Janelle Turner, Supplier Diversity Director at Washington University — RFP Do's Don'ts and Won'ts: the Secret Sauce to Getting the RFPs you Want
Jazzmine Nolan, Principal Consultant at Marie Management — How to Make & Manage Multiple Streams of Income—it's an Art & a Science
Shawna Collier, Chief Partnership Officer at Justine Petersen — Debt: Friend or Foe and What's Preventing Entrepreneurs from Accessing Funding and Capital
PANEL 2: PATHWAYS TO WEALTH
Keisha Mabry Haymore, Creator & Founder of FRIENDSGIVING — Panel Moderator
Tim Eleby, Owner at Pure Catering — A Million Dollar Path to Government Contracts
Chantelle Nickson-Clark, Owner at A & C Happy Hour — Now's the Time to Get into Wine: St Louis—the New Napa Valley of the Midwest
Mike Woods, Co-Founder at Dream Builders — It's Never Too Late For Real Estate: Tips, Tools & Tidbits to Get Started
Neal Richardson, Executive Director at SLDC St Louis — Knowledge is Power: A Look into City Real Estate & Development
Myrina Otey, Artist & Owner at MWANZO Tech — The Beginner's Guide to NFTs
Vet McKinney, ForeX Trader & Trainer — The Beginner's Guide to ForeX Trading
Marvin Francois, Co-founder at oneKIN — Top of Mind is Top of Market: How to Use Tech & Marketing Tools to Reach Customers Who Are Ready to Pay You
PANEL 3: PROTECTING & TRANSFERRING WEALTH
Sabrina McField, Regional VP at Primerica — Panel Moderator
Markeisha Logan, Tax Accountant at The Accounting Queen — Yes—You Can Hire Your Kids But You May Be Audited…Tax Loops vs Dupes
Stephen Rhodes, CFP & Managing Principal at Signify Wealth — Investment Strategies for the Whole Family from 529s to Custodial Accounts, Roths, SEPs & All the Insurances
Marvin Mitchell, CEO at Compass Retirement Solutions — Estate, Trust & Will Planning to Meet Your Financial Goals, Dreams & Needs
Lindsey Lang, Tax, Trust & Estate Attorney at Stinson LLP Law Firm — The Legal Side of Protecting Yourself & Your Wealth
Jessica Quintero, Private Wealth Attorney at Husch Blackwell — Wealth Planning for the Biggest Moments in Your Life
Kristin Thompson Poelker, CFP & Financial Advisor, Renaissance Financial —
FAQS
Breakfast — breakfast WILL NOT be served but there is a coffee and empanada shop in Hillman Hall.
Lunch — lunch will be provided by JR Gourmet and will feature multipe proteins to fit multiple dietary needs. Please select your preferred protein during registration.
Parking — attendees are encourgaed to park in the East End Parking Garage. Parking is $6 and payable at the parking garage upon departure. To get to the garage, search Hillman Hall in your maps app and park in the East End Garage off of Forysth Blvd.
Note: there are two garages on Forsyth so make sure you are parking in the East End Garage near the Brown School and not the lot near the Student Center. Once parked, exit the garage on the 2nd floor near the Welcome Center, cross the walkway and the Clark-Fox Forum is the all glass building in front of you.
Age — we welcome all ages who can sit for a 4-hour event but the content is targeted to college-age friends and up.
Refund Policy — tickets to this event are non-refundable but tickets are transferrable if transferred by 11/10/22. Please transfer tickets using Eventbrite and email events@keishamabry.com if have questions.
SPEAKING, SPONSORING & VOLUNTEERING
We are still seeking sponsors and volunteers. If interested, please let us know by completing this form or emailing events@keishamabry.com. We have 1-2 speaker slots left and we're seeking friends with THC, Trucking, FIRE and Student-Loan expertise.