Description
We invite you to join us at Fire House Bar & Lounge on Saturday, November 18 as we celebrate the birthday of Moxis Society Co-Founder Ron Tate in the second edition of our Friends With Benefits Day Party Series.
"The Blend King" DJ Shaun Nyce will behind the turntables for this intimate affair. Enjoy some of the tasty dishes from the Fire House Food Truck as well as their great cocktails and hookah.
Admission is free before 5:30 pm with RSVP at www.fwbthefirst48.eventbrite.com. Call or text 704-907-9344
for bottle service.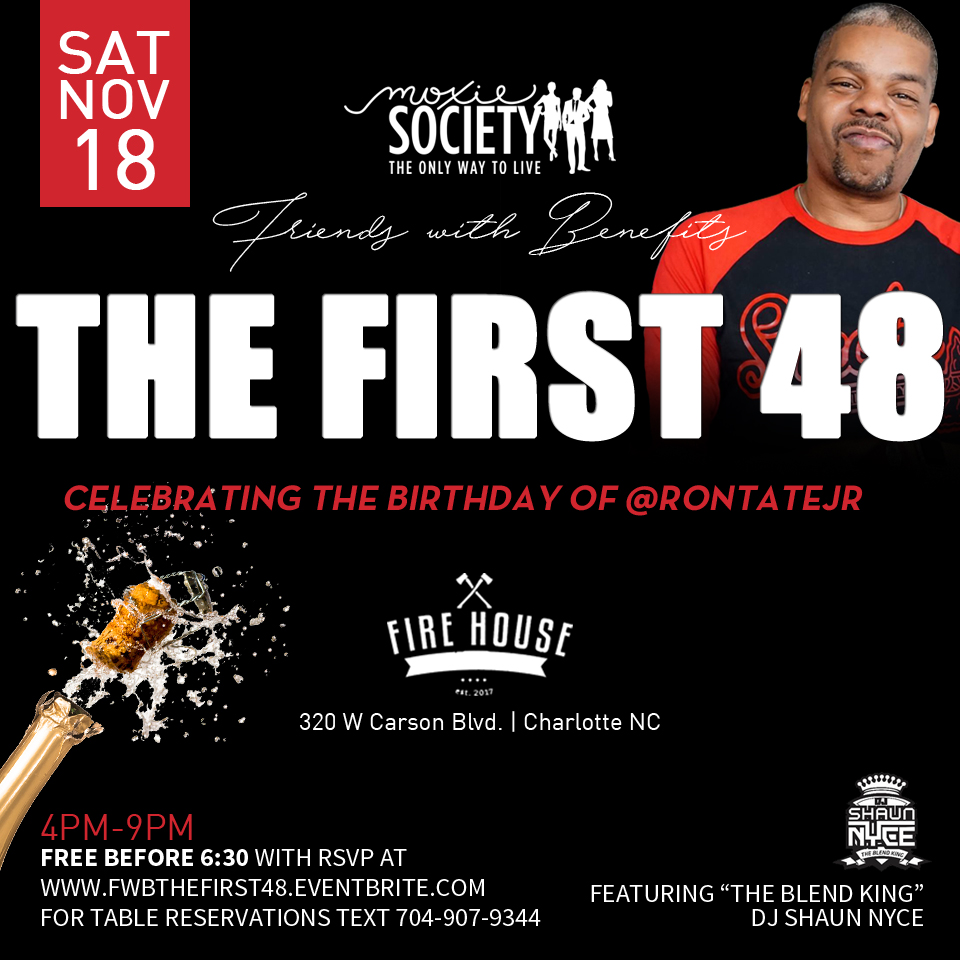 We are supporting Hope For Harvest this Holiday Season with financial contributions, donations of non-perishable goods and volunteering at their Charlotte Facility. Their mission is to assist, encourage and educate by providing free services to the underserved and homeless youth throughout the community.The Hope for Harvest vision is to inspire, uplift and motivate the youth by providing a place where they can thrive.
Hope For Harvest has served as a beacon of community advancement for families in the City of Charlotte North Carolina with roots expanding over 40 years. Hope For Harvest uses cultural influences and charitable resources to make accessible necessary living items for Charlotte's underserved youth, while providing an escape through music, dance and life develop training.
Ways to support Hope For Harvest.
1. Bring donations of non-perishable goods or financial contributions to our "Friends With Benefits" Day Party on Saturday, November 18 at Fire House.
2. Make an online contribution at https://www.paypal.com/donate/?token=r4rQUtGM--ZHFGG_iZym1XKUcuY_pv3rgMUGh67ouVzkHR4rTrTV3KxjxtS4RWsCChLPPG&country.x=US&locale.x=US.
3. Volunteer by helping to organize and hand out items donated along with the Moxie Society Ambassadors on Sunday, November 19 at their facility at 1800 Brewton Drive. If interested, please email moxiesociety@gmail.com or call/text 704-907-9344
.
Find out more about Hope For harvest online at www.hopeforharvest.org of Hope Fot Harvest on Facebook.