Join us for the FIRST EVER "Hybrid" Beer Festival featuring UNLIMITED TASTINGS of the best sour beers in the country!
About this event
Friends With Benefits is Oozlefinch Beers & Blending's "hybrid" beer festival solely dedicated to sour beer! We've teamed up with some of the top sour breweries in the country to bring you the best array of tart beer the industry has to offer. From fruit-bombs to well-balanced barrel-aged ales to funky sours, this lineup is sure to make any sour head's day!
What's a hybrid festival you ask? We've combined the best parts about the in-person and virtual festival formats, creating the ULTIMATE beer festival. Rub elbows with fellow festival-goers at the brewery, while connecting online with more beer lovers across the country as they enjoy thier festival beer boxes. You may even get the opportunity to be part of the festival's live stream!
Plus, did we mention the festival benefits charity? We are giving away $17,500 to various charities chosen by the participating breweries!
What's Included:
Friends With Benefits Teku Taster
Unlimited 4oz beer pours
Access to all 22+ Taps
VIP EXPERIENCE ALSO AVAILABLE (Limited Quantity) - Everything included General Admission PLUS:
Resturant Catered Brunch with the Attending Breweries
Access to Indoor Bathrooms and VIP Exclusive Taps
VIP Lawrence Glass
Live Music By:
Participating Breweries:
3 Sons Brewing Co.
450 North Brewing Company
Almanac Beer Co.
Alvarado Street Brewery
American Solera Brewery
Aslin Beer Co.
Barrel Culture Brewing & Blending
Beachwood Blendery
Bearded Iris Brewing
Benchtop Brewing Company
Big Ugly Brewing
Black Project Spontaneous Ales
Casa Agria Specialty Ales
Crooked Stave
Cushwa Brewing Co.
Deciduous Brewing Co.
Fourscore Beer Co
Full Tilt Brewing
Grimm Artisanal Ales
Heavy Reel Brewing Co.
Hidden Springs Ale Works
Hoof Hearted Brewery
Imprint Beer Co.
Ingenious Brewing Co.
J. Wakefield Brewing
Magnify Brewing Co.
Mast Landing Brewing Company
Mikkeller
Oozlefinch Beers & Blending
Perennial Artisan Ales
Pretentious Beer Co.
Schilling Beer Co.
The Answer
Tripping Animals Brewing
Urban South Brewery
Vitamin Sea Brewing
Weathered Souls Brewing Co.
Weldwerks Brewing Co.
Wiley Roots Brewing Company
Yeast of Eden Mixed Fermentation Brewery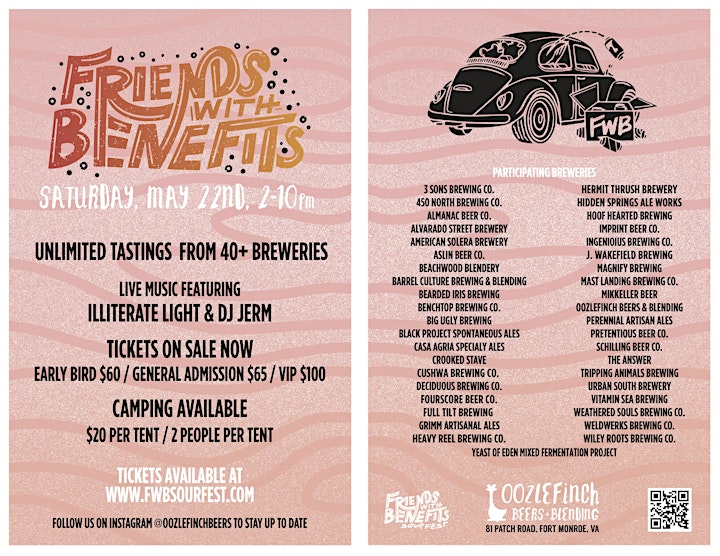 Organizer of Friends With Benefits In-Person Sour Beer Festival