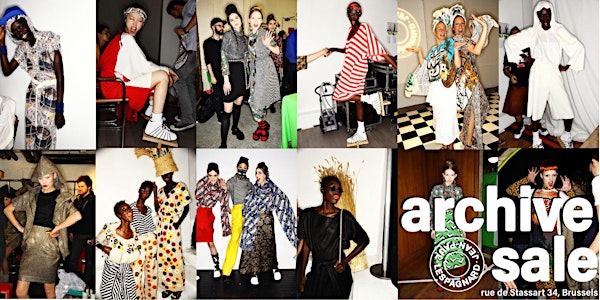 FRIENDS & VIP ACCESS - ARCHIVE SALES JEAN-PAUL LESPAGNARD
Special day for Friends & VIPs
Date and time
Wednesday, May 10 · 10am - 7pm CEST
Location
Rue de Stassart 34 34 Rue de Stassart 1050 Ixelles Belgium
About this event
Dear friend,
I hope you're well, getting ready for some blooming moments.
I am very excited to invite you to my first archive sale mid-May.
An occasion to let you discover my one-of-a-kind collection items,
prototypes from my shows, exclusive showroom archives, inspirational objects, patterns, fabric developments.
In one word : TREASURES
As I privilege human connection and each piece has its story,
this event will take place mid-May, by appointment, at 34 rue de Stassart in 1050 Brussels. Near Porte de Namur.
Over the years, nomadism took a natural place in my approach to creation, production and presentation.
I had the pleasure to practice it in my recent works, and to showcase this new perspective at Extra-Ordinaire. Early January, I reshaped the E-O concept under my own name for more inter-national flexibility and freedom.
Still, Belgium will always remains the sweetspot of the Jean-Paul Lespagnard brand. ♥️
NEW DESTINATIONS IN THE PIPELINE
For more than a year now, I have been studying and exploring new ways of presenting my textile creations, fashion accessories and decorative objects during various trips in Europe and around the world. Vetue in Brussels in Brussels, or Maison du Voyage in Goa, and recently a stop in my hometown where I designed, Silversquare Liège.
I want to bring the concept of nomadic sellers back into our contemporary life.
By having stopovers in different places to showcase my work to the local creative crowd.
Everything is possible and flexible : a beach hut in Goa, a hotel room in NYC, a friend's house in Hasselt, an apartment in Mexico City, a pop-up store in Knokke or LA, an Airbnb in Seoul or Gothenburg , a convenience store in Tokyo, an empty store in Dubaï, a tent in Marrakech or Puerto Escondido, an office place in Liège, an old sheep house in Ibiza, a vacation home in Majorca, a small fisherman's house in Hydra, in an art gallery or at JPL place in Brussels.
LET'S CELEBRATE
I would love to share the very beginning of this adventure with you.
So, mark your calendars and get ready to support me getting prepared for departure in september.
Feel free to share it with your community as I need to travel light!
Note that other arrangements are possible.
E-mail or Whatsapp photo sharing, Pre-booking / option on specific pieces… We are flexible.
info@jeanpaullespagnard.com
WhatsApp: +32472610436
One week before the event, a few of my pieces will be revealed so you can have a glimpse of what will be available.
I can't wait to meet you during one of these moments.
JPL ♥️