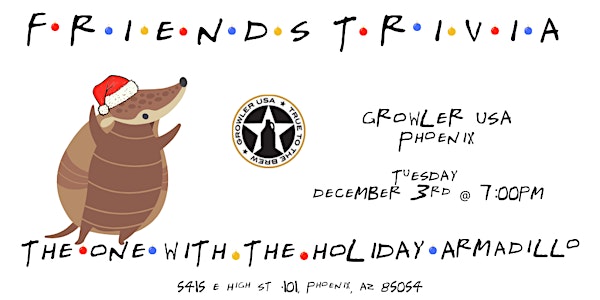 Friends Trivia "TOW The Holiday Armadillo " at Growler USA Phoenix
We're celebrating Christmas with Friends Trivia "The One with the Holiday Armadillo"
When and where
Location
Growler USA Phoenix 5415 East High Street #101 Phoenix, AZ 85054
About this event
at Growler USA Phoenix Tuesday December 3rd, 7:00.
Come hear the story of Hanukkah as told by Santa's most trustedadvisor! Phoebe has written a new holiday song and Monica and Ross have promised to bust out their award-winning moves!
The entire trivia will consist holiday-related episodes and happenings across all 10 seasons, with a rounds dedicated to the episode, "The One with the Holiday Armadillo".
Reservations can be made by visiting; https://friendstowarmadillogrwphx120319.eventbrite.com
MAX TEAM SIZE OF 8 - A CONFIRMATION EMAIL WILL BE SENT CLOSER TO THE EVENT, PLEASE NOTE TICKETS CONFIRMATION IS REQUIRED OR YOUR TICKETS MAY BE SUBJECT TO CANCELLATION.
The best way to reserve tickets is by selecting a team captain and having them be in charge of tickets for ALL team members.
For example, if Monica, Rachel, Ross and Chandler are a team and Monica gets put in charge, she will then reserve tickets for herself, Rachel, Ross and Chandler = (4) in total.
PLEASE ONLY RESERVE SINGLE TICKETS IF YOU ARE PLAYING BY YOURSELF.
Hurry up and find a date, before you're stuck with Janice at midnight!
#friends #towholidayarmidilio #freindstrivia #christmas #armidilio #holidays #triviatainment #friendstrivia #HolidayArmadillo #itwasntme #friendstv #friends #chandlerbing #monicageller #rachelgreen #friendstvshow #rossgeller #joeytribbiani #phoebebuffay #mattleblanc #lisakudrow #matthewperry #jenniferaniston #davidschwimmer #courteneycox #friendstvseries #courtneycox #friendstvposts #friendsmemes #joey #centralperk #howyoudoin #chandler #netflix #mondler #friendsfanpage #friendstvquotes #growlerusa #truetothebrew #freeeventsphoenix #phoenix #arizona