Friends of the JPA Program and Reception - Time and the Timeless

Thursday, October 22, 2015 at 7:00 PM (EDT)
Event Details
THE JUNGIAN PSYCHOANALYTIC ASSOCIATION
Presents

TIME AND THE TIMELESS
Does Time Exist? Is Time a Human Fantasy?
Are we In Time, On Time, Out of Time?
Do We Live In Waking Time and Dream Time?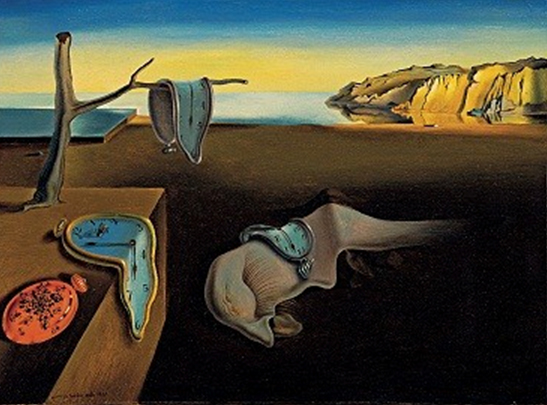 The Persistence of Memory, Salvador Dali, (1931), Museum of Modern Art, New York.
Depth Psychology and Physics share the "Problem of Time". Time, with a past, present, and future, does not exist in the fundamental laws of the universe. As Einstein perceived the relativity of space/time and Quantum Physicist Wolfgang Pauli probed synchronicity, the Swiss Analyst C. G. Jung questioned if and how the psyche "in itself" exists in Space/Time. For Jung, Time is a stream of inner and outer experiences, outwardly perceived events and inwardly experienced currents of instincts and emotions, feelings and thoughts, images and symbols.
Physicist Harald Atmanspacher, ETH, Zurich, extends the dialogue between Jung and Pauli as he considers the "relaxed" features of Time in human experience as "extended nowness" or "presence", with responses by Morgan Stebbins, Jungian Analyst, New York and Angeliki Yiassemides, Jungian scholar, Cyprus.
Program: Thursday, October 22nd, 7 pm
House of the Redeemer, 7 East 95th Street, New York
Post Program Friends' Buffet Reception
1080 Fifth Avenue at 89th Street
Registration and Donation via Eventbrite
For Program only: $50
For Program and Benefit Reception: From $100
Membership contributions can be designated to support the JPA Low-fee Referral Service, our Public Events and Professional Programs, the Training of future Jungian Analysts or the Endowment. The JPA is a 501(c)(3) organization.
For further information, please contact www.nyjung.org or Allison Tuzo at JPA@nyjung.org
PRESENTERS' BIOGRAPHIES
HARALD ATMANSPACHER, Ph.D. is an associate fellow and staff member at Collegium Helveticum (ETH and University Zurich) and a faculty member of the C.G. Jung Institute, Zurich. With a Ph.D. in physics from LMU Munich, he was a research scientist at the MPI for extraterrestrial Physics at Garching, and then directed a theory group at the Institute for Frontier Areas of Psychology at Freiburg until 2013. He is the president of the Society for Mind-Matter Research and editor-in-chief of the interdisciplinary international journal Mind and Matter. His publications include 10 books, 180 papers, as well as special journal issues. His research includes the theory of nonlinear dynamical and complex systems, and mind-matter relations from interdisciplinary perspectives
MORGAN STEBBINS, D.Min, M.Div, LMSW, LP, is a Jungian Analyst in New York, a, faculty member and former Director of Training at the Jungian Psychoanalytic Association. He also teaches Religious Studies and Hermeneutics at New York Theological Seminary and directs the program in Contemplative Jungian Practice at the New York Zen Center for Contemplative Care, He writes on symbol formation, dreams, the role of mindfulness in analysis, the meaning of compulsion, the archetypal relationship of Buddhism and psychology, the theories of Jacques Lacan and CG Jung. His work integrates current research in gender, relationship and language.
ANGELIKI YIASSEMIDES, Ph.D in Psychoanalytic Studies Centre from the University of Essex. is an independent Jungian scholar, a Developmental Psychologist (MA, MPhil, Columbia University), and an analyst in training with the International Association for Analytical Psychology. She is a member of the Malta Depth Psychological Association and a founding member of the Pancyprian Association for Psychotherapists . Her publications include "Chronos in synchronicity: manifestations of the psychoid reality" (Journal of Analytical Psychology 56,4) and "Time and Timelessness: Temporality in the Theory of Carl Jung" (Routledge, 2014). She is the editor of the upcoming book "Time and the Psyche: Jungian Perspectives" (Routledge 2016). She also studies collective trauma in the collective psyche. She resides and practices in Nicosia, Cyprus.
When & Where

House of the Redeemer
7 East 95th Street
New York, NY 10128


Thursday, October 22, 2015 at 7:00 PM (EDT)
Add to my calendar
Organizer
The Jungian Psychoanalytic Association(JPA) is an educational community of certified Jungian analysts based in New York City that promotes the contemporary understanding and applications of Jungian psychology in professional psychoanalytic and mental health fields, and in the public domain. We present programs and research that bring Jungian ideas to the wider community, sponsor professional conferences, facilitate access to Jungian analysis through a referral service, and train the next generation for professional licensure and international recognition as certified Jungian analysts.