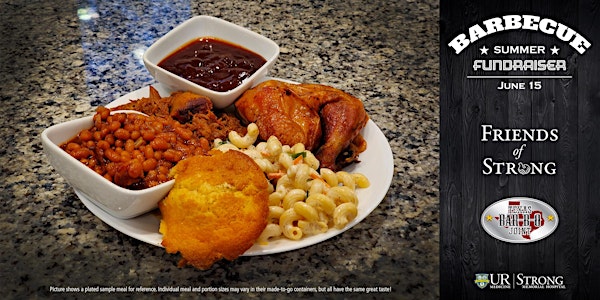 Friends of Strong BBQ Fundraiser
Summer BBQ Fundraiser to Support Patient-Care Initiatives at Strong
When and where
Location
Sarah Flaum Atrium 415 Elmwood Avenue #ground level g-9500 Rochester, NY 14642
About this event
Join Friends of Strong for a Summer BBQ Fundraiser in support of patient- and family-centered care at Strong Memorial Hospital from 2:30 to 5:30 p.m. on Wednesday, June 15 at the Sarah Flaum Atrium.
Each Texas Bar-B-Q Joint meal is just $15 (plus $1.58 processing fee) and packaged to-go by some of URMC's very own celebrity "Pit Masters" at time of pickup, for those either arriving for the evening shift or for those leaving from their day shift and wishing to bring home dinner to family or friends.
**Walk-up only – no curbside pickup. Limited to those with Med Center/SMD access.
Your Meal:
• ¼ Mesquite-Smoked Chicken; and
• Slow-Smoked Pulled Pork
• Texas-Baked Beans w/ Bacon, Pulled Pork and Brown Sugar
• Mac Salad w/ Homemade Dressing, Carrot and Green Onion
• Corn Bread
• And a bottle of water!
Featuring URMC "Pit Masters" Mike Apostolakos, Keri Cockman, Teri D'Agostino, Steve Dewhurst, Carrie Fuller Spencer, Steve Goldstein, Karen Keady, Kathy King-Griswold, Kelly Luther, Chip Partner, Marcello Wright, and more!
Please join us in thanking Texas Bar-B-Q Joint of Spencerport for their delicious catered BBQ.
Call the Friends of Strong Office at (585) 275-2420 with any questions.
Friends of Strong is an organization of dedicated volunteers and staff who advance the mission of UR Medicine's Strong Memorial Hospital through volunteerism and fundraising to provide support and services to patients, families, and visitors. Every day. Every year. Every purchase you make at the Friends of Strong Gift Shop, Finger Lakes Coffee Roasters, and other Friends of Strong fundraising events helps support patient- and family-centered care initiatives at Strong. Since 1975, Friends of Strong has given more than $20 million to departments and programs throughout UR Medicine's Strong Memorial Hospital.
Family-owned and operated since 2004, Texas Bar-B-Q Joint is known for its wide variety of Texas specialties and local favorites. With slow-smoked meats, homemade sides and mouthwatering corn bread, Texas Bar-B-Q Joint prides itself on being the best mesquite-smoked BBQ Restaurant and caterer in Rochester.