Friends of Mystery is delighted to host sisters Lisa Jackson and Nancy Bush in conversation with each other!
About this event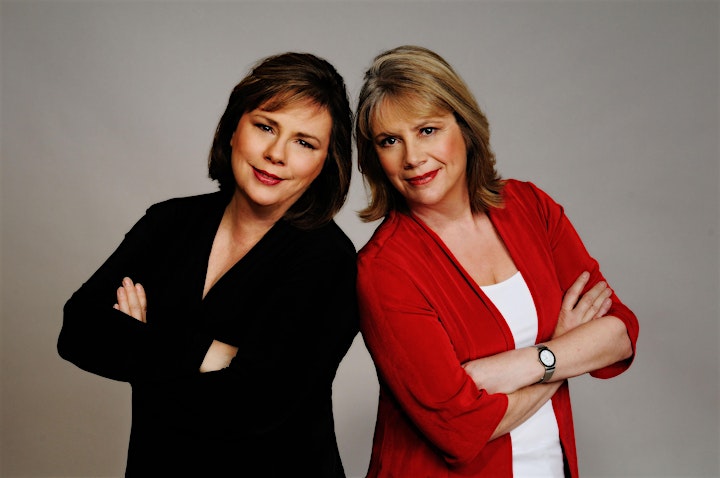 Friends of Mystery is delighted to host sisters Lisa Jackson and Nancy Bush in conversation with each other!
The virtual door will open at 6:30 for general chat, with the presentation starting at 7 PM. We will send out a Zoom link on the day of the presentation.
About the Speakers:
Lisa Jackson is the #1 New York Times bestselling author of over ninety-five novels, including The Third Grave, You Will Pay, After She's Gone, Deserves to Die, Running Scared, and Shiver. She is also the co-author of One Last Breath, Last Girl Standing and the Colony Series, written with her sister and bestselling author Nancy Bush, as well as the collaborative novels Sinister and Ominous, written with Nancy Bush and Rosalind Noonan. There are over thirty million copies of her novels in print and her writing has been translated into twenty languages. She lives with her family and beloved dogs in the Pacific Northwest. Readers can visit her online at LisaJackson.com and find her on Facebook.
Nancy Bush is the New York Times and USA Today bestselling author of over two dozen romantic suspense novels, including Bad Things, Jealousy, and The Rafferty Family series, starting with Nowhere to Run. Along with her sister, bestselling author Lisa Jackson, she co-wrote Last Girl Standing, One Last Breath, and the Colony series, and she is the co-author of Sinister and Ominous, written with Lisa Jackson and New York Times bestselling author Rosalind Noonan. She originally started writing as a young mother, beginning with historical and contemporary romances, and later went on to develop her craft as a staff writer for ABC's daytime drama, All My Children. She now writes romantic suspense full-time and lives with her family in the Pacific Northwest. Readers can visit her online at NancyBush.net.
The books they'll talk about include:
The Third Grave by Lisa Jackson
New York Times bestselling author Lisa Jackson at last brings her unique brand of Southern Gothic back to the beautiful, haunted city of Savannah, Georgia in this forebodingly atmospheric novel of suspense. In the wake of a violent hurricane, the city's left doused and windswept. But as the floodwaters recede, long-buried secrets rise to the surface. Literally. In the rotting root cellar of an abandoned pre-Civil War mansion that sits crumbling on the banks of a river, three graves are discovered…but only two skeletons. For crime writer Nikki Gillette, the discovery is both muse and a gift – the perfect subject for her next book. Her husband, Detective Pierce Reed, has made her promise not to get involved with the case, but she can't stay away, even when her investigations put her pregnancy at risk. Twenty years ago, three sisters went to the movies and seemingly disappeared. Forensics confirms the remains found in two of the graves belonged to the older girls…but if the third is empty, what happened to the youngest sister, Rose? As Nikki dredges deeper into the mystery, one thing becomes dangerously clear. There is more to the sisters' disappearance than anyone ever guessed. And far from an isolated act, those deaths were just the beginning…
All I Want From Santa by Lisa Jackson
A much-loved early classic from #1 New York Times bestselling author Lisa Jackson, this heartwarming holiday tale is set in small-town Oregon, where a little girl's letter to Santa ends up bringing the gift of romance to a widowed mom and a single dad…
The small town of Cascadia is home to Veronica Walsh and her young daughter, Amy. If Ronni still believed in Santa, she'd ask for a chance to buy the rundown old lodge next door and turn it into a B&B. Amy's Christmas wish list, on the other hand, includes one item that catches Ronni off-guard: a new daddy. But four years after losing her husband in a tragic accident, Ronni doesn't plan to get involved with anyone—least of all the lodge's new owner.
Travis Keegan has moved from Seattle to get his wayward teenaged son back on track. Yet the moment he meets Ronni, he wonders if this could be the fresh start they all need. Healing from loss and melding their two families won't be easy, but Christmas in Cascadia has a magic that may just prove irresistible…
Wicked Game (The Colony, Book 1) by Lisa Jackson and Nancy Bush
From the bestselling Sisters of Suspense, the first installment in their New York Times and USA Today bestselling series featuring a cult-like group of women with psychic abilities—repackaged and republished for the first time since its original release twelve years ago!
In the Oregon coastal hamlet of Deception Bay stands a mysterious lodge. Some call it the Colony; others whisper that it's a cult. To the women who live there, it's a refuge. But a killer knows their secrets—and will make sure they never feel safe again…
The Gossip by Nancy Bush
Back in high school, they were the queens of the in crowd. Now someone seems determined to take them out. New York Times bestselling author Nancy Bush explores the dark side of popularity when "harmless" high school gossip turns deadly in her latest twist-filled romantic thriller…
In high school, rumors can make or destroy a reputation. A thoughtless nickname can turn each day into a living hell. Gossip is irresistible—and contagious. But sometimes, gossip can kill.
Mackenzie Laughlin, formerly with Oregon's River Glen police department, has reluctantly agreed to investigate a local woman's disappearance. The case reconnects her with Jesse James Taft, a P.I. gifted at getting under Mac's skin. But when the body is found tangled in river weeds, Mac and Taft realize that the case has changed, from one missing woman to a hunt for a terrifying and relentless killer…
In his old school yearbooks, they were the pretty, popular ones, confident and callous. Back then, they held the power. But now, it's all his. He's been waiting to teach them the lessons they should have learned long ago: that gossip and popularity have a price, and it's time to pay.