Description
Join the Friends of Larkin Street for our 7th Annual Holiday Ice Skating Party on Thursday, December 8th from 6:30pm - 9:30pm @ Justin Herman Plaza (right on the Embarcadero!)
We'll have snacks, holiday games, and skate rentals ready to go so you can join us on the ice rink! Beer will be provided, but if beer's not your thing, we'll also have wine and featured cocktails on hand for you to purchase.

All proceeds from the event will benefit Larkin Street Youth Services programs for homeless and at-risk youth. For additional ways to give, on-site we will have a holiday gift drive for personal care items (shampoo/conditioner, lotion, soap, deodorant etc). Check out the Larkin Street Amazon Wish List for items needed.
Please note: This is a 21+ event.
Ticket pricing:
Early Bird: Until Nov 18th (or until they sell out): $35
General: Until Dec 8th at noon: $45
Door price: $55
If you are unable to attend but would still like to donate to Larkin Street Youth Services, please donate here. When you make your donation please be sure to note that your donation is in honor of Friends of Larkin Street.
Event Sponsors:






Event Hosts:
Morgan Byce, Liza Cherney, Amanda Constantinesco, Don Daves-Rougeaux, Josh Elkes, Rachel Happ, Dana Hermansen, Erin Keller, Danielle LaRoy, Jessica Leao, Allyson Madrid, Sarah Orrick, Merritt Spangler
About Friends of Larkin Street: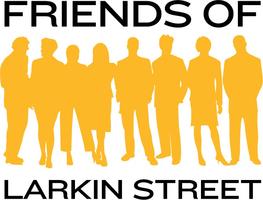 Friends of Larkin Street was formed to raise awareness for Larkin Street Youth Services among San Francisco Bay Area young professionals. Friends of LarkinStreet hosts various events throughout the year focused on raising awareness and funding for Larkin Street's programs for homeless and at risk youth ages 12-24.
About Larkin Street Youth Services:

Larkin Street provides youth between the ages of 12 and 24 with the help they need to rebuild their lives. Each year, more than 3,000 youth walk through our doors seeking help. We give them a place where they can feel safe; rebuild their sense of self-respect, trust, and hope; learn school, life and job skills; and find the confidence to build a future.
Larkin Street was founded in 1984 by a group of local business owners, church members, and neighbors who were concerned by the rising number of young people engaging in risky behaviors on the streets of San Francisco. With comprehensive youth service programs located throughout San Francisco, Larkin Street Youth Services is now an internationally recognized model successfully integrating housing, education, employment and health services to get homeless and at-risk kids off the streets.