Sales Have Ended
Ticket sales have ended
Our furry friends thank you so much! Remember to bring cash, credit card or check so you can bid on the Silent Auction Items and support Friends of Felines.
Sales Have Ended
Ticket sales have ended
Our furry friends thank you so much! Remember to bring cash, credit card or check so you can bid on the Silent Auction Items and support Friends of Felines.
Description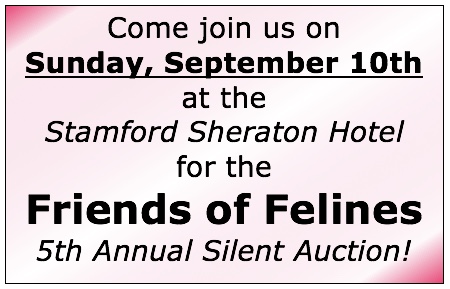 EVENT INFORMATION:
Sunday, September 10th, 2017
3:00pm - 7:00pm
Sheraton Hotel
700 E Main St, Stamford, CT
Ticket Cost: $35 Entrance Fee (This includes parking, 2 drinks, and appetizers)
Come bid on some of our silent auction baskets!
Who We Are:
Friends of Felines is a 501c3 non-profit organization dedicated to caring for homeless and forgotten felines in our community.
What We Do:

We focus on helping cats in need throughout our community via -
- Adoption Program: We find caring forever homes for the friendly and social cats and kittens that have been abandoned or lost and are in our care.
- Trap-Neuter-Return (TNR): We trap feral cats and kittens that can't be socialized, take care of medical needs (and costs) including spaying and neutering, then return them to their colonies.
- Humane Education: We strive the educate the public about cat health and animal welfare issues, hoping to empower everyone with the information to make choices for the greatest good of all involved.
How You Can Help:
- Donate

- Adopt or Foster
- Volunteer
SILENT AUCTION HELP NEEDED:
- We are looking for "basket" items for the silent auction. If you would like to donate something or are willing to make calls, please let us know. We are accepting items until September 1st.
- If you would like to donate your time (putting baskets together, day of event set up / clean up, etc) please email us at cats@adoptapet.org.
- If you would like to be a sponsor, for the event or for one of the cats we are currently caring for, please reach out to us via email or phone. All of our contact information is on our facebook page. All sponsors who get in touch with us before September 1st will be mentioned in the event brochure as well as on facebook and our website.
For more information you should check out our website (adoptapet.org) and facebook (facebook.com/FOFCT) pages or email us at cats@adoptapet.org.
Cats and kittens we are caring for now: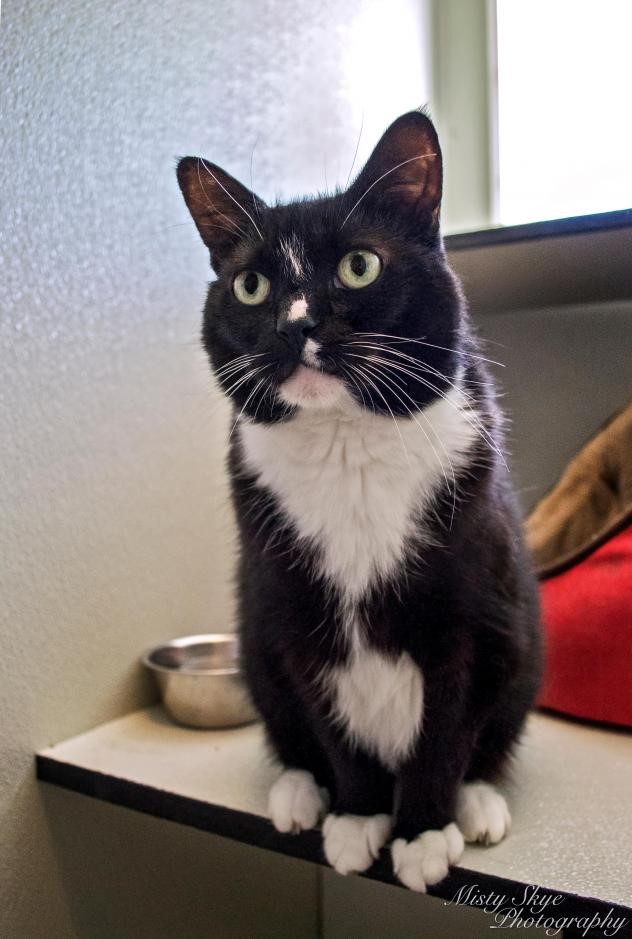 STAR - She was abandoned in a carrier at a pet supply store and for 2 years since she's been waiting and hoping and wanting to find her very own home. She's a bit arthritic (and won't we all get there!) yet she loves to play. Her unique voice sounds crabby but she's just talking - there's not a mean bone in this kitty! Her favorite things are chasing feathers on a stick and cuddling up with her person to watch TV. Our favorite thing would be to find this proud and beautiful tuxedo girl her very own home.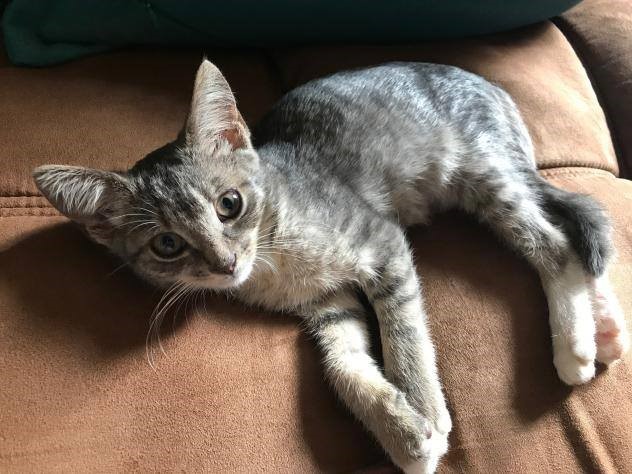 HOPE - Hope is a kitten found all by herself hiding in a hedge one step from a seriously busy road. No mom, no litter mates, just this one beautiful, tabby baby girl with large eyes and a high fever, and trusting us not one bit. Hope won't say how she found herself in that position but now that her fever's gone she's become an endlessly purring cuddle bug swearing off hedges and searching instead for that one happy home. Please could that home be yours?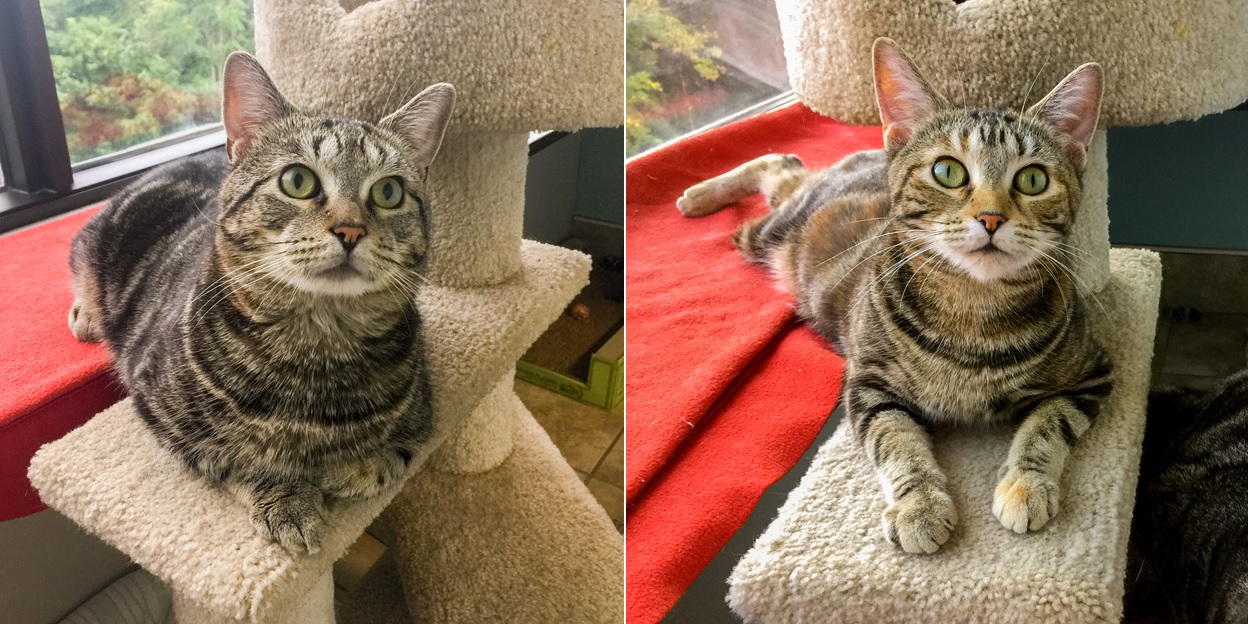 Iris & Gryphon - Meet Iris and Gryphon, 2 year old brother and sister found in an overcrowded home in Stamford. They are a bonded pair and have a special place in our hearts. Each is missing a portion of one hind leg with minimal impact on their mobility. Both are very affectionate and bring smiles to our faces every day. Gryphon is our little goofball and Iris is our sweet little lady.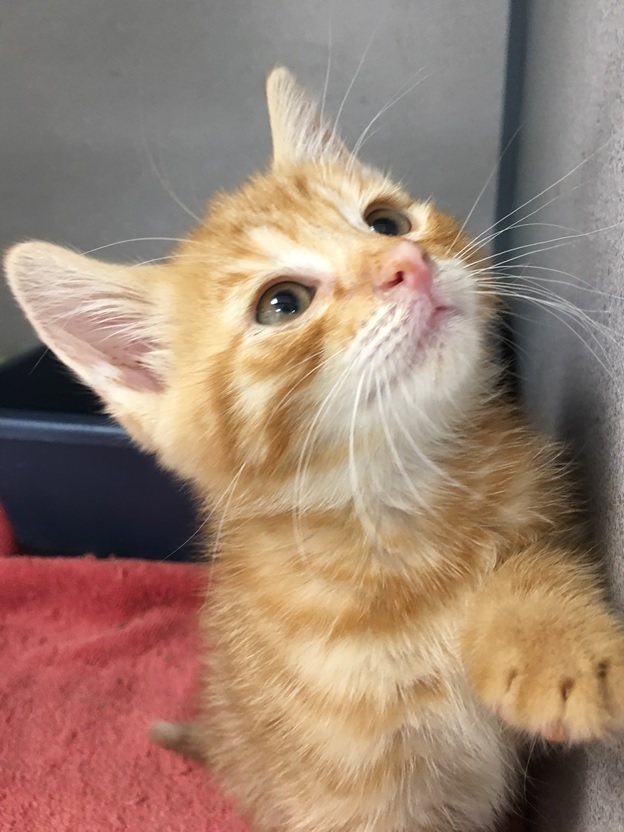 Orange - Meet Orange, found outside as a very young kitten by himself. He had a severe upper respiratory infection but we took very good care of this little fiesty boy and he will be available for adoption in September, just in time for Fall!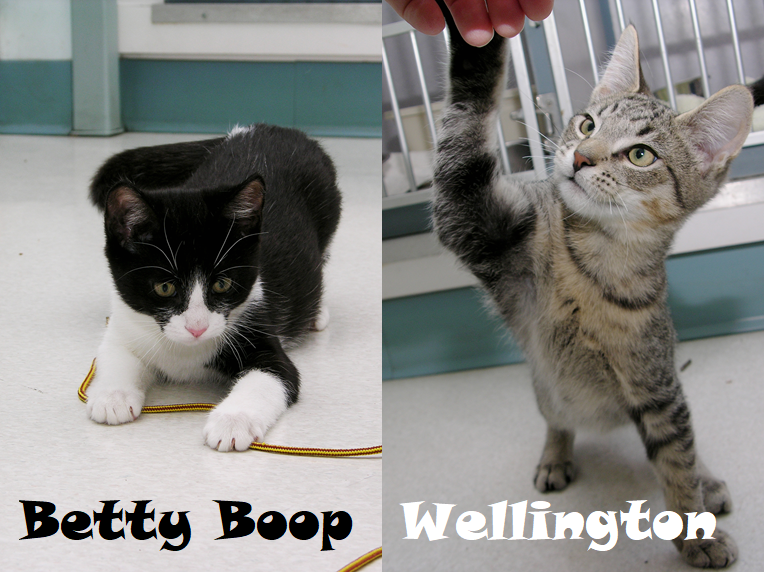 Betty Boop & Wellington - Meet Betty Boop and Wellington, two adorable kittens who came from an unsafe situation. We are grateful the've landed with us! Betty Boop is so pretty with her black and white coat and her gorgeous green eyes, but this girl's got more than good looks. She's brassy and brave, intelligent and funny, with just a pinch of sass thrown in. Wellington is Betty's best friend. This friendly, gentle and patient tabby boy is the perfect straight man to his silly sister.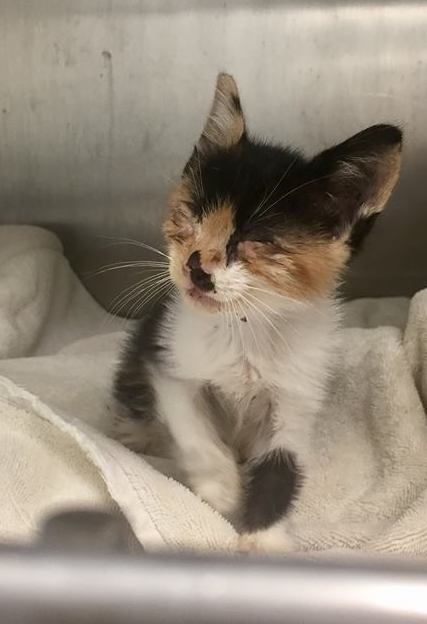 Squash - We have so many happy, successful stories to share adn to celebrate at our Silent Auction, but we'd like you to meet Squash, a not-so-happy story bu the perfect poster kitten for why Trap-Neuter-Return is so vital. This tiny girl's brother sadly died while lying next to her overnight but we are doing everythign we can to ensure Squash will grow into the beautiful calico she was meant to be. For now, she can barely open her eyes. The neighborhood where Squash was found is home to numerous orange and calico felines. Unfortunately, many of these cats and kittens are severely at risk for upper respiratory infections. If we can trap, neuter, vaccinate and return the feral adults to this street, there will no longer be kittens born struggling to see or to breathe; and the adults will live peacefully without the heartbreak of caring for kittens who won't survive.
***We have other kittens that are ready for adoption and kittens looking for foster homes. **Please note- We only adopt out locally and for the most part our kittens are adopted out in pairs** Visit www.adoptapet.org if you would like to fill out an adoption application. If you would like to learn more about fostering please email us.
These are just a few of the cats and kittens we are working with. Please check out our facebook page for more information!

IF YOU CAN'T MAKE IT TO THE AUCTION, PLEASE CONSIDER MAKING A DONATION THROUGH OUR WEBSITE: WWW.ADOPTAPET.ORG