Description

Friends of Farming Hope - You're invited! Celebrate our fourth pop up restaurant and the year's end with our farming family.
We find the Bay Area's best chefs, most local ingredients, and hardest-working staff to create a monthly pop up restaurant - and you're invited.
We've got limited seats, so please join our table and our conversation. We gather folks from all backgrounds to think differently about service, and food as a tool for social justice.
We turn the soup kitchen on its head, and hire the folks who usually stand in line.
This uncommon experience centers on a meal harvested and cooked by our unhoused team leaders, and enjoyed together as we build radical community with our neighbors. You won't have a more diverse and positive dinner this holiday season.
Eat Local, Be a True Neighbor
Join Farming Hope and partner project Almost Eden for a garden-based dinner, staffed by Farming Hope employees and volunteers working their way out of homelessness.
We'll highlight produce from our garden projects, share stories from folks working their way to a self-sustaining life, and dine together as true neighbors. You can't be part of change if you're not at the table!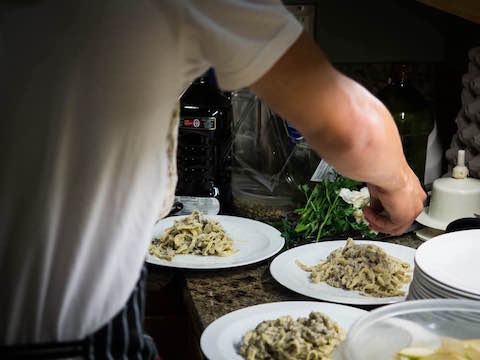 Chef in residence Kevin Madrigal will help you experience Mexican cuisine that you've never experienced before - plant based and seasonal. Kevin grew up enamored with Mexican food his family cooked and and he enjoys exploring the different techniques used to make the dishes he loves. His experience includes cooking at Schwab Executive Catering Services, Metes & Bounds, and various Farming Hope pop up meals. He hopes you enjoy his meal and through it experience something new.
Menu

Appetizers
A trio of tostadas
Roasted butternut squash with mole sauce
Beets with avocado-lime dressing
Nopal (cactus) sautéed with onions and tomato
First Course
Vegetable ceviche with broad beans, red onion, and avocado-lime dressing
Second Course
Squash soup with thinly sliced radish, black sesame, extra virgin olive oil
Third Course
Purple potato enchiladas with green tomatillo salsa, shredded lettuce, Mexican sour cream, queso cotija, and minced white onion
Dessert
Sweet potato cooked with piloncillo (Mexican brown sugar) served with vanilla Straus ice cream
*Our ingredients are sourced from a variety of places, including donations from:
Whole Foods Market
The O'Donohue Family Stanford Educational Farm
Almost Eden Garden Project
Wine pairings donated from Cannonball Winery
Eating Well, Doing Good
By buying a ticket, you're not just paying for a multi-course dinner. Your dollars support an uplifting meal for those who can't afford it, and create work for those hoping for change.
Soup kitchens keep people alive, but our dinners help people live. Farming Hope empowers people to climb the ladder up and out of the streets. By sharing their gifts and feeding others, our team members gain purpose, dignity and skills.
Farming Hope: Empowering and employing homeless individuals out of the streets and shelters.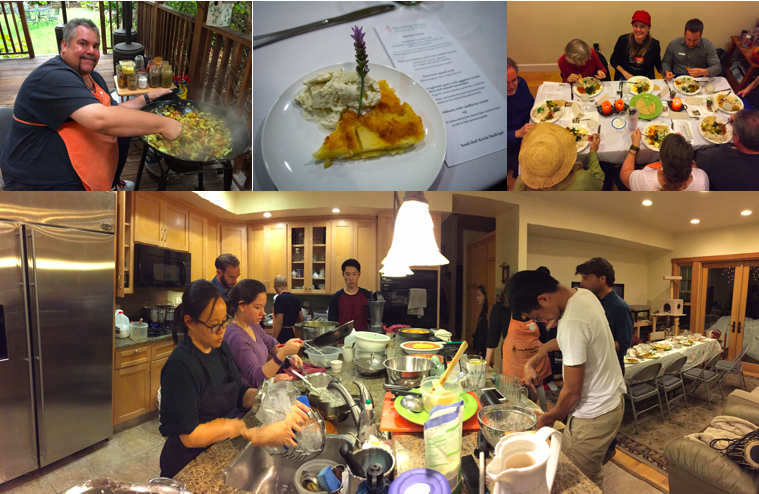 FAQs
Where should I park?
Plenty of street parking on Middlefield! Feel free to park across the street in the school parking lot, we are allowed to park at the school on Sundays.
Who will be there?
We'll be people from all housing backgrounds, dining together. Our employees are working their way out of homelessness, supported by our program and dignified work, growing and serving food. Our dinner guests are from across the housing spectrum, enjoying a nutrutious meal and the most diverse Sunday dinner you've ever had.
Join Farming Hope's co-founders, Jamie Stark and Kevin Madrigal, along with the co-founder of Palo Alto's Almost Eden Garden Project, Pam Chesavage, for a night of high-quality food, community and service for all.
I can't make it, how can I support your mission and your team members?
Help us by buying meals for a volunteer or employee. By donating, you can provide meals for our homeless neighbors who can't pay but are working their way into our program.
How can I help volunteer?
We can always use volunteers experienced in cooking and event planning. Please reach out to jtstark [ at ] stanford [ dot ] edu to join the team!
Where can I contact the organizer with any questions?
Please email Jamie Stark with any questions at jtstark [ at ] stanford [ dot ] edu.
Do I have to bring my printed ticket to the event?
No need to print your ticket! We'll have a guest list at the pop up.
How should I dress?
Come as you are! We are gardeners and farmers, after all.
Is there a rain date?
No, we will be dining under heaters and indoors.
Can I buy tickets at the door?
No, we ask that you purchase your tickets online beforehand so we can budget for food and place settings. Like many pop up restaurants, we sell out ahead of time.