Sales Have Ended
Ticket sales have ended
The Holiday Angels 2016 program has ended. Please check back next year for the 2017 Angels program!
Sales Have Ended
Ticket sales have ended
The Holiday Angels 2016 program has ended. Please check back next year for the 2017 Angels program!
Description
Friends for Life Animal Rescue is once again offering its Holiday Angel Program! This program is a wonderful way to provide a special gift to your friends or loved ones, help animals in need (the Angels) and reduce your holiday shopping stress!
How the program works:
You decide in whose name you want to make a contribution; this is your gift recipient. Then, you select which Angel you would like to sponsor with your contribution. Lastly, you select the sponsorship amount (contribution) you wish to make for that Angel. We do the rest!
Your gift recipient will receive a letter that explains the program and identifies you as the contributor. The recipient will receive an ornament (computer generated design on cardstock) bearing the sponsored animal's name, picture and brief story - ready to adorn their home for the holidays.
YES, of course you can sponsor more than one Angel!
During the ordering process, you can select more than one sponsorship level for the same Angel or different Angels. For each sponsorship selected, you will need to provide the gift recipient's name, mailing address and telephone number. Each sponsorship may have only ONE recipient (although multiple sponsorships can have the same recipient if you choose). We appreciate your understanding the "one recipient per sponsorship" limit. We as a minimum $15 donation per Angel. f you wish to order 20 or more Angels, please contact us at Fundraising@azfriends.org.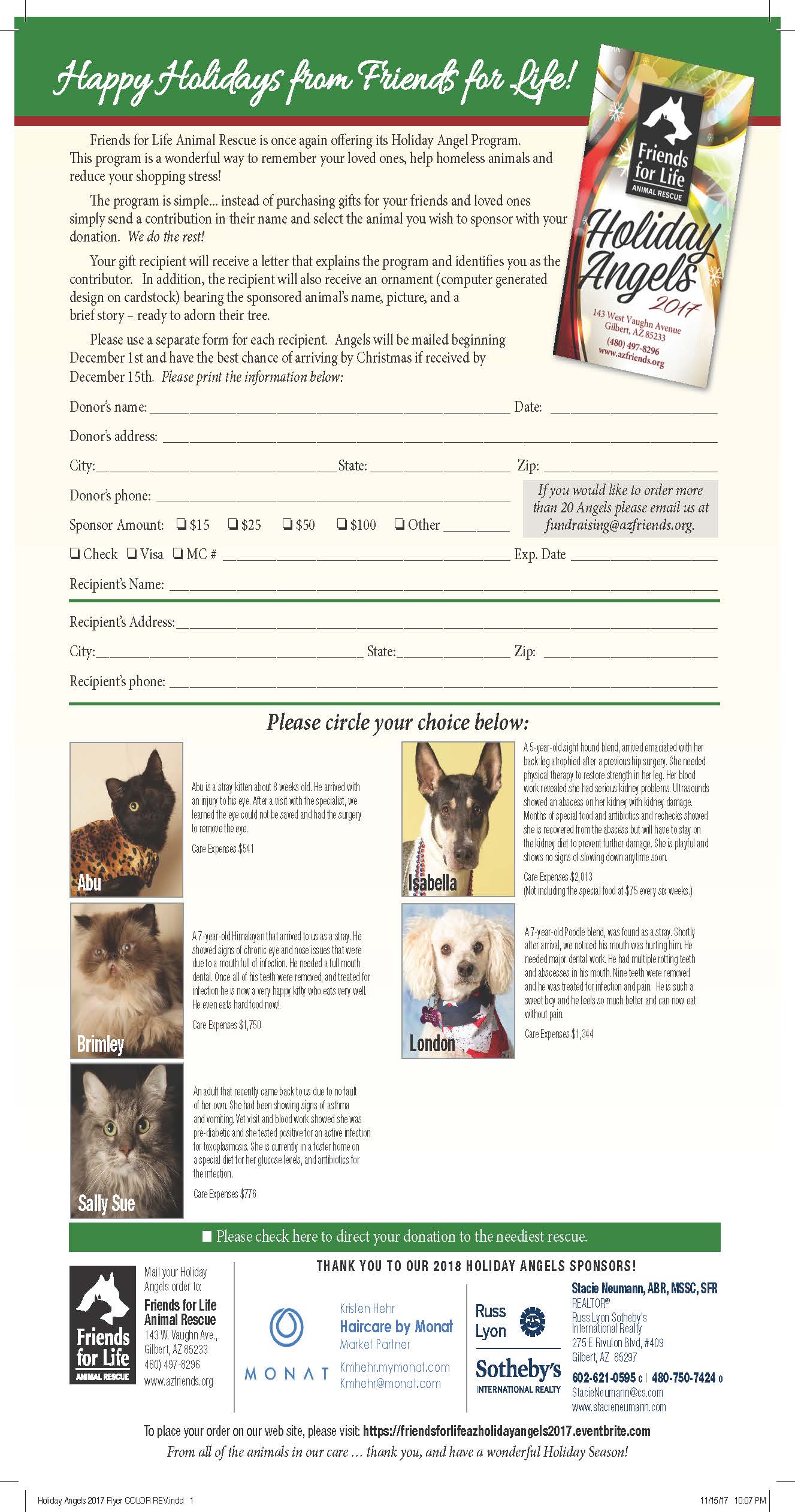 FAQ
When will the Angels be mailed out?
Angels will start mailing out around December 1st. The best chance to have your Angels arrive at your recipient's location by December 25th is to have your order placed by December 15th. However, any Angels ordered by December 20th will be available for pick up at the Friends For Life office in Gilbert during normal open hours through Satruday, December 23rd.
Who should I contact if I have any questions about this program or if I need to discuss my order?
Please contact fundraising@azfriends.org if you have any questions or need to discuss anything about your order. Thank you.
If I want to pick up my Angels instead of having them mailed, where can I do that?
You can pick up your Angels at Friends for Life Animal Rescue beginning December 1st at:

143 W. Vaugh Ave., Gilbert AZ 85233 Phone: (480) 497-8296
Remember to put "WILL CALL" for each Angel you plan to pick up when asked for the recipient's name and mailing address during the order process! Or, if you want the Angel mailed to yourself, just put SELF as the answer to the recipient question.

What is the refund policy?
We are a volunteer run and donation-based 501(c)(3) organization working to efficiently utilize the time generously donated by our voluntters towards the well-being of the animals in our care. We appreciate your understanding that all proceeds received for this year's Holiday Angels program are non-refundable, tax deductible donations. Thank you for your generosity and support!