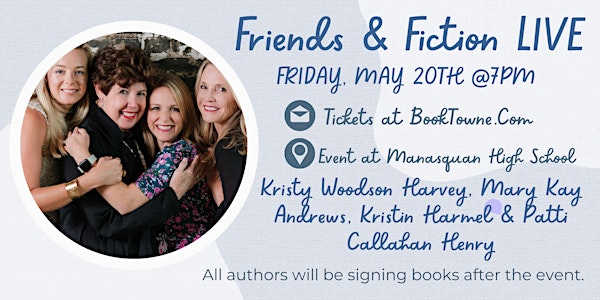 Friends & Fiction LIVE Event at Manasquan High School
Friends & Fiction Authors Mary Kay Andrews, Kristin Harmel, Kristy Woodson Harvey & Patti Callahan Henry at Manasquan High School
When and where
Location
Manasquan High School 167 Broad Street Manasquan, NJ 08736
Refund Policy
Contact the organizer to request a refund.
About this event
BookTowne is offering two tiers of tickets.
$40 ticket includes a copy of Mary Kay Andrews' newest release "The Homewreckers"
$25 ticket includes a $10 coupon for purchase of other titles on the night of the event
Titles Available for Purchase at Event:
The Homewreckers by Mary Kay Andrews (Hardcover $28.99)
The Forest of Vanishing Stars by Kristin Harmel (Paperback $17.99)
Surviving Savannah by Patti Callahan Henry (Paperback $17.00)
The Wedding Veil by Kristy Woodson Harvey (Hardcover $27.00)
About Friends and Fiction...
Welcome to Friends and Fiction. New York Times Bestselling novelists Mary Kay Andrews, Kristin Harmel, Kristy Woodson Harvey, and Patti Callahan Henry are four longtime friends with more than seventy published books to their credit. With chats, author interviews and fascinating insider talk about publishing and writing, these friends discuss the books they've written, the books they're reading now, and the art of storytelling. With a mission to support independent bookstores, they are always seeking new and innovative ways to introduce dynamic voices and trends in publishing. If you love books and you're curious about the writing world, you're in the right place.
About the The Homewreckers...
Hattie Kavanaugh went to work restoring homes for Kavanaugh & Son Restorations at eighteen, married the boss's son at twenty, and became a widow at twenty-five. Now, she's passionate about her work, but that's the only passion in her life. "Never love something that can't love you back," is advice her father-in-law gives her, but Hattie doesn't follow it and falls head-over-heels for a money pit of a house. She's determined to make it work, but disaster after disaster occurs, and Hattie's dream might cost Kavanaugh & Son their livelihood. Hattie needs money, and fast.
When a slick Hollywood producer shows up in her hometown of Savannah, Georgia, she gets a once-in-a-lifetime opportunity: star in a beach house renovation reality show called "The Homewreckers," cast against a male lead who may be a love interest, or may be the ultimate antagonist. Soon, there's more at stake than bad pipes and dry rot: during the demolition, evidence comes to light that points to the mysterious disappearance of a young wife and mother years before.
With a burned out detective investigating the case, an arsonist on the loose, two men playing with her emotions, and layers upon layers of vintage wallpaper causing havoc, it's a question of who will flip, who will flop, and if Hattie will ever get her happily-ever-after.
About The Forest of Vanishing Stars...
After being stolen from her wealthy German parents and raised in the unforgiving wilderness of eastern Europe, a young woman finds herself alone in 1941 after her kidnapper dies. Her solitary existence is interrupted, however, when she happens upon a group of Jews fleeing the Nazi terror. Stunned to learn what's happening in the outside world, she vows to teach the group all she can about surviving in the forest—and in turn, they teach her some surprising lessons about opening her heart after years of isolation. But when she is betrayed and escapes into a German-occupied village, her past and present come together in a shocking collision that could change everything.
Based partially on incredible true stories of survival against staggering odds, and suffused with the kind of journey from the wilderness that made Where the Crawdads Sing a worldwide phenomenon, The Forest of Vanishing Stars is a heart-wrenching and suspenseful novel from the #1 internationally bestselling author whose writing has been hailed as "sweeping and magnificent" (Fiona Davis, New York Times bestselling author), "immersive and evocative" (Publishers Weekly), and "gripping" (Tampa Bay Times).
About The Wedding Veil...
Four women. One family heirloom. A secret connection that will change their lives—and history as they know it.
Present Day: Julia Baxter's wedding veil, bequeathed to her great-grandmother by a mysterious woman on a train in the 1930s, has passed through generations of her family as a symbol of a happy marriage. But on the morning of her wedding day, something tells her that even the veil's good luck isn't enough to make her marriage last forever. Overwhelmed and panicked, she escapes to the Virgin Islands to clear her head. Meanwhile, her grandmother Babs is also feeling shaken. Still grieving the death of her beloved husband, she decides to move out of the house they once shared and into a retirement community. Though she hopes it's a new beginning, she does not expect to run into an old flame, dredging up the same complicated emotions she felt a lifetime ago.
1914: Socialite Edith Vanderbilt is struggling to manage the luxurious Biltmore Estate after the untimely death of her cherished husband. With 250 rooms to oversee and an entire village dependent on her family to stay afloat, Edith is determined to uphold the Vanderbilt legacy—and prepare her free-spirited daughter Cornelia to inherit it—in spite of her family's deteriorating financial situation. But Cornelia has dreams of her own. Asheville, North Carolina has always been her safe haven away from the prying eyes of the press, but as she explores more of the rapidly changing world around her, she's torn between upholding tradition and pursuing the exciting future that lies beyond Biltmore's gilded gates.
In the vein of Therese Anne Fowler's A Well-Behaved Woman and Jennifer Robson's The Gown, The Wedding Veil brings to vivid life a group of remarkable women forging their own paths—and explores the mystery of a national heirloom lost to time.
About Surviving Savannah...
It was called "The Titanic of the South." The luxury steamship sank in 1838 with Savannah's elite on board; through time, their fates were forgotten–until the wreck was found, and now their story is finally being told in this breathtaking novel from the New York Times bestselling author of Becoming Mrs. Lewis.
When Savannah history professor Everly Winthrop is asked to guest-curate a new museum collection focusing on artifacts recovered from the steamship Pulaski, she's shocked. The ship sank after a boiler explosion in 1838, and the wreckage was just discovered, 180 years later. Everly can't resist the opportunity to try to solve some of the mysteries and myths surrounding the devastating night of its sinking.
Everly's research leads her to the astounding history of a family of eleven who boarded the Pulaski together, and the extraordinary stories of two women from this family: a known survivor, Augusta Longstreet, and her niece, Lilly Forsyth, who was never found, along with her child. These aristocratic women were part of Savannah's society, but when the ship exploded, each was faced with difficult and heartbreaking decisions. This is a moving and powerful exploration of what women will do to endure in the face of tragedy, the role fate plays, and the myriad ways we survive the surviving.
About the Authors...
Mary Kay Andrews is The New York Times bestselling author of The Beach House Cookbook and more than twenty novels, including The Weekenders, Ladies' Night, Spring Fever, Summer Rental, The Fixer Upper, Deep Dish, Blue Christmas, Savannah Breeze, Hissy Fit, Little Bitty Lies, and Savannah Blues. A former journalist for The Atlanta Journal Constitution, she lives in Atlanta, Georgia.
Kristin Harmel is the New York Times bestselling, USA Today bestselling, and #1 international bestselling author of The Forest of Vanishing Stars, The Book of Lost Names, The Winemaker's Wife, and a dozen other novels that have been translated into more than 30 languages and are sold all over the world.
Kristy Woodson Harvey is the New York Times, USA Today and Publisher's Weekly bestselling author of nine novels including Under the Southern Sky, The Peachtree Bluff Series, and The Wedding Veil. Her Peachtree Bluff Series is currently in development with NBC with Kristy as co-writer and co-executive producer. She is the winner of the Lucy Bramlette Patterson Award for Excellence in Creative Writing, a finalist for the Southern Book Prize, and her books have received numerous accolades including Southern Living's Most Anticipated Beach Reads, Entertainment Weekly's Spring Reading Picks, and Katie Couric's Most Anticipated Reads.
Patti Callahan Henry is a New York Times and USA Today bestselling author of sixteen novels and podcast host. She is the recipient of The Christy Award 2019 Winner "Book of the Year"; The Harper Lee Distinguished Writer of the Year for 2020 and the Alabama Library Association Book of the Year for 2019. She is the co-host and co-creator of the popular weekly online Friends and Fiction live web show and podcast. Patti is also a contributor to the monthly life lesson essay column for Parade Magazine. A full-time author and mother of three, she now resides in both Mountain Brook, Alabama, and Bluffton, South Carolina with her husband.