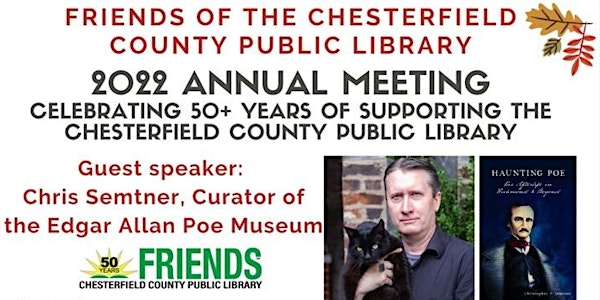 Friends Annual Meeting Featuring Christopher Semtner
You are invited to the 2022 Annual Meeting of the Friends of the Chesterfield County Public Library!
When and where
Location
Central Library 7051 Lucy Corr Boulevard Chesterfield, VA 23832
About this event
Celebrating 50+ years of the Friends supporting the Chesterfield County Public Library!
6:00 PM - Catered Reception. Tickets are required. Please read below.
7:00 PM - Meeting and Author Presentation - Free and open to the public. The speaker will be Chris Semtner, Curator for the Edgar Allan Poe Museum.
Ticket options are as follows. Please be sure to select the correct ticket type.
Reception and Meeting - Friends Members (free) - Closes 9/19/22
Reception and Meeting - Non-Members/Guests ($25) - Close 9/19/22
Meeting Only - Includes Author Presentation (free) -Open through 9/30/22
RECEPTION INFORMATION: The 6:00 p.m. reception is free for Friends members (a perk of membership!) and $25 for non-members. It will feature a catered meal. The reception will also include an opportunity for attendees to meet the guest author and get books signed.  Please read carefully:
Ticket sales for the reception end on September 19th.
Tickets are required for entry to the reception.
Friends membership will be verified and must be paid up through August 15, 2022.
Limit: one ticket for individual membership and two tickets for all other membership types.
Tickets are $25 for ALL non-members.
There will NOT be tickets for the reception available at the door.
MEETING AND AUTHOR PRESENTATION INFORMATION: The Friends Annual Meeting and Author Presentation is free open to the public, and will begin at 7:00 PM. Registration is open through 9/30/22.
***
About Artist and Author Chris Semtner: Chris Semtner is a visual artist who has exhibited his works on three continents and seen his works enter numerous private and public collections. As the curator of the Edgar Allan Poe Museum in Richmond, Virginia, Christopher Semtner has organized exhibits for museums, libraries, and galleries across the country. Among his most popular Poe Museum exhibits are The Tell-Tale Hair: Analyzing Edgar Allan Poe's Hair, The Incredible Mr. Poe: Edgar Allan Poe in Comics, and Poe's Cabinet of Curiosities: Strange Things from the Museum's Collection. He regularly speaks on dark history and other strange, mysterious, or macabre subjects at venues from the Library of Congress to the Steampunk World's Fair and as far away as Kyoto, Japan. His most recent book is Haunting Poe (History Press, 2022), an exploration of spiritual manifestations associated with Edgar Allan Poe from his time until today.
About the talk, Paranormal Poe: Edgar Allan Poe's Afterlife: Edgar Allan Poe has had quite a busy afterlife. The author of "The Raven" and "The Tell-Tale Heart" might have died back in 1849, but some claim that did not stop him from composing poetry for another four decades. Others say he still makes appearances in no fewer than five cities, and that his ghost is a regular at a couple of different taverns, one of which saves a seat for him. Like a character from one of his short stories, Poe refuses to stay buried. Author, artist, and curator Chris Semtner has gathered accounts of supposed encounters with Poe's ghost from the 1840s until today for an informative and entertaining presentation. Copies of Semtner's new book Haunting Poe will be available for signing.
About Haunting Poe: Author, artist, and curator Christopher Semtner explores the ghost stories and hauntings associated with Edgar Allan Poe's life—from the supernatural legends that inspired his writing to the alleged paranormal activity inspired by those terror tales.